17 Clever St. Patrick's Day Email Campaigns
Reading Time:
7
minutes
This article was last updated on June 7, 2021
March 17th is the day to celebrate being a little Irish, even if you aren't. And for many companies, St. Patrick's Day is a great time, like with any holiday, to grow your business by experimenting with fun elements and engaging your email marketing subscribers like never before.
The National Real Federation predicts that more than 139 million Americans will spend an average of $40 each on St. Patrick's Day decorations and food. That's about $5 billion in the U.S. alone. The best part is that this Irish-centric holiday is celebrated everywhere, from Argentina to Japan. After all, who doesn't want to get in on the luck of the Irish?
Below, we share 17 lucky examples of our favorite St. Patrick's Day email campaigns.
Hotlinks in this article:
1. Life is Good
A common theme of St. Patrick's Day is an abundance of green. Here, instead of highlighting popular shades like hunter or emerald green, do good clothing brand Life is Good uses a variety of green. One of the reasons why we love this St. Patrick's Day email campaign is the use of playful wording like "the best things in life are green," which goes nicely with the carefree and celebratory attitude often associated with the holiday.
2. Homage
This example by Homage has all the makings of a stereotypical St. Patrick's Day email campaign: green, shamrocks galore, and pun-filled language. However, sometimes it's ok to go the stereotypical route. If corny, quirky, and a bit over the top is in line with your company's branding, then this humorous approach to an equally not-so-serious holiday is perfect for you. If not, a great rule of thumb is to use no more than two elements to a design so you don't overwhelm your subscribers.
3. MeUndies
A fun way to engage your readers and get them clicking your call-to-action button is to incorporate GIFs into your designs. The California-based company tackles this expertly by promoting their new shamrock-themed underwear with a slot machine-inspired gif. By adding punchy language like "feeling lucky?" you encourage your subscribers to follow through with your request, which, in this case, is to shop the collection.
4. Two Blind Brothers
This engaging design by ultra-soft designer clothing brand Two Blind Brothers is sure to have you viewing your next shopping experience in a new light. The company is known for encouraging its customers to shop blind, i.e., picking a price point and purchasing apparel without knowing what they're going to receive. In the spirit of St. Patrick's Day, this email campaign uses accessibility-friendly shades of green, a move that leaves everyone who reads it feeling daring and like they've struck gold.
5. BirkSun
Another take on being green is to go green. Here, BirkSun does both. The St. Patrick's Day email campaign features the brand's fast-charging solar backpack in "Highlands Green" while inviting shoppers to go green with their energy usage. The company also displays its logo in green for a festive touch and has integrated a playful shamrock into the design.
6. Neff
Sometimes a picture speaks louder than the cleverest quips ever can. You can tell a whole story just by picking the perfect photo. A great example of a simple yet impactful St. Patrick's Day email campaign is snow and skate headwear company, Neff. Their design is short and digestible and showcases a roundup of curated green products that are perfect for helping you avoid the holiday's pinching folklore.
7. Moon Magic
Gift guides are always a hit with customers looking for ideas. Jeweler Moon Magic puts its own spin on the classic email design by featuring a gif to display some of the jewelry available to purchase. This inspires shoppers to envision pieces they can wear to enhance their holi-day or night. The email also includes a sale end date just below the CTA, which creates a sense of urgency and encourages shoppers not to miss out on this magical deal.
8. West Coast Shaving
Never underestimate the power of humor in an email marketing campaign. West Coast Shaving humorously ties the different styles that customers can achieve with their manscaping tools by showing leprechauns with various facial hairstyles. When you pair that with their background story, it helps create brand awareness and familiarity for new subscribers.
9. Death Wish Coffee
Getting subscribers to open your emails is a challenge for any marketer, no matter the industry. One of the best ways to get luck on your side is to give your readers something valuable. For New York-based coffee company Death Wish Coffee, that something valuable is a recipe for an Irish coffee. Although this company sells no spirits and has no Irish ties, they've found a creative way to promote their product and make "the world's strongest coffee" more notable than before.
10. Fenty Beauty
When marketers think of St. Patrick's Day, their first thought is often green. Unfortunately, it doesn't always fit a company's branding. Many forget that gold is a big part of the holiday's color scheme, and you can add it to your St. Patrick's Day email campaign. Here, Fenty Beauty's pot of gold at the end of the email is their Killawatt highlighter in Trophy Wife. Bonus points for including their wasabi green lipstick in the "plays well with" inspiration section.
11. Trip Advisor
A classic strategy for a holiday-themed email marketing campaign is to look for ways to promote your product in a way that fits. Take Trip Advisor, for example. This well-known travel platform uses St. Patrick's Day email campaign to showcase its relevant offerings, such as a roundup of the best tours to appeal to subscribers looking for an excuse to travel.
12. Hot Topic
How many emails do you know that use the word "shenanigans?" St. Patrick's Day is all about fun, friends, and good food — or drink. Favorite clothier Hot Topic keeps it light-hearted with a short, action-driven email geared toward its younger target audience. Lastly, a shipping schedule is a nice touch for those looking to have their attire ready for St. Paddy's Day festivities.
13. Pulp & Press
The color green isn't just synonymous with St. Patrick's Day; it's also associated with health, wellness, and prosperity. Juicer Pulp & Press reminds us of this with their lineup of nutrient-rich juices filled with ingredients like kale, spinach, celery, and fennel. The email takes the time to break down the importance of their creations before inviting you to purchase their green cleanse. When creating your campaign, don't forget to include a personalized email subject line, as 47 percent of recipients open an email based on the subject line alone.
14. Ole Henriksen
Just because your business doesn't sell anything Irish, it doesn't mean you can't get in on the shenanigans. You can take a page from skincare brand Ole Henriksen and showcase any products you offer that are green in color. In this favorite example, the email features a minimalistic layout punctuated by a pale green background and shamrock sprinkles. The company also makes good use of their subject line and emojis with "Meet your pot of *glow* at the end of the rainbow."
15. New Balance
Rather than using the holiday as an obvious way to drive revenue, you can use it to take the time to show your customers that you appreciate them. It is an excellent way to inspire brand loyalty! Take New Balance's St. Patrick's Day email campaign, for example. Although they highlight their holiday-themed tennis shoes in the design, it's not the email's primary focus. In big, bold type, the brand playfully spells out its appreciation, with the CTA being smaller than the rest.
16. Nourish
Another way to participate in St. Patrick's Day is to consider how your brand and products fit into the holiday. Maybe you're a ride-sharing service that can help escort people home after a long night of doing an Irish jig. Nourish Snacks offers a post-holiday message, inviting customers to recover and replenish the morning after with their nutrient-rich snacks. They even include a link to a blog with "5 Tips to Beat a Hangover." This design is smart and is sure to boost engagement and foster a bond.
17. Harry's Grooming
This grooming brand based out of New York seems to make each one of our holiday lists, and it's not hard to see why. Harry's uses their cheeky personality to bring attention to a potential problem its customer base has, getting Irish stout trapped in their facial hair. What makes this design so successful is that its layout is minimalistic, leaving room for their attention-grabbing statistics and an engaging clip to tell the story.
MailBakery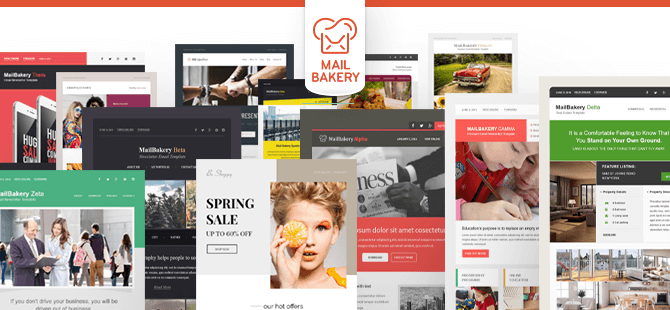 As you can see, St. Patrick's Day email campaigns are an excellent chance to create engaging, action-driven emails that will delight your subscribers. With inspiration from our roundup of examples, you won't need the luck of the Irish to boost your conversion rates. In case you need help designing your emails, let MailBakery be of assistance. Together, we can create stunning, brand-specific emails that are sure to grow your business.
Are you interested in working together or learning more about our services? Contact our team today, and let's get in the kitchen!