Email Design Inspiration: Top 10 Sources for Top Inspiration
Reading Time:
4
minutes
This article was last updated on September 1, 2020
Seek some fresh email design inspiration? We have put together 10 of the best web resources from which you can draw inspiration right now. All of these websites, platforms and galleries are devoted to visual design, whether web design in general, or email design inspiration in particular.
Created with the mission to trigger wonderful ideas in your mind, these sites show a great diversity of email design templates to help you find exactly what you are looking for. Let's get started!
This platform features hundreds of email designs but that's not even the best part. All email templates fall into a huge diversity of categories such as Abandoned carts, Retention, Customer Appreciation, etc. This makes it very easy for the user to sort their results and browse only the kind of email marketing campaigns they are particularly interested in. How convenient is this!
The famous platform for automation and management of email campaigns, Campaign Monitor, maintains a beautiful gallery of top 10 email campaigns. Divided into several categories: Marketing Offers, Announcements, Events and Newsletters, you can pick the particular category you want to draw inspiration from.
MailChimp, the most widely used platform for automating and managing your email marketing efforts, also maintains an inspirational gallery with amazing email designs. Similar to the other galleries, you have the option to sort your results by theme such as Restaurant/Food, Art, Music, App, Travel, etc.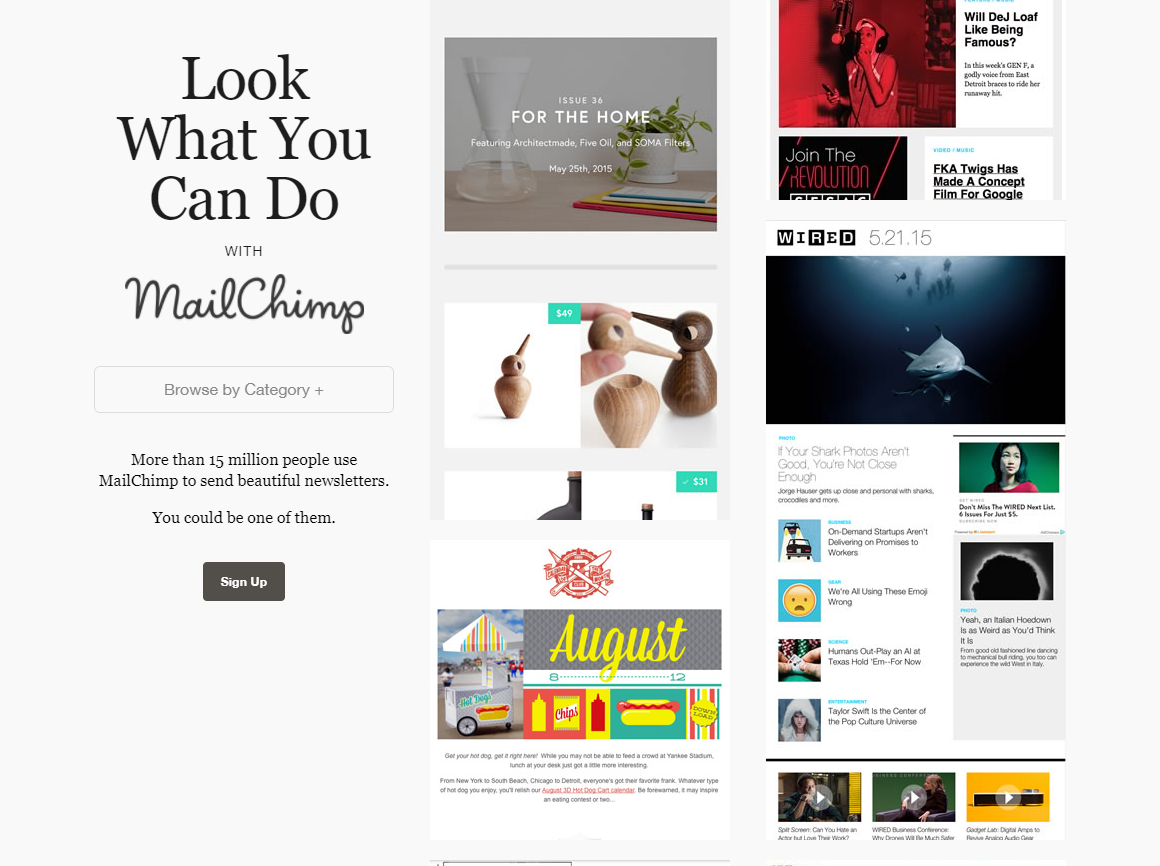 One of the most popular platforms to showcase your design, Pinterest, is very well known for providing visual inspiration of any kind. This of course includes email design inspiration which Pinterest has plenty of. All you have to do type your keywords and let the inspiration flow from screen. You can also browse plenty of themed boards created by avid pinners, and lots of companies.
Dribbble is not the first web place that comes in mind when talking about email design inspiration particularly. However, this platform has gathered thousand of designers from all around the world who showcase their artwork, including designers who craft email newsletters. The platform itself is a great source of inspiration. It will certainly fuel your creative mind with some great ideas.
A website dedicated entirely to email design inspiration. HTML Email Gallery has a greatly diversified drop-down menu which lets you browse templates by color, by email type, by season, by different themes, etc. A great source of inspiration which also comes with a section "Tips & Tricks" containing lots of valuable info about email marketing and email development.
This platform is a great source for all kinds of email designs. The long vertical navigation on the left lets you browse email templates by category. This is very convenient for all of you who seek inspiration in a particular newsletter category. It contains almost 80 different categories to choose from!
A great place to find cool email design templates. It comes with handy options to easily sort your search results. The "Browse" menu lets you choose among 50 types of business, 11 different colors, number of columns, or simply the latest email designs featured on the website.
An e-newsletter gallery that will certainly fuel you with email design inspiration. HTML Email Design contains lots of lovely email templates of different kinds and themes. The website also gives you the opportunity to upload you own designs and contribute to its diversity.
This platform is a sort of search engine with a huge database of email templates – millions of email designs as stated. This tool does not only provides you with infinite amount of inspiration but with plenty of insight, as well. The platform requires you to sign up in order to use its functions and it has a free version that you can test out.
Well, that's it!
Hopefully, brilliant ideas have started popping in your head already. If you'd like to share your own designs inspired by this collection, you are more than welcome to do so in the Comments' section below. Moreover, you can also share your favorite source of email design inspiration to help fellow designers find their muse. Have a great time designing!