Email Marketing Inspiration: Summer 2018
Reading Time:
6
minutes
With users being bombarded by dozens of marketing campaigns daily, email marketing is becoming wittier and prettier in order to catch the recipient's eye. If you are out of ideas for your next email marketing campaign, we've prepared a big dose of email marketing inspiration including very fresh examples by brands who are proven masters of email marketing.
Besides email marketing inspiration, you will also draw email design inspiration which is definitely following the awesome graphic design trends in 2018. We see a reign of sans serif fonts, conceptual illustrations, simplified (even faceless) cartoon characters, bold colors, colorful pastel gradients, golden elements and many more.
A trendy email design and a powerful email marketing strategy is definitely the formula that will make your email stand out from the rest. Let's see how other brands do it.
1. An announcement email by Trello
This one comes with a subject line "Introducing: Hundreds Of Trello Sample Boards!". You can tell right from the subject line that this would be an email announcing news which Trello's fans would certainly be excited to read about. Moreover, the email serves the purpose of reactivation. It prompts inactive users to draw inspiration and ideas from other people's boards and apply them to their own boards later.
When it comes to the design, the template certainly captivates the attention with a 3D interactive illustration of a board accompanied by lots of characters around it. Gradients and beautiful pastel colors are dominant.
2. A retention email by Suiteness
A simple closed question is both the subject line and opening line of this retention email by Suiteness: "Do you like your family?". A marketing technique provoking the recipient's curiosity who would click through just to see what's inside the email. Luckily for both target groups, a family person or an individualist, there are two equal options in the email leading you to suite results according to your Yes or No response. A brilliant summer campaign!
Regarding the design, Suiteness uses a classy template with golden elements conveying the feeling of a lux.
3. An acquisition marketing email by pickapic
This email by pickapic "A new way to keeping your email fresh" certainly catches the attention with the word "new" provoking the recipient to click. Inside is a quite informative and illustrative onboarding email that leads the user through the steps of how to use and benefit from the service.
From a designer's perspective, this email uses a lot of the current graphic design trends – the Ultra Violet color of year 2018, conceptual flat illustrations and simplified characters, as well as outline icons with geometric backgrounds and elements.
4. A newsletter by Harvey Nichols
This email marketing has a quite interesting subject line "Harvey Nichols: Style tips from your younger self" hinting that what the user will find inside, will throw them a few years back.
In contrast to the retro-inspired clothing line, the design itself is quite contemporary – very clean and elegant with a dramatic vibe which the black background brings. The minimalist design allows Harvey Nichols to put the accent on the products.
5. A promotional marketing email by Moo
We've talked so many times about how creating urgency is one of the most working marketing techniques not only in email marketing but as a whole. This promotional email by Moo creates urgency right from the subject line – "Sale ends… tonight!". Its purpose is to convert the user right now. Once the email is open, there are even more emergency elements like the reminder "Final hours" and the line "You are just in time" prompting the user to act immediately.
The original design of the email includes a gif. The use of animation is another factor that works in your favor because it nails the attention.
6. A holiday email marketing campaign by Nat Geo
Holidays are the perfect occasions to remind your leads and clients about your brand. If you provide your recipients with ideas for gifts from your brand, even better. Here is what Nat Geo did for Father's day. The email comes with a subject line "Nat Geo History: The Perfect Gift for Dad" and it includes just one suggestion with one call-to-action button.
The design matches the "history" theme perfectly, presenting an old picture for a background. The emblematic yellow shade beautifully pops as a call-to-action button on a black background.
7. A personalized email by GasBuddy
Personalized emails are usually very well perceived by the recipient. Here is a personalized email by GasBuddy coming with a subject line "How did your driving stack up in May?". The subject line clearly "tells" the user what to expect from the email. Once they open it, they see a personalized statistics about their driving for the past month.
From a designer's point of view, the email comes in a pleasant flat illustrative style with conceptual simple icons and drawings.
8. A newsletter by Formula 1
A newsletter by Formula 1 coming with a subject line "RACE: Ricciardo overcomes engine issues to beat Vettel in Monaco" which clearly speaks that the email is about news from the world of Formula 1. Such a subject line would catch the attention of the fans who want to stay updated.

The design is fully tailored to a male audience. A black background with red buttons and an attractive "noise" effect on the photos.
9. A marketing email by Cirque du Soleil
The subject line of this marketing email "Discover Corteo and get carried away with life!" impresses and provokes curiosity with the word combinations "discover" and "get carried away". Once inside, the recipient gets struck by an absolutely captivating hero image which conveys the feeling of a magical world.
It's great that the email gives extra information for those who are not ready to buy, yet. However, our recommendation would still be to repeat the "Buy tickets" call-to-action button in the end.
10. A cool GDPR email by WeTransfer
This season we've received many GDPR email notifications but some are just delivered with a taste. Let's take this one for example. It comes with a subject line "A newsletter worth opening" which, to be honest, is quite bold. Many people would open it because of the courage of the sender. And what would they find inside? A brilliant opening line: "Emails, eh? We get it." A confident assurance that the sender has put themselves in the recipient's shoes which instantly gains the trust of the recipient.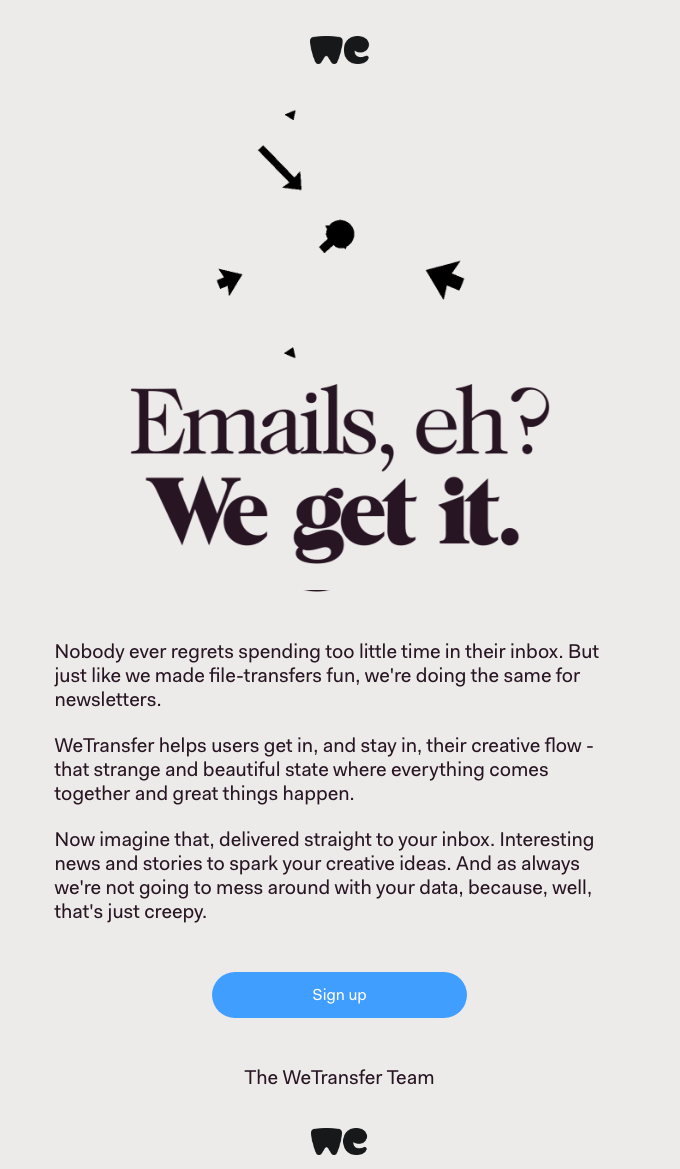 From designer's perspective, the template is quite clean with a few decorative icons in the header section. The combination of serif and sans serif font types is quite cool and the only color that pops is the blue call-to-action button "Sign up".
Feeling the email marketing inspiration?
We know we are! Summer is the season of vacations but it doesn't mean you can't get the most of this season with your email marketing campaigns. If you wish to share your thoughts and ideas in the Comments below, we'd be more than happy to discuss the subject with you.