23 Bright & Merry Christmas HTML Email Templates
Reading Time:
8
minutes
This article was last updated on November 11, 2021
Christmas and the winter holidays are quickly approaching and so is the time for one last email marketing effort before a well deserved snowy holiday.
To help your email design inspiration we put together this Christmas post, featuring 23 Christmas HTML Email Templates. We have tracked down the Christmas email campaigns of some famous brands (Costa, Esprit, Starbucks, Brooks Brothers, etc) to see what the big boys' Christmas email marketing looks like.
In case you have not seen the 22 Inspirational Christmas HTML Email Templates post we published last year, you may go back to it for even more Christmas email inspiration.
1. American Eagle Outfitters
American Eagle Outfitters come with a great Christmas email. The template features big, colorful images of the products on offer, all displayed against a white background, which helps them to standout even better. You have also a top navigation that links to the main product categories on their website.
2. Archiproducts
Archiprodcuts, the Australian leader in architecture and product design, comes with this Christmas card-like email. On a white background we have a Christmas tree made out of products Archiprodcuts offer on their website. This is a classic Christmas email design.
3. Boden
The famous British retailer Boden, emails you with a promise of a 20% Christmas discount, plus free delivery. The offer is featured on top and displayed over a golden background. Next we have a series of family Christmas pictures followed by photos of products on sale. The email ends with a 25% discount offer on a couple of specific product categories.
4. Brooks Brothers
Here is a stylish Christmas email by Brooks Brothers. The top of the email is occupied by a navigation bar with links to their website. Then we have a neatly arranged and beautifully photographed Brooks Brothers men products, the section is titled Gifts For Him. At the end of the email there is section dedicated to donations to a child hospital.
5. Costa
Here is a delicious Christmas email by Costa. The email features big images of Costa's cakes and bakes, accompanied with a message on how you cold get them using your Costa points. The email is designed in the traditional Costa colours and ends with links to social media and to Costa's Mobile App.
6. Freepeople
This Freepeople Christmas email is titled Handpicked: The Holiday Hit List and starts with a big photo of a model in blue tutu. The design is very festive, but a little overcrowded. Photos of models, products, Christmas decorations and call to actions are all mixed together.
7. H&M
The H&M Christmas email features a Home Holiday Classics section, accompanied by the message Red remains the ruling color of the holiday season. All featured products come with prices and quick call to action links. The lower part of the email features a Kids section titled Holiday Snugs. At the very bottom you have a link to H&Ms Instagram profile.
8. Homegoods
The Homegoods email is here to remind you that there are 30 days to Christmas and that you can now shop all their products a 60% discount. The main part of the email features small squares displaying products and calendar pages with December dates. With this email gift cards and social media links are moved on top.
9. J.Crew
Here is a fantastic example of Christmas email design. The main holiday discount of 30% appears on top in a big font size. Underneath, you have an image of a tower of 11 red gift boxes. Scrolling down you go through four call to action links – shop for her, shop for him, shop for boys and shop for girls. The email ends with a store locator at the very bottom.
10. Land's End
A beautiful e-card style Christmas email template by Land's End. This email reminds us the winter holidays are not only opportunities to hit your sales targets, but also provide the chance to thank your clients for being with you and to wish all the best to them and their families.
11. Lord & Taylor
Lord & Taylor used a classic e-commerce email layout for their Christmas email. Each product category image is accompanied by a category title and a shop now button. The product images are in sharp contrast with the white call to action areas and follow a checker board pattern. The email ends with a social media links section and links to other product categories.
12. Madewell
A short and to-the-point Christmas email template by Madewell. Again the background is light, which helps the product images to stand out. The product categories are displayed in frames with different forms and size. The top of the email offers a navigation bar with links to Madewell's websites.
13. Schoolhouse
Another Christmas three email, this time by Schoolhouse. The email's main message and call to action appears on top – Gift Well. The brand is well known and it is enough to simply click on the big image, so you could go their website and start browsing what is on offer.
14. Starbucks
A beautiful, "hand made" Christmas email by Starbucks. This email template looks like made in a junior school arts class. The slogan of the email is very catchy too Share the warmth of the holidays, literally. As you can't purchase a Starbucks drink online, the call to action here is Buy one holiday drink, get one to share on us.
15. Teavana
Another classic example of a holiday email, this time by Teavana. The main color is Christmas red, there is a mix of products underneath the main banner and social med links underneath. The top of the email is occupied by a navigation bar, which gets you to different product sections on Teavana's website.
16. Terrain
Little gifts, lots of cheer is the slogan of this Christmas email by Terrain. The main image is a beautifully curated photograph of Christmas gifts, sweets and decoration, placed in a red ribbon frame. Underneath, you have few other equally beautiful product categories. The end of the email template features social media links and a short Pin the look line.
17. Tiffany&Co
Light and a little girly Christmas email by Tiffany&Co, coming with the wish for A Very Tiffany Holiday. The message here is about company's working days and hours during the holidays. A tiny little call to action asks you to visit tiffany.com, but the main part of the email is occupied by a big image of Tiffany&Co gift boxes caught by a red ribbon.
18. Unionmadegoods
Unionmadegoods comes with a Christmas email masterpiece. The email starts with a catchy title Present Perfect. The main color is a soft red that is prevalent throughout the email body. The main image that occupies almost the whole email looks like a single photograph. The photograph features winter apparel products, accessories and Christmas decoration.
19. Anthropologie
Anthropologie's designers have chosen a white and wintry theme for this Holiday email. The style is a little childish with Christmas gift boxes scattered around the email. The email offers a last chance for gift shopping, with a link to a section on Anthropologie's website where you can see what were the last gifts that were bought from them.
20. Avon
Quick and easy to read Christmas email by Avon. The top of the email is occupied by a navigation menu. The centre of the email displays the main value proposition Free Shipping on any $25 order. The message is surrounded by Christmas lights and red lipsticks. Traditionally the promotional code is placed just under the main image.
21. Esprit
This one is a little long, but the arrangement of products, models and catchy lines makes you scroll down to the bottom. Winter, Christmas and Rock'n'Roll are the main themes of this email. There are several calls to action throughout the email, but you can always navigate to Esprit's website from the top navigation menu.
22. Brit+Co
Here is a funny Christmas GIF email by Brit+Co. The moving images are an eye-catcher, but the still images are much more interesting and a little absurd. The email is titled the White Elephant Gift Guide and this tells you a lot about the gift offers you are about to discover if you follow the links to Brit+Co's website.
23. Mr Porter
Another classic e-commerce email layout, this time by the famous clothing retailer Mr Porter. The email features top navigation, main banner holding the main proposition Perfect gifts for him this holiday season and a list of products you may choose from for you loved one. The bottom of the email is occupied by links to social media, shipment options and return policy.
Fancy Some Help? MailBakery is here for you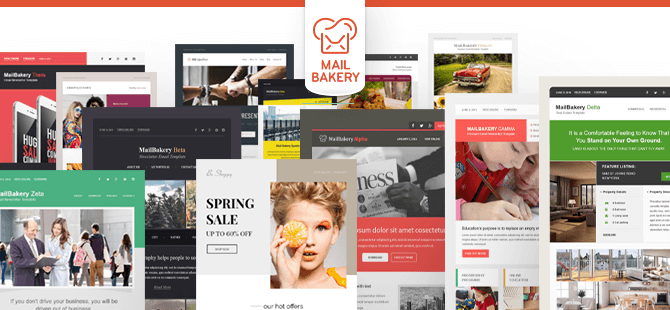 Should you need design or coding assistance with your Christmas HTML Emails, you may check our Emails From Scratch page and see what MailBakery can do for you.