8 Automated Email Marketing Messages You Should Be Using
Reading Time:
7
minutes
This article was last updated on June 7, 2021
Email marketing is the favorite marketing strategy among consumers and companies alike, but did you know the power and reach of your email marketing campaigns grow when you incorporate automation into your strategy? More powerful than sending out emails manually, that's for sure. Just imagine how time-consuming it would be for your staff to send out emails to each one of your customers. Ain't nobody got time for that!! Meme references aside; this is where automated email marketing messages can really save the day.
These automated messages are most impactful when you send targeted emails based on your customer's behaviors and interests.
In 2019, 72 percent of customers only responded to marketing messages that targeted their interests. Plus, there are countless benefits to adopting automation which include; personalized customer experiences, improving retention and conversion rates, and building customer relationships. Of course, the greatest benefit is that it reclaims many hours for your staff while increasing their reach and overall efficiency.
To help you get started, we've curated a list of automated email marketing messages you should use in future marketing strategies. You'll thank us!
1. Welcome/Onboarding Emails
These automated email marketing messages are possibly the most commonly used campaigns, and it's not hard to see why: they bring results. According to experts, welcome emails are 86 percent more effective than a run of the mill email newsletter and boast an open rate of around 91.43 percent on average. These emails trigger based on your subscriber's behavior (or lack thereof) and guide them through the basics of using your product or service. They're a key candidate for automation because sending daily messages can be tedious.
There are creative ways to use welcome emails, too, such as using them as a checklist or a rundown of what they can expect from your emails. If you've had problems in the past with your emails winding up in customer spam folders, you can use your welcome email to instruct them to whitelist your emails or confirm what kind of emails they want to receive.
Most commonly, companies create a welcome drip campaign that triggers whenever someone new subscribes to your emails. It's up to you how many emails are sent and how often readers get them, but one must-have detail is that your emails should feature quality and engaging content that encourages the reader to stay.
Related: Email Marketing Pro Tip: It All Starts with a Welcome Email
2. Thank You Emails
As a marketer, you often ask many subscribers, from asking them to sign up for your emails to fill out a survey. If a subscriber takes the time out of their day to perform an action, such as downloading your e-book, they expect you to show your appreciation for their contribution. As we know, a little bit of gratitude and acknowledgment goes a long way and even fosters loyalty.
You can build relationships with your customers by saying thank you or sending them an immediate thank you after signing up, and showing your thanks by offering discount codes, free delivery, or an extended trial. Thank you emails are a favorite automated email marketing campaign because they humanize the company in a small yet impactful way.
3. Cart Abandonment Emails
Did you know that more than 68 percent of online shopping carts get abandoned? That's what a study by SaleCycle unveiled. There are many causes for abandoned shopping carts, including distraction, internet connection issues, insufficient funds, and customers looking to keep tabs on an item for future purchase. This is why companies should, without a doubt, add automated email marketing messages like cart abandonment emails to their arsenal.
These emails serve as a reminder and they're successful because they're both timely and relevant. To further entice your customers to complete their purchases, many businesses offer a discount or free shipping. Iconic shoe brand Adidas cleverly asks if the customer's wi-fi signal was why they didn't complete their purchase. They also feature reviews and variants of the shoe, and models wearing them to reassure the shopper that it's the right choice.
Related: [More than] 10 Abandoned Cart Email Examples & 20 Tips To Win Clients Back
4. Milestone Emails
Who doesn't love to be celebrated? It's incredibly wonderful to feel like you're the center of the universe on your special day. If you haven't started reaching out to your customers on their birthday or their company anniversary (i.e., the day they first signed up for your email or purchased a product from you), we highly suggest you incorporate this automated email marketing message.
Sending your customers well wishes is a great way to let them know you're thinking of them, and they appreciate it, even if they know you had a little help. Try adding an incentive like a free item or a percentage off for sticking with you this long. It's a surefire way to boost conversion rates and loyalty.
5. Email Updates
Everyone loves to feel like they're in the know and part of something special, especially customers. You can use update emails to reinforce a customer's importance through automated email marketing campaigns. Let your subscribers know when a new blog post has been uploaded to your website or blog page. These emails not only serve as a way to strengthen your relationship with your customer, but they also help establish you as a resource and authority to your readers.
Your update emails aren't just limited to keeping your customers up to date on new and interesting things going on with your business; you can also use them in other engaging ways. If you have a sold-out product, encourage your customers to sign up to receive an update whenever the item is back in stock. Here, Adidas has incorporated this into their product page, which allows them to have another way to reengage the customer long after their failed purchase attempt.
6. Feedback/Product Reviews
Customers love to give feedback, whether good or bad. They understand that their opinions influence the future of the product or service and customer experience. The best thing your company can do is give them an avenue to express themselves! We recommend sending out feedback surveys at various milestones like the first month, the first six months, and the first year to gain insight and a bigger picture of how your customers feel about their buyer's journey. You can also send out product review requests after customers purchase certain items so you can learn what offerings should be tweaked or reworked.
7. Recommendation Emails
Another automated email marketing message you should consider sending is recommendation emails. As we all know, shopping for ourselves and others can be particularly tough. There's always that underlying pressure to get the right gift or purchase the perfect item or tool for your project. Your company can target these kinds of shoppers and help them find the perfect thing through recommendation emails.
Barnes & Noble is one of the leaders in sending book recommendation emails. After a customer has made their purchase or left the site without completing their purchase, they will start to receive recommendation emails highlighting books and items that might interest the shopper. What makes these emails so successful is that they reinforce the idea that this company is a resource that knows what they want and need, even before they do. Sending these emails undoubtedly results in return buyers and new conversions.
8. Invitation Emails
Many companies host special events that boost their brand's awareness and educate and inform all who join. These events are typically webinars, conferences, and networking events. Event invitation emails are an excellent marketing strategy for increasing your overall turnout. With this automated email marketing campaign, flexibility is your friend.
You can segment your emails and automate them to go out to your entire email list or just those who have opted in to receive updates and information on your event. A bonus tactic is that you can also send event reminder emails that include touches like a link to RSVP if they haven't already or a link that adds the event to their calendar. Doing this ensures that your upcoming event stays on their mind and increases customer engagement.
MailBakery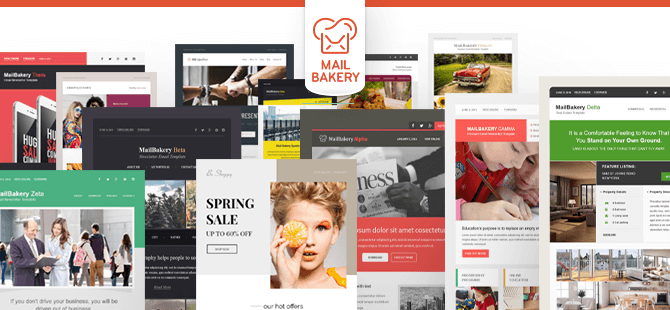 Automation can be a beneficial tool for companies to convert readers and grow their businesses. Most of all, using automated email marketing messages can help sales and marketing departments reclaim countless hours of manual follow-up and keeping track of where customers are in the buyer's journey.
Another way to engage and convert your potential and returning customers is to have stunning email marketing templates, and MailBakery can help. Our team can help you create email templates that are striking, brand-specific, and interactive, and sure to increase your click-through rate.
Are you interested in creating something fresh and delicious with us? Contact us today, and let's get baking!