Boost Post-Holiday Sales with a Happy New Year Email Campaign
Reading Time:
5
minutes
New Year, new email marketing campaign! There's no need to let the post-holiday season slow down your brand's sales. Even though many major holidays have come to a close by January 1st, that just means consumers become interested in shopping for themselves rather than purchasing presents for other people.
Get each new year off to an incredible start with a Happy New Year email campaign. If you're unsure where to start, professional email template designers can help you whip up something great!
In January, many consumers are interested in fulfilling resolutions like losing weight, saving money, or learning a new skill. What are your brand's email resolutions? If you're interested in increasing your open rate, obtaining a higher number of subscribers, or driving sales through your email lists, a Happy New Year email campaign can help get the ball rolling.
In this blog:
Wish Subscribers a Happy New Year
While it may seem cliche, everyone is ready to embrace a fresh start at the beginning of a new year. Tap into that energy with a simple message wishing your subscribers a Happy New Year.
Want a special angle for your Happy New Year email marketing? A thank you message is a cost-effective way to show your customers that you care. You could also offer incentives, like a percentage off their next order or free shipping. A campaign of this nature will help you raise brand awareness and strengthen your relationship with your subscribers.
Although this campaign from Rifle Paper and Company is simple, it certainly draws in subscribers from the moment they open the email. When it comes to Happy New Year email marketing, sometimes less is more. A minimalistic email campaign can be highly effective.
Re-Engage Your Subscribers
Many companies make the mistake of letting the hype surrounding their brand die down when the holiday season is coming to an end. However, this mistake can cost you big time, given that millennials alone spend an average of $228.10 on New Year's Eve. New Year's is a prime time to create a campaign that re-engages your subscribers and reminds them of everything your brand offers. Consider making a campaign that inspires subscribers to visit your website or store and get the new year off to a good start.
As January takes the stage, many of your subscribers are on the tail end of an expensive holiday season. Let your subscribers know that the party doesn't stop there, and offer them an exclusive New Year's Day sale that they can't resist. This fun campaign from Madewell starts off the New Year on a great note by offering their subscribers 40% off.
Appeal to Specific Subscribers
The most effective way for your brand to reach new customers is by sending messages that speak specifically to each subscriber's unique interests. While discerning which products or services appeal to each customer may sound complex, a concept called segmentation can quickly simplify the process. Segmentation is the process of separating your email list into different groups based on their interests, demographics, or purchase history. This way, you can craft variations of your email campaign that will resonate with each audience in your subscriber base.
You can even take this a step further by automating an email that provides an annual retrospective for each reader. For example, Uber created a Happy New Year email campaign that reviews the account data of specific subscribers without appearing intrusive. The subscribers who open this campaign are much more likely to be interested in the content of the message because it is highly personalized.
Use Animation
A touch of animation is a great way to entice subscribers when they open your Happy New Year email campaign. Studies have shown that including visual elements like videos and GIFs can increase engagement by 73%. If your target audience comprises a younger demographic, bear in mind that two-thirds of millennials believe that GIFs express emotions better than words. In addition, MarketingSherpa has discovered that GIFs can increase conversion rates by up to 103%.
Nordstrom perfectly encapsulates the fun and excitement that arises every New Year with this glitzy, gold email marketing campaign. When subscribers first open the email campaign, they see an eye-catching GIF. Immediately engaged, subscribers will scroll down to see a clear call to action, enhanced with animated fireworks. There's no doubt that this style is a great way to entice subscribers on New Year's Day and beyond.
Express Your Brand's Relevance
If you're not sure where to start with your New Year's email marketing campaign, remind your subscribers about all that your brand has to offer. A campaign that reinforces your brand's relevance will encourage customers to shop with your company throughout the year. The email campaign below from KEH Camera is a perfect example, showcasing how their products can help subscribers have a better new year.
Although this campaign may seem like a standard New Year email with cute resolution messaging, a closer look will reveal that their campaign includes a clever pun. KEH Camera's campaign is actually about camera resolution, giving subscribers a good laugh while promoting their high-resolution cameras.
Promote Products to Help Customers Keep Resolutions
Many of your subscribers will be spending this time of year planning ahead, setting resolutions and expectations for the year to come. Lucky for you, this poses a beautiful opportunity for your brand. Consider how your products or services can assist your subscribers in achieving their New Year's resolutions.
The most common New Year's resolutions involve saving money, organizing, traveling more often, getting fit, or learning something new. Create an email marketing campaign that demonstrates how your service or product can help your subscribers achieve their goals.
The marketers at Net-a-Porter are aware that many of their subscribers are likely to have a New Year's resolution that involves enhancing their appearance. They answered this need by creating a campaign that inspires customers to commit to their beauty resolutions.
MailBakery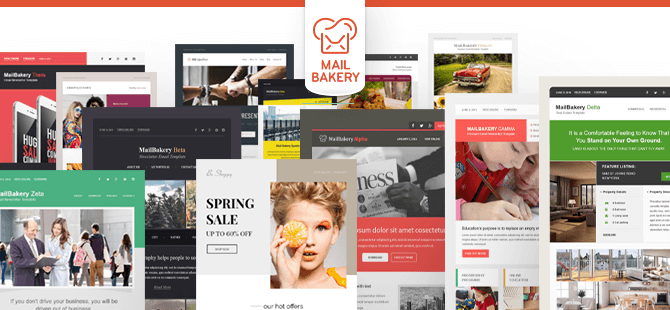 If you're still not sure what kind of Happy New Year email campaign is best for your brand, MailBakery can help. Our expertise in creating gorgeous, brand-specific email templates is unparalleled. Work with our designers to create a New Year campaign that will grab attention, engage subscribers, and drive conversions for the year to come.
Are you ready to create something incredible? Let's get started!