15 Awesome Customer Appreciation Email Marketing Campaigns
Reading Time:
5
minutes
This article was last updated on September 1, 2020
A brand is nothing without their customers. We can all agree on that. What else we can also agree on is that brands should never take their customers for granted. This is why today's post is all about customer appreciation email marketing campaigns.
Do you really need to send such emails? We believe so. Expressing your gratitude for having your clients by your side will strengthen your customer-brand relationship and will boost your clients' loyalty. Which brand wouldn't want such effects?
Here are 15 customer appreciation email marketing campaigns that will inspire you with ideas for the design and copy of such emails, so let's begin!
1. Give presents to their friends. By Harry's
Customer appreciation email marketing campaigns can be quite useful in increasing your clients' database. Check out the following example by Harry's. To thank you for being their client, they are sending free products to your friends. You provide your friends' email addresses and voila – they are already on Harry's database of clients.
2. Customer appreciation email series. By Avon
Customer appreciation emails can be turned into a series. Here is a good example by Avon who made a whole customer appreciation week! Such a strategy increases your success chances 5 more times. Even if the recipient doesn't open an email or two, they still have a few more emails to receive.
3. Give a gift. By Gamine
Customer appreciation email marketing campaigns are all about being grateful. What a better way to thank your clients for being there for you than offering them a gift? See how Gamine expressed their gratitude towards their clients.
4. A physical store gift. By Cusp
If your brand has physical stores, your online and offline brand strategies should definitely be synchronized. In the following example, Cusp sent a customer appreciation email marketing campaign offering a discount for their physical stores.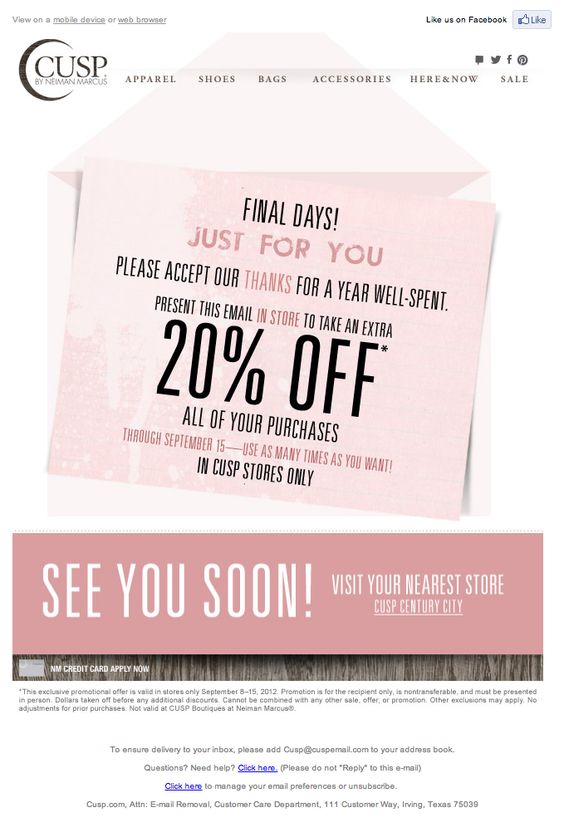 5. Birthday celebration by GraphicMama
Birthdays are always a great occasion to give and receive gifts and be appreciative of the people around you. Brand birthdays are not an exception to the rule. In fact, this is the time of the year most brands send customer appreciation email marketing campaigns. Here is what GraphicMama did for their clients on their one-year birthday.
6. Personalize it. By theSkimm
Here is another example of a brand which expressed their appreciation on their birthday – theSkimm. Instead of offering a gift, however, they send a fully personalized email to each client to remind them of the journey they've had.
7. Show love without waiting for an occasion. By Cross Country Educations
We love this customer appreciation template for a number of reasons. It is bright, merry, short and it expresses love. It is absolutely okay to make your customer appreciation email emotional because emotions drive action. In this case, there is an additional incentive – a discount for just 2 days.
8. Be human. By Brandless
Sometimes keeping it on the downside with the colors and clutter yields better results. It's like receiving an email from a friend. Here is a good example by Brandless who simply put their appreciation into sincere words (but did not forget the call-to-action in the end).
9. Anniversary milestone. By Readdle
If you don't celebrate your brand birthday each year, it's fine. But a 10-year anniversary is kind of a big milestone and the perfect occasion to thank your clients. Readdle has created a bundle gift specifically for the occasion.
10. Customer number milestone. TransferWise
Reaching a round number of customers, especially if it is a big one, is definitely an occasion for celebration. Such a milestone is the perfect opportunity to send customer appreciation emails to your clients. Excited about reaching this number, TransferWise even encourages their recipients to invite more people to their network.
11. Impressions milestone. By Grabyo
Basically, every impressive number in your reports can turn into an occasion to celebrate success. Grabyo has sent a customer appreciation email because they reached 1 billion video impressions. What would your number be?
12. Users milestone. By Trello
Reaching a round number of registered users on your website is the perfect time to thank each one of them. This type is one of the most common customer appreciation email marketing campaigns. Here is a cute example by Trello who also combined the campaign with a giveaway.
13. Social media milestone. By Attraction Tickets Direct
Attraction Tickets Direct sent customer appreciation emails for reaching 100k likes on Facebook. This idea is indeed awesome because even recipients who are not your fans on social networks will most probably become ones. Plus, they are giving several prizes… on Facebook, again. We wouldn't be surprised if the number of their fans drastically increased even more after this campaign.
14. Always be appreciative. By J.Crew
Why remind your clients that you appreciate them once a year when you can do it every time they make an order. Here is a great example by J.Crew who also used a cute photo of a dog on a pile of jeans just to make this email even more adorable.
15. Charity appreciation. By Charity: Water
Customer appreciation emails are not only meant for "customers". Charity campaigns like the following example by Charity: Water prove that appreciation emails are perfect a charity campaign which has reached its goal. With mutual efforts, everything can be achieved.
Feeling ideas popping into your head?
We certainly do! These customer appreciation email marketing campaigns are brilliant in many ways but most importantly, they truly make the customer-brand bond stronger.
We hope we have inspired you for your next email marketing campaign. If you want to share your ideas and campaigns with us, we'll be waiting for your comments below. Meanwhile, wanna throw an eye on 35 Creative Welcome Email Examples?