Email Trends For 2020 You Need to Know About
Reading Time:
5
minutes
This article was last updated on September 1, 2020
In 2020, you can expect email marketing to be bigger than ever. But, is this really that big of a surprise to anyone? Almost everyone relies on email as their primary form of communication. By everyone, we mean 3.9 billion active email users throughout the world.
We use email for a variety of purposes. We depend on email for personal communication, communication within the workforce, and most importantly, it keeps consumers in touch and up to date with the latest news and updates from their favorite brands.
Digital marketers have more tools than ever than can be used to reach their audience. Fortunately for you, as email continues to become more prominent, more tools and technology is created.
We can review data from these tools that show the customer trends and buying patterns that we otherwise may not notice.
We've been sharing this advice for quite some time now, but we will share it again; if you are not using email marketing as a part of your marketing strategy, you are missing out. Email marketing continues to show a steady return on investment, $44 for every email you send to be exact.
Whether you have an email marketing strategy in place or this new year is going to be the first year you add email marketing to your marketing strategy, we are here to share 4 of the biggest email marketing trends that you need to know about in 2020.
Including Content Generated by Consumers
What is the first thing most people do today before making a purchase? Most of the time, consumers do their own research and rely heavily on online reviews. Are you wondering just how critical online reviews are? As of 2019, 93% of consumers say that online reviews influence their purchase decisions.
Furthermore, it has been found that 82% of consumers consider user-generated reviews extremely valuable. So, in your emails, why not give consumers what they want? By doing so, you'll provide consumers with what they need, so they don't have to do the research themselves.
This practice is excellent for your business because consumers are less likely to become distracted during the buying process. If you are an e-commerce business, you don't have to worry about the customer leaving your site to check online reviews because the information is already there for them. Also, user-generated content can help to influence the decision for the buyer to make the purchase.
This email by Blink, for example, answers their audience's question of how their products can help them and what buyers can expect from their purchase. To get started with including user-generated content in your emails, simply ask your customers to answer a quick survey and begin collecting data. If you find that getting customers to complete surveys is difficult, try offering a small discount on their next purchase.
Interactivity Boosts Engagement
Last year, we saw the most email users were using a mobile device versus a desktop or laptop. In 2020 it is expected that increasingly more people will be using mobile devices to open emails. What this means is that if your emails are not optimized for mobile devices, it will be nearly impossible for your users to navigate through the email. The emails you send to your audience should be interactive and promote engagement. Here are some of the most popular interactive email elements you should use in 2020:
Animated buttons and calls-to-action
Rollover effects to showcase product offerings
Interactive images and product carousels that can be controlled by the user
Features to make long-form emails more compact
Surveys, polls and more user-generated interactive content
This email by the office, for example, is easy for mobile device users to navigate through and promotes engagement. Users can easily click through the call to action buttons that will take them to the brand's site.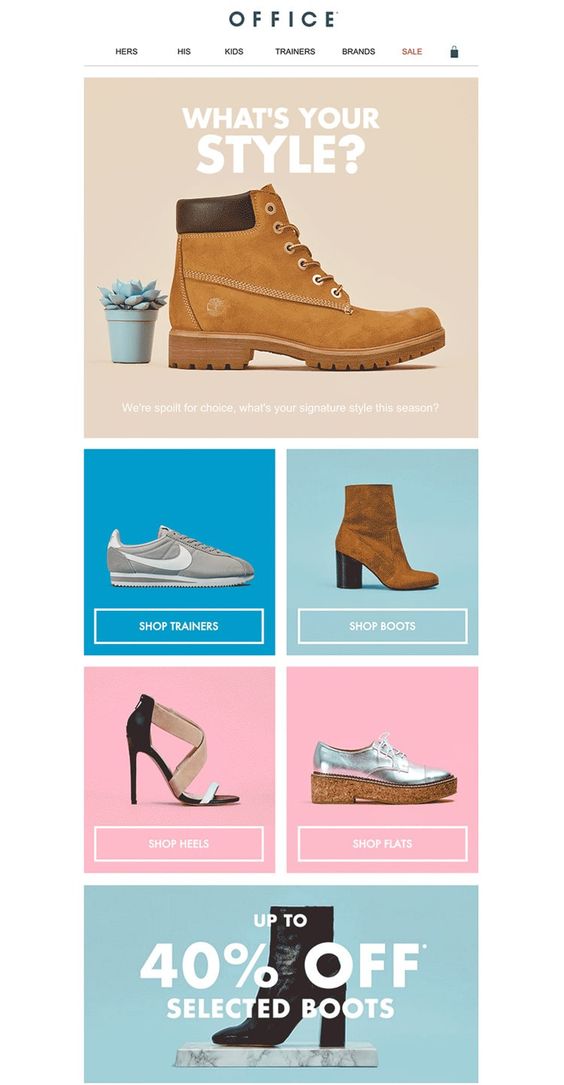 Accessible Content
In 2020 and the coming years, accessibility is everything. Not only are users on mobile devices, but they utilize voice assistants to help read through emails. Alexa, and voice assist on mobile devices are used for those who can't look at an email. For instance, if a user is driving and an email is of high importance, voice assistants can read the email aloud.
Additionally, The World Health Organization estimates that 1.3 billion people live with visual impairments, and 36 million of which are considered blind. This detail is huge for marketers. If you can design an email that is easily accessible, visually impaired individuals can easily interpret emails from their favorite brands. With voice recognition, these consumers can simply tell their voice assistants to make a purchase.
So, what do we mean by accessible content? The content in your email should be clear and to the point. Research shows that the attention span in an email is just 13.4 seconds and because the average adult can read between 250 and 300 words per minute, the ideal length of the content in an email is around only 50 words. MailBakery suggests considering the following tips:
Use Shorter Sentences
Limit small talk and hard to read words
If you can- localize your content for global audiences.
In addition to having accessible content, you should also have an accessible design. This means that you should emphasize real text in HTML. To do so, you should always use real text HTML, create a strong visual hierarchy within your email, be conscious of text justification so that you avoid long pieces of text, and use high contrasting colors that will make it easier for the user to read.
Not only do you have to have accessible content and design, but accessible code. To ensure that you are sending off accessible emails, try manipulating the code. When you create a strong code, you can rest assured knowing your emails are accessible to your users. Double-check that alternative text is used on all images in your email to ensure your HTML tables are accessible to those reading on a screen, and specific a language in HTML.
Get Ahead of The Trends with MailBakery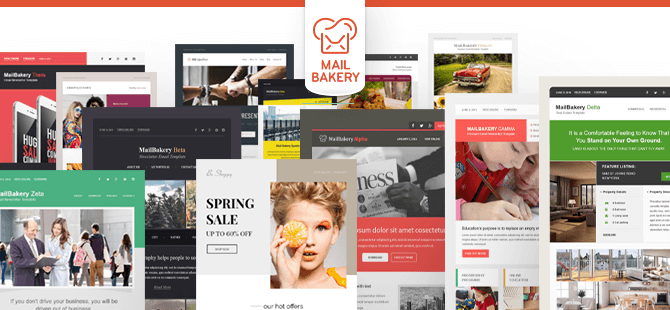 2020 is the start of a new decade. In the previous decade, email saw significant advancements and you can expect this next decade will be even better and bigger, ultimately generating more revenue for businesses. Get ahead of these trends and let MailBakery help you create emails that will bring your business to the next level in 2020. Check out our sample page to see what work we can do for you!