How to Build a Labor Day Sale Email That Converts
Reading Time:
5
minutes
In America, Labor Day occurs at the end of the summer, and your subscribers want to live it up as the seasons change. Consumers anticipate end-of-summer sales and great Labor Day deals on goods to help shift their life into autumn. This is no small opportunity for retailers, as Americans are known to spend a staggering $2.08 billion in just one day! Labor Day offers a unique opportunity for brands to improve their current subscribers' loyalty while enticing new subscribers with sale prices they can't resist.
Here's how your brand can create a Labor Day email marketing campaign guaranteed to increase your conversion rate and drive sales. Keep these tips in mind when creating your email campaign this Labor Day, and you'll soon reap the rewards.
When to Send Your Labor Day Campaign Emails
Timing is vital for a successful Labor Day campaign. However, you'll need to do more than just send out a single email on Labor Day itself.
Prepare for a successful sale or promotion by sending your first Labor Day email a full week prior. Send the next message in your email campaign 2-3 days before Labor Day, and finally another on the big day itself. You can also choose to send an email after Labor Day extending your promotion for a few extra days. This tactic can help you sweep up sales from any disappointed subscribers that missed the first run of your event.
Why so many email campaigns for one event, do you ask? Your goal is to raise brand awareness and drive sales. But let's be honest: people are busy with life's responsibilities. And on top of that, they're constantly inundated with Labor Day emails from other companies. It's essential to do everything you can to stay at the forefront of your subscriber's minds. That's why it pays to send them multiple targeted emails reminding them of your Labor Day campaign.
Related: When is the Best Time to Send an Email?
Use the Right Subject Line
The subject line is a customer's first impression of your campaign, so make it good! Your subject line's message should ring loud and clear. Depending on your brand, you might choose to hold a special event or launch a sale. Whatever the case may be, your subscribers should know what information you're conveying before they even open the email. To get the message across, endeavor to write subject lines that are straightforward and include relevant keywords.
Spending a little thoughtful time on your subject line will pay off in a big way by keeping your email campaign out of spam folders and increasing your open rates. Remember, your subscribers face an overabundance of Labor Day Sale emails, so don't be afraid to get creative! Avoid generic, over-used subject lines, like "Best Labor Day Deals" or "Labor Day Savings." Instead, take a cue from these examples:
Fire Up the Grill: It's Our Labor Day Sale!
Treat Yourself This Labor Day with Free Shipping
Early Bird Labor Day Deals
Say Goodbye to Summer and Hello to Savings!
Hurry Up! These Labor Day Deals Won't Last Long!
Content Personalization is Essential
Even though 46% of Americans intend to barbecue this Labor Day, every person has a different idea of what that means. College students might grill out at pool parties, while families with children spend precious time together before school starts. In the same way that everyone leads different lives, individuals respond differently to content as well.
Use any data that your brand has regarding customer personas and craft highly personalized content that goes far beyond simply adding someone's name in the email. If you can segment your Labor Day email campaign to target specific customer personas, you'll skyrocket your conversion rate.
For instance, if subscribers consistently made purchases for items that a child would use, there's a good chance they'll be spending time with their children for Labor Day. Take advantage of this opportunity to them send messaging and promotional highlights that they'll find relatable. 82% of marketers have reported an increase in open rates using email personalization alone. So why not join the club and use email personalization to convert more subscribers than ever before?
Related: 10 Brilliant Ideas for Personalized Email Marketing
Optimize Your Campaign for Mobile Use
During the pandemic, online shopping reached an unprecedented level, and the prevalence of e-commerce is here to stay. If you're sending customers information about your Labor Day sale this year, it's vital that you optimize your campaign for mobile use. E-commerce sales rose 77.8% last year, and the majority of that shopping was online. Out of the 3.5 billion people in the world that own a cell phone capable of connecting to the internet, two-thirds of those people have online shopping apps.
If your email isn't optimized for mobile just yet, here are a few tips that will make your brand's Labor Day sale email campaign all the more prosperous:
Keep it simple. Mobile screens are small and don't allow for much detail. To avoid designs that overwhelm the screen and distract attention, go for a minimalist approach. In addition, your website will load faster online, which is sure to increase sales.
Cultivate clicks. Make sure that all the clickable elements of your email are easy to spot. For one, this will keep the layout intuitive and easy to navigate. Secondly, people with large hands or poor dexterity can quickly click the links without issue.
Streamline your mobile pipeline. Map your customer's mobile shopping journey. This way, you can understand your mobile website's strengths and flaws. If anything obstructs your client's process, make sure to get it out of the way in time for Labor Day.
MailBakery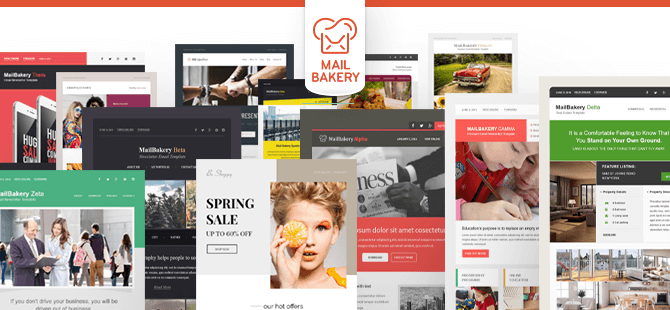 Don't let your brand miss out on the action this Labor Day! While everyone is barbecuing and spending time with family, they're sure to be shopping online as well. Be strategic with your emails' timing, content, and design to result in your best Labor Day sale yet!
Looking for the right design to help your Labor Day sale flourish? That's where MailBakery can help. We create brand-specific, custom-made email templates that stand out amongst competitors. With MailBakery on your team, you can produce engaging emails that lead your customers to more interactions and more purchases.
We specialize in designing and coding email templates for marketing campaigns. Working together, we can bring your visions to life and create stunning email templates that are sure to captivate and convert.
Ready to get started? Order Now, and let's get in the kitchen!