How to Build an Email List: 5 Tips and Tricks
Reading Time:
6
minutes
This article was last updated on February 10, 2023
Putting together an email list from the ground up can seem like a daunting task for new brands or a brand interested in developing an online presence. However, knowing how to build an email list is vital to the success of your brand. Email is the key to staying in touch with loyal customers and reeling in new customers. Growing your email list will help your brand establish your voice, build your reputation, and form a personal connection with your customers.
Suppose you're just beginning to build your email list. Congratulations! Your revenue will only increase from here. And gaining those precious subscribers from scratch doesn't need to become complicated — get started today with these easy tips and tricks.
Why Build an Email List?
An email list is a collection of email addresses from people who are interested in your brand, and creates a valuable channel to speak to your customers. You can derive these email addresses from many different sources, such as through a social media campaign or from customers who subscribed to your website or blog.
Although email lists may sound simplistic at first, don't mistake the simplicity for unimportance. The revenue that your brand can generate via email is uncapped, purely dependent on the size and engagement of your subscribers. You can keep subscribers active and interested with the right content, creating an audience primed to generate high revenue. But first, you need an email list to get your foot in the door.
How to Build an Email List from Scratch
With these easy tips and tricks, you'll be an email marketing master in no time! There's no need to overcomplicate the process of starting an email list. Use these tricks today to grow your subscribers list quickly and successfully.
1. Get an Email Services Provider
First things first, you'll need to find an email service provider that suits your brand's needs and works efficiently. In case you're not familiar with the term, an email service provider is a program that allows brands to send an email campaign to a list of subscribers. When you're looking for the right email service provider for your brand, ask yourself questions including:
What is the goal for my brand's email marketing campaign?
How am I going to use this ESP to achieve my marketing goals?
What type of content will I send to subscribers?
What email metrics are most important to my brand?

Another is ContactOut email finder tool, it will help you create your email lead list in minutes. It helps to search for prospects and leads at the channels with the highest attention to maximize your conversion rates.
There are many email service providers to choose from, so you can take your time and seek out a well-matched option. Each email service provider has a unique method of operating, target audience, and pricing. Before committing to an email service provider, take your time to define which tool would be most beneficial to your brand.
2. Offer Incentives to Join Your Email List
When you begin building your email list, people will need a little encouragement to subscribe to your content. Remember, most people hesitate to give out their email addresses, so you'll need to make the benefits of subscribing to your brand's content attractive and clear. To make an offer they can't resist, consider offering the following benefits:
A special offer for first-time subscribers, like a percentage off their order or a free item
An informative email series on a topic that is relevant to your brand
Access to a free ebook
Participation in an online webinar
The most effective incentives include content that will appeal to your target audience and act as the first step to forming a relationship with your brand. Certain incentives will also do more than help you gain a few subscribers. Offering subscribers perks like more information or beneficial tools will help you retain customers further down the line.
3. Create Calls to Action for Your Website and Content
Unfortunately, potential subscribers won't magically appear. You need to lure them in through any channel you can. To start, put structures, forms, and links in place that provide numerous ways to subscribe through your content and web pages. Compose them strategically — the CTAs throughout your website and social media posts should appeal to your ideal buyer persona.
Each call to action should include just enough information about the benefits your emails will offer. But be careful not to make the CTAs on your website too long, as a compelling CTA is direct and short. Create a sense of urgency when creating your CTA and watch your list of subscribers expand.
4. Drive Traffic to Your Email List Using Social Media
Any brand wondering how to build an email list should consider including email CTAs in its social media strategy. Social media is one of the easiest ways to grow your audience across the board.
However, one issue with using a platform like Instagram is that you can't include links directly in the posts. To circumvent this issue, we recommend including an email sign-up link in your Instagram bio instead. When you post content, you can then let followers know that they can access more information about your brand with the link in your bio.
5. Offer a Standard Opt-In Form
The most straightforward tactic that brands can use to grow their email list is a standard opt-in form. It may not be fancy, but it is effective. With an opt-in form, customers can enter their email addresses and subscribe to your list immediately. For best results, the opt-in form should be accessible on every page of your website.
If you use Shopify, a standard opt-in form will likely be built into your existing site from the get-go. But with other e-commerce platforms, you may need to include this in your website design intentionally. If you cannot include the opt-in form sitewide, be sure to insert your sign-up form in a prominent location on your website.
MailBakery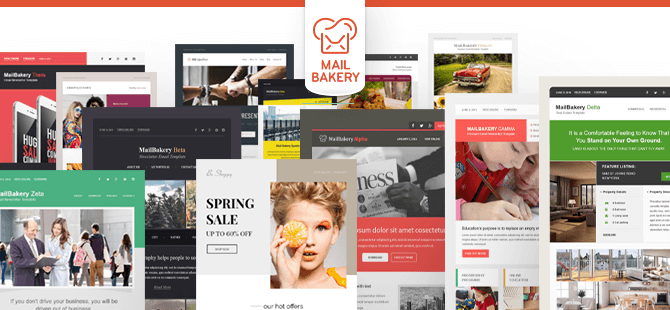 Perfecting how to build an email list is easier than you think. But even if your brand has an extensive email list already, you need to deliver high-quality content for lasting success. To amaze your new subscribers with high-quality content, MailBakery can help. Our expertise in creating gorgeous, brand-specific email templates is unparalleled.
If your brand could use assistance creating an email marketing campaign for your new subscribers, consider working with our team at MailBakery. Are you ready to create something incredible? If so, contact our team today, and let's get in the kitchen!