How to Utilize Emails in Your Holiday Marketing for 2019
Reading Time:
4
minutes
This article was last updated on June 7, 2021
The best time of year is here for business owners and marketers! The holiday season is a great time to boost sales and maximize revenue.
Last year, Cyber Monday alone skyrocketed sales with a whopping 7.9 billion dollars in e-commerce sales. We have seen that this number grows each year, so we're excited to see how much that number will increase in 2019.
Whether this is your first holiday season in business, or you didn't see the sales results that you expected last season, now is the time to start planning and putting plans into action.
Holiday email marketing is the best way to get the word out there to gain interest from your customers and help you capture a percentage of the billions of dollars that are pulled in during the holiday season.
With email, you can reach out to customers who have shown interest in your business previously. Emails can also be used to build relationships and capture the attention of prospective customers. The crafted messages that go out during the holiday season are a great way of showing your customers the special offers you have going on, which is vital for conversions.
There are a couple of ways you can and should be utilizing emails in your holiday marketing plan this year.
1. Welcome new customers
The holidays are an excellent opportunity to build relationships with new customers. Those that normally wouldn't shop at your store might purchase for a friend or family member.  Emails are a way to give a warm welcome! If you offer online accounts, your welcome email should provide some direction of where to register. Let these customers know it's a quick and simple way of purchasing items online.
You may have noticed some businesses even offer a discount in their welcome email. This is not required, but it is definitely an idea to consider. Even a discount as small as 10% off their next purchase or free shipping is an excellent way of getting these customers to come back again.
While warm welcome emails are effective, be sure not to overdo it. Most customers don't want to be bombarded. Start with one and gradually increase once you begin to measure results.
2. Share offers
Unless a customer comes into your store or visits explicitly your website, how are they to know about the discounts and specials that you offer during the holiday season? Your customers are routinely checking their emails each day, so sending a message via email is a convenient way for everyone to receive your message.
Here are a few things you may want to include in your holiday promotional emails: shipping information, gift card services, gift wrapping options, important dates that include special offers, and customer service options.
These emails that include your offers should also have a prevalent call to action statement. For instance, a button that reads "Order Now Before Offer Ends!" will create a sense of urgency and prompt them to the next step in the sales process.
3. Reduce cart abandonment
This year is expected to be a great one for smartphone shoppers. While this does mean more revenue, when you shop on the go, it's easy to forget about the items that you might abandon in your cart. When consumers shop on their mobile device, they can become easily distracted. For instance, they might receive a phone call, text, or email during the buying process and completely forget about their items.
The good news is, with email marketing, you can decrease your shopping cart abandonment rate. The key to being successful with these shopping cart abandonment emails is to send them within three hours of the abandonment. Sending out an email a couple of days later might decrease your chances of getting in touch with the customers. Sometimes, one email might not be enough. In fact, 30% of brands report that they send three or more emails after a customer has abandoned their purchase.
In this message, you should include a subject line that makes your customers act with a sense of urgency. For example, a subject line of "Act Fast! The Items in Your Cart Just Went on Sale!" will entice your customer to open the email and re-visit their cart.
You should also be as specific as possible. Your customers become so busy in their day that they forget what they tried to purchase just a few hours ago. Many brands out there send a link and image to the product that was in the shopping cart. Seeing the products can spark customer interest again.
4. Give customers a reason to shop
The greatest thing about the holidays for businesses is that they provide customers with a built-in reason to justify spending their money. At other times of the year, budgets are tighter, and people are more focused on saving, but during the holidays they are a little more at ease and likely to spend more money. When you send out your holiday emails, include reasons to shop. For instance, sending messages that ask "Looking for a last-minute gift?" will get the customer interested and help increase open rates. Discounts are also a good reason for customers to spend. A subject line that reads "You don't want to miss this deal!" sill spike up some curiosity.
Get festive with your emails and spruce up your design. Putting your customers in the holiday spirit will also help to put them in the purchasing spirit.
Kick Off Your Holiday Emails with MailBakery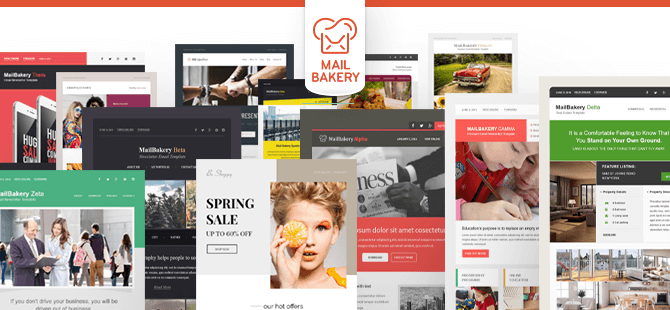 We hope these ideas for your holiday emails have you inspired to create some amazing email campaigns. If you have some holiday emails in mind that you are ready to bring to life, contact MailBakery to get started! Your first coding is free, which means you get a deal yourself this holiday season! What have you got to lose? Let's get to baking!