28 Promotional Email Design Inspiration: How the Big Brands Do It
Reading Time:
4
minutes
Promotional email campaigns are a very well known and ultra successful email marketing technique with the potential to generate a massive ROI. Professional designers know how make the best out of this type of campaigns, so today we've prepared a big portion of inspiration for you. A collection of promotional email designs which instantly grab the attention.
Of course, promotional email campaigns cannot solely make your recipients fall in love with your brand. They need to be combined with transactional emails and other marketing channels. Want to learn what Transactional Emails are?
For today's post we have put together 28 promotional email templates, falling into different categories of campaigns, such as:
sales
offers
promotions for new products
promotions for holidays or special occasions
Sale promotional email designs
This is one of the most popular and effective promotional email campaigns. Sale campaigns usually provoke the recipient's curiosity. Combined with a great design, this kind of promotional emails can generate lots of click-throughs.
We will show you real examples of email sale campaigns by famous brands such as Luciana, Toms, Free People, Madewell, Grandtree, Diane Von Furstenberg and others.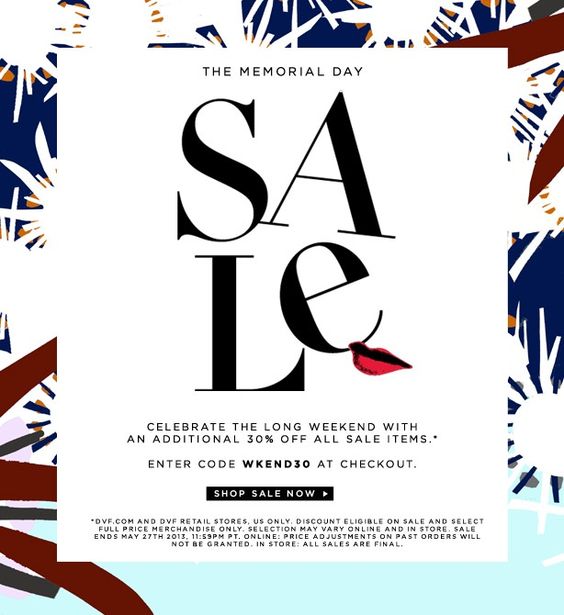 Special offers
Just as seductive as sales. Special offers might be limited time offers, product combo discounts, mystery sales, surprises, gifts, buy 2 get 3, etc. They are very good at raising the curiosity and provoking action because people simply love deals. We have prepared special offer email campaign examples by Ann Taylor, Whistlefish, Red envelope, and J. Crew. Enjoy!
New product promotions
Presenting new products to boost your sales is a must-have tactic for your email marketing strategy. Most people enjoy being up-to-date with the latest trends and new products on the market. For this type of promotional email you can afford creating a longer template with multiple sections and call-to-action buttons. Highlights your new arrivals by category and leave out anything unnecessary. We've picked great examples by ModCloth, Terrain, Banana republic, Free People and others.
Occasion/Holiday promotional emails
Holidays and other special days during the year are a great time to send promotional campaigns to your customers. During these days people are generally in a good mood which means they are more inclined to spend money. These email templates can be either short or long, they can contain products or simply inform for a sale. Check out a few examples by Escape, Tiffany & Co., Birchbox, ban.do, Godiva and others.
Inspiration level up!
Hopefully you enjoyed this collection of promotional email designs. If you want to add another template that inspired you, you are more than welcome to do so in the Comments' section below.
Moreover, if you are in for another dose of inspiration, head over to Halloween Email Examples: Inspiration for Halloween Email Campaigns.