14 Egg-Cellent Easter Email Examples
Reading Time:
7
minutes
Spring is in the air, and you know what that means? Easter is just around the corner! Easter email campaigns are synonymous with spring, and many marketers can play into this with their strategies. Spring signifies new beginnings and countless possibilities. Although it's not as big of a holiday as Christmas or Valentine's Day, it's also a holiday that can boost engagement, increase online conversions, and earn more in-store visits.
You can even leverage Easter's bright, pastel palette and encourage feelings of happiness to blossom within your subscribers.
Below, you'll find our pick of Easter email examples that we find simply egg-cellent!
1. Philips Hue
Just because your company doesn't sell anything holiday-related, it doesn't mean you can't take advantage of the holiday. Consider the different ways consumers can use your products to enhance their everyday experiences.
Philips keeps their Hue bulbs on shoppers' minds with an Easter email that shares tips to help you get the most of their product. Another thing that makes this design successful is the simple layout and strategically placed CTAs that punctuate each idea and offer a 20 percent discount deal.
2. Tattly
Decorating eggs for Easter has been a tradition as far back as 1290, but with its Easter email, Tattly brings the spring tradition well into the 21st Century. We love this design because the temporary tattoo brand uses descriptive imagery to show and not tell the audience how to use its popular designs to customize your eggs. Sometimes it's more impactful to let imagery tell the story in ways that copy cannot.
3. KFC
In 2020 Easter looked a little different, and 2021 is likely to be the same. Sometimes you don't need to remind your customers of their problems; you simply need to present them with a solution: your product and services.
Favorite family-oriented restaurant, KFC, recognizes the loss of being able to dine at your favorite establishments for the holiday with their campaign. In it they highlight that they are still open and encourage families to make the holiday memorable with a "home-cooked meal" available for pick-up, free contactless delivery, or drive-thru.
4. Whole Foods
In addition to Easter brunch, many households also host an Easter dinner that allows family members to feast and fellowship. This email campaign by Whole Foods invites its customers to find small moments of joy during tough times with food.
In addition to promoting their products, the brand also provides tips for enhancing your everyday dishes in fun ways that evoke the spring spirit. Sharing tips for getting the most out of their money are forever a favorite way to engage your readers and see your company as a resource.
5. Packlane
Who says you have to stick to the basics? A clever way to show the value of what your company offers is to showcase it in a different light. Packlane uses its Easter email to demonstrate to subscribers that its custom boxes can be used as a new-age Easter basket. Throw in an easy-to-read layout, a spring-themed design, and egg-stra special copy that highlights why they're the best option, and you have the recipe for success.
6. Crate & Barrel
Contrary to popular belief, it is okay to throw a few puns into your copy, especially if it's on-brand. Adding humor is a fun and excellent way to grab your reader's attention through the preview text and showcase your company's personality. The important thing is not to get egg-treme with the puns. Crate & Barrel executes the perfect balance between punny and practical in their Easter email campaign while reminding others of their one-of-a-kind home décor.
7. Julep
Product reveals are common in email campaigns, but you can use seasons to help products make their big debut. Popular beauty brand Julep does this in a fun way, using eggs to hatch and reveal their new colors and promote their mystery box.
Incorporating animation into your email design is also a nice touch for engaging your readers. Our only complaint is that the call-to-action could be a different color, as it blends in with the other soft shades of blue, and potential customers might scroll right past it.
8. Fortnum & Mason
A favorite way to spruce up your email marketing campaign is to gamify your content! We absolutely adore Fortnum & Mason's take on the classic gift guide. Here they've incorporated a quiz to help readers find the perfect gift.
Not only does this image-heavy design display F&M's products in an original way, but it also shows that copy isn't always the best way to sell your products. However, keep in mind that some of your readers might have images restricted, which can alienate a specific group.
9. Trivago
With COVID-19 numbers on the decline, many people are itching to get out and travel, which was virtually impossible last year. Trivago looks to inspire its subscribers to do some "hunting" of their own by exploring cities and taking advantage of the current low travel and lodging rates.
The brand subtly weaves the holiday into its design with happy eggs on a beach while staying true to itself and displaying clear CTAs throughout. All a testament to how your brand can also profit from seasonal holidays.
10. Frank and Oak
One of the best ways to ensure shoppers take advantage of your sale is to let them know their time is limited. There are plenty of ways to create FOMO (fear of missing out), including showcasing the sale end date and incorporating words like "last chance" and "final hours." In this example, sustainable clothier Frank and Oak cleverly use FOMO-inducing language and a countdown to create urgency for shoppers not to miss out on this site-wide sale.
11. ORLY
Another way you can gamify your content is to have your readers solve a riddle to gain access to the 30 percent discount. It is a neat way to not only bring traffic to your website, but also inspire them to visit your various product pages during their visit. It also perfectly captures the spirit of Easter. Nail polish brand ORLY is a favorite for its creativity, traditional use of pastel colors, and its expert use of the product to inspire action in its customers.
12. Hotel Chocolat
Don't fret if cartoon rabbits and palettes filled with pastel aren't up your company's alley. You can still entice your target audience while remaining true to your brand's personality! British company Hotel Chocolat shows a fantastic example of this.
Although the upscale chocolatier keeps it simple with the design of its Easter email campaign, overall, it is still impactful. The main focus is its 15 percent off sale, which is perfectly accented by its high-end, speckled chocolate eggs. Even without the standard trappings of Easter, subscribers still receive the message.
13. Rituals
Gift guides and finders are especially loved by shoppers who aren't sure what to fill their Easter baskets with. Instead of having your readers scroll endlessly through your product list, why not personalize their experience? Skincare line Rituals does just that with an interactive gift finder widget.
Every marketer understands the importance of personalization in email marketing, and by answering three simple questions, subscribers can find the perfect gift for themselves or a loved one. For bonus points, the brand also features a recipe for delectable banana nut bread.
14. Topman
Seasonal holidays like Easter are fun and also a great excuse to get creative with your email design. You should certainly take a page out of London-based company Topman's book and give new meaning to the term Easter egg hunt.
In their Easter email campaign, the clothier features a cheeky subject line ("How'd you like your eggs?"), Easter-themed colors and a virtual Easter egg hunt that rewards participants with a discount. The presentation and idea are clever and sure to make subscribers want to join in on the fun.
MailBakery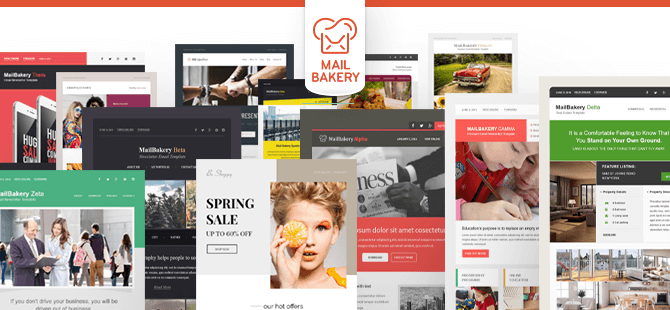 Crafting the perfect email marketing campaign can make the difference between leads converted and opportunities lost in your egg hunt for customers. Our picks for Easter email campaigns are only a sampling of the excellent designs that exist. If you're feeling inspired but don't have someone to bring your ideas to life, enlist the help of MailBakery. Together, we can design and create email templates that are stunning, brand-specific, and sure to convert.
Are you ready to work together and creating something incredible? If so, contact our team today, and let's get in the kitchen!