15 Fabulous Father's Day Email Campaigns
Reading Time:
7
minutes
The summer heat is setting in, and with it comes Father's Day, leaving many people uncertain of what to buy for their dad. With the right email campaign, you can prove to your brand's subscribers that you have exactly what their dad, uncle, or cousin needs this Father's Day. If you're crafting your next email marketing campaign for Father's Day, now is the prime time to convert leads and increase engagement with subscribers that may not have even been interested in your company before.
Here are some of the best email campaigns for Father's Day.
1. Baboon to the Moon
Admit it. You giggled a little! Don't listen to anyone who tells you that dad jokes are out of style. A bit of humor is a great way to grab your audience's attention and make sure that your company stands out in a sea of boring Father's Day email marketing campaigns. Using a bold headline like "Be the Favorite Child" is humorous, light-hearted, and sparks the subscriber's interest. Once the reader is drawn in, the use of a clear call to action inspires them to shop a collection of their products that were chosen specifically for Father's Day.
2. Function of Beauty
This campaign reminds people that dads want to look good too. People usually wouldn't think of a beauty brand advertising to fathers, but that's precisely what makes this campaign so genius.  The truth is, fathers, want to look their best as well, and the desire for luscious locks is genderless.  If your company's products aren't something that men are expected to be interested in, try thinking of your product from a different perspective. Gender roles and unconditioned hair are out of style.
3. NueBar
This is the perfect Father's Day email campaign for an environmentally conscious dad. Everything from the color scheme to the copy itself appeals to an eco-friendly consumer. NueBar also demonstrates that various fathers can use their plastic-free hair products by highlighting their different products. Their expert use of copywriting shows that all dads can be environmentally friendly
4. Kelty
What's so great about this Father's Day campaign is that it paints a picture for the audience. They can imagine their dad taking them to the beach or camping and using this tent. Not only does it benefit the father in question, but it also benefits the child. With a slogan like "Dad Life is the Best Life," fathers have something to aspire to.
5. Jamba Juice
The marketers in charge of this Jamba Juice campaign know that you considered getting your dad another tie this Father's Day, and they used this to their advantage. The playful tone makes you want to engage with it, and the interactive live poll makes you feel like you need to click it, even if you don't want to. It even updates in real-time. As soon as their email subscribers realize that getting their dad a Jamba Juice gift card is the best thing to do since everyone else who is subscribed has already done it, of course, they'll want to follow the crowd.
6. Nest
The Nest campaign stands out from the others on the list because, when you see the father with his child, it's easy to imagine the dad in your life doing the same thing. In addition, nest engages their current customers with the campaign by taking advantage of their user-generated content. Not to mention, the ad is hilarious in that you can see the scene so clearly in your head of a dad playing with his child in a room cluttered with baby toys.
7. Quip
What's so great about this cute email marketing campaign from Quip is its expert use of motion to show, rather than tell, that dads come in all shapes and sizes, and their products have appeal for all of them. To add to this, their use of animation makes this email marketing campaign impossible to ignore. Their copywriting seals the deal with a sentimental touch.
8. Fado Irish Pub
This one is straight to the point, and that's what makes it great. There's a 60% chance that the dad you're shopping for consumes alcohol, so of course, he wants a good beer. The contrast between the dark background and the bold, white text evokes a classically masculine feeling. Their "Do It For Dad" call to action is straightforward as well. Fado's email marketing campaign is so clever in its simplicity. It proves sometimes less is more.
9. Rimowa
Contrary to what you may think, luggage is the best gift you could get a dad on Father's Day. At least, that's how you'll feel once you take a look at Rimowa's Father's Day campaign. And they're correct in that most dads need to travel for work or family at some point, so it's wise to be prepared by using sturdy and durable luggage.
With this email campaign, Rimowa clarifies that their luggage embodies the essence of being a father.
10. Aldo
Most people don't think about buying shoes for their dad on Father's Day, but Aldo's email marketing campaign makes you want to. This campaign makes you want to do more than buy a man a pair of shoes. It makes you want to celebrate the miracle of fatherhood by purchasing a pair of shoes. The use of yellow adds a few splashes of color that draw your eyes in without overwhelming the shoes. Furthermore, the blurbs of text call subscribers to think about the personality of the dad in question. The text excites the imagination and has subscribers envisioning how cool their father feels in a new pair of shoes.
11. Birch Box
Birch Box's call to action is loud and clear. After everything that your father does for you, it's time for you to give him the gift of self-care this Father's Day. The vivid orange makes this campaign stand out in a bevy of emails with plain, bland backgrounds. Their products are center stage. Since this product is exclusive specifically to Father's Day, you're inspired to act immediately. Combine this exclusivity with the bold tagline that makes your subscribers feel empowered to purchase the product, and it's a recipe for success.
12. Chubbies
Of course, this Chubbies campaign makes you laugh a little! Chubbies' humorous brand identity shines in this email marketing campaign. The copy fits perfectly with the brand's comic identity. Along with the cute photography and straightforward text, the boxed layout design narrows the reader's eyes and makes the small text easier to read.
13. Topo Designs
The photograph of the dad and his child has a sweet, nostalgic feel that is relatable to many subscribers. The different types of dads that we see as we scroll down help subscribers navigate the email.
14. Lord Taylor
We love to see a campaign that shows us the father and child together, but this Lord Taylor email campaign stands out. This campaign was the only one we could find featuring a differently-abled dad, and it's about time we saw more of that. In addition, the design of the email features content blocking. This design choice keeps the email energetic and fun to keep subscribers scrolling down the page.
15. Food52
We've all heard of getting mom flowers on Mother's Day, but have you heard of getting dad a salami bouquet on Father's Day? If not, Food52 will make you consider it. The beige and white colors perfectly complement the photography. In addition, placing a call to action at both the top and bottom of the layout was clever because subscribers won't need to scroll if they're feeling particularly excited about the product.
MailBakery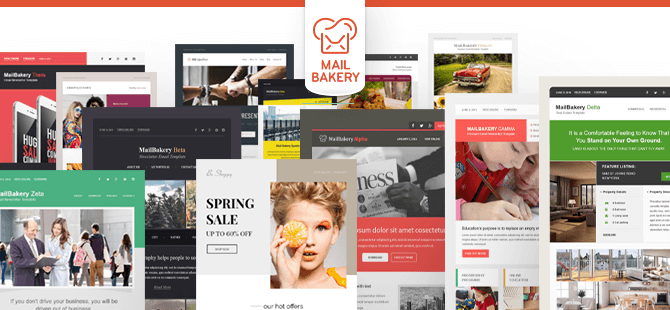 To create the best possible email marketing campaign this Father's Day, consider calling upon the expertise of MailBakery. We specialize in creating and designing email templates that will inspire new leads and convert the leads you currently have.
If you're having trouble making the email campaign of your dreams a reality, be sure to check out MailBakery. Are you ready to work with the best to create something incredible? If so, contact our team today, and let's get in the kitchen!