4 Parent Approved Emails for Back to School
Reading Time:
5
minutes
Time is flying, and summer will soon be at its end. Say hello to falling leaves and sweater weather! As seasons change, students are heading back to the classroom, and it's time for parents to stock up on back-to-school essentials.
Every year, parents spend a total of $33.9 billion on clothes, notebooks, and backpacks. Brands in every sector should begin planning an email marketing campaign complete with standout designs that parents and students can't resist. Of course, if your brand features traditional back-to-school items like notebooks and clothing for kids or young adults, whipping up an email marketing campaign is pretty straightforward. But even brands that sell items that aren't traditionally school-related can get in on the action.
Not sure where to begin? Here are four parent-approved back-to-school email marketing campaigns that will get your creative juices flowing!
1. The Traditional Back to School Email
As usual, busy parents are hankering for a good deal during back to school season. So why not grab their attention with a discount? Since back to school is the second-largest spending season next to Christmas, this is an excellent opportunity to increase sales, no matter what products you're selling.
For an attention-grabbing campaign, don't shy away from bright colors, fun graphics, or animations for this design. Ban.do do a great job of this with their back-to-school campaign.
If your brand doesn't provide traditional back-to-school items, now is the time to think outside the box. For instance, if your brand sells bed frames, you could mention the importance of establishing a regular bedtime routine for parents or students while offering a discount. A brand that sells skincare products might appeal to busy moms who need to make time for themselves on a hectic morning. Every brand has options for a great back-to-school email campaign.
2. Give Back for Back-to-School
Although many students are lucky enough to begin the school year with a brand new laptop and wardrobe, 15 million students come from families with little to no funds for new backpacks and other essentials. Get in touch with your brand's charitable side and give your reputation a humanitarian boost by supporting hardworking students who are less fortunate.
When it comes to accepting donations for children in need, the possibilities are endless. You could collect canned goods and school supplies to donate to a local charity or homeless shelter. Or, if your brand would rather keep it digital, you have the option to collect donations online or give a percentage of each purchase to an underfunded school program. This email campaign from Columbia inspires subscribers to donate their gently worn clothing to students in need:
An email marketing campaign is an ideal way to inform your customers about your charitable works. In the first email, raise awareness that your campaign is about to kick off. With the second email, provide customers with an official invitation and details of your efforts. Lastly, reward your charitable customers with a discount coupon or other reward toward their next purchase.
3. The Testimonial Email Campaign
While most brands focus on students during this time of year, you can make your email marketing campaign stand out from the crowd by shifting the focus to parents. After all, there wouldn't be any kids without them.
Luxury skincare and cosmetics brand Cos Bar chose to focus on mothers, letting employee voices shine through in this clever campaign. They asked their team of beauty experts to share their bustling morning routine with subscribers, adding a personal touch to their brand. The result? A unique campaign that's relatable to mothers everywhere. The call to action also avoids sounding "salesy" by humanizing their approach with "Ask Cicely a Question."
Build trust between your brand and customers by implementing a few of their strategies in your own email campaign. Ask parents who regularly use your products if they'd like to provide a testimonial or be featured in your campaign.
You can even segment your email list into subscribers in a specific area and provide customer reviews in a similar geographic location. For example, if you know that you have many subscribers in the midwest, incorporate testimonials from a city like Kansas City or Chicago to make your campaign seem closer to home.
4. Target a Niche in Your Email Campaign
Naturally, every student will need the typical back-to-school items like writing utensils, folders, and notebooks. Still, if your brand doesn't sell these products, you'll need to approach your campaign from a different angle.
Just as every brand has a different target audience, every student has different needs. The shoe brand Sperry expertly appealed to their niche by focusing on students who needed uniform-approved shoes.
Every brand can use this technique to boost its sales this fall. Segment your email list based on the customer's previous purchases. For example, If you can synthesize your data and see that customers have purchased sportswear for children in the past, send them a personalized email marketing campaign for kids' back-to-school sportswear.
Not sure if the effort of segmentation is really worth it? Marketers are known to garner 760% more revenue through email segmentation alone. Segmentation allows for personalization, which is six times more effective than sending the same generic email campaign to your entire subscriber list. So it might take a little extra work, but it pays off in the end.
MailBakery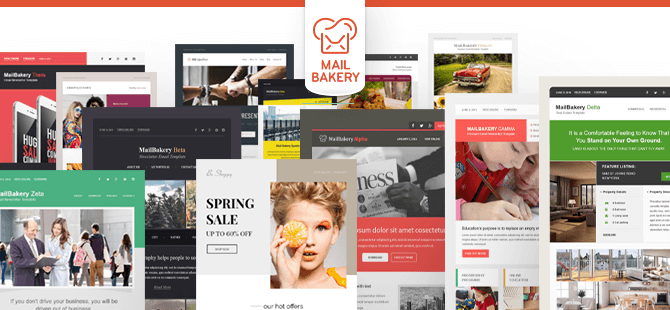 It's back-to-school season, and we hope you took notes! With the right strategy, your back-to-school campaign will have both parents and students excited for the school year to begin. But if you still need help with your back-to-school email marketing campaign, MailBakery is here to provide you with eye-catching designs that will make your brand stand out from the competition.
We design and code email templates for marketing campaigns. Working together, we can bring your visions to life and create stunning, brand-specific email templates that are sure to captivate and convert.
Ready to get started? Order now, and let's get in the kitchen!