Clever ways to use a CTA in your email marketing campaign that will drive clicks
Reading Time:
5
minutes
This article was last updated on November 1, 2022
There are quite a few elements to an email marketing campaign. One of those elements, perhaps the most critical component of the email, is the call to action statement (CTA Statement, or CTA.) A call to action statement is a button that grabs your reader's attention and encourages them to take action.
In your email marketing campaign, this call to action statement is a hyperlinked line of text that directs a user to make a purchase or visit a landing page on your website. The goal of a call to action statement is to get the reader to take action.
Call to Action statements really require some thought and strategy. This action you seek is why it is so important to have an email marketing strategy. A strategy is what helps you plan the overall goal of your email campaigns. Do you want to drive more traffic to your site? Do you want more followers on social media? Do you want to boost sales? All of these goals are dependent on your CTA statement.
Since CTA statements are so important, it's vital to use CTA statements that are engaging and unique. Otherwise, it is unlikely that your readers will respond to your plea. Here are some smart ways to use a CTA in your email marketing campaigns so that you will drive clicks.
CTA Button: Subscribe
Who needs a lengthy email asking you to subscribe to a blog or newsletter when you can make it quick and easy for the reader to understand? For those who hold a management position, this CTA asks for one small piece of information: an email address. Inserting this information takes a second, and then readers have access to all the content that will help them to become a better manager.
CTA Button Join for A Free Month
Perhaps you want your readers to join your subscription. One of the biggest fears readers have before committing to a subscription is that they will end up not liking it. Netflix does an excellent job of addressing the concern right then and there for its readers. Right above the CTA Statement asking readers to join for a free month is a statement that says readers can cancel anytime.
Consider allowing your readers to cancel their subscription at any time. Readers might be interested in joining your subscription but don't want the financial obligation. It's also important to note the colors of the design in this email. The read block text attracts the reader's eyes and then guides the reader's eyes to the text above.
CTA Button to Get Started
Do you want readers to get started with your product or service? One way to get your readers to click is by assuring them the product or service is easy to use. In this email, Square assures its readers that their product is easy to use by showcasing the simplicity of the product.
When it comes to sending out a good CTA that drives clicks, consider other elements of the email, such as design other than focusing on just one button. Do you think it is a coincidence that the color of the credit card that the woman is holding is the same color as the CTA button? No coincidence. They selected this color to guide the readers' eyes.
Consider the wording
If your CTA statement is to begin a free trial, have you ever tested out the wording of the phrase? For example, "start your free trial" sounds much different than "claim your free trial."
The word claim creates a sense of urgency as if the free trial won't be available for long. The word claim also gives readers a sense of ownership, as if the free trial is already theirs. The difference in wording may seem subtle but it makes the email much more personal.
Be Direct
This call to action statement by the legacy box is straightforward. The button is visible, eye-catching and it's difficult to ignore. Plus, who wouldn't want to shop items with a discount code?
Use White Space To Your Advantage
Sometimes, we look at white space in an email design as a design flaw when actually we can use it to our advantage. Next time you find a lot of white space in your email, consider using that area as a space for your CTA Statement. It's a great way to draw the eye in!
Number of CTAs
Have you tested emails with numerous CTAs and emails with just one CTA? In some cases, a few CTAs are necessary, but generally, one CTA statement is enough. When you have too many CTAs, the reader can become overwhelmed and confused about what you are asking them to do. Have one strong CTA that makes it clear what you want readers to do.
Keep Distractions to a minimum
A reason you might not be seeing many conversions from your email is that there are too many distractions. Many people believe that creative, busy design is what interests people. In some cases, while this is true, the CTA can get lost along the way. If your goal is to drive clicks, keep the design simple so that your readers know exactly what you want them to do.
Take this example from SkillShare, for instance. There is still a design that attracts the eye, but it does not take away from the CTA that is asking its readers to join their newsletter. When you are designing your next email and it comes time to focus on your CTA, consider keeping the design simple and focus on what matters.
MailBakery: Creating Powerful Designs for Powerful CTAs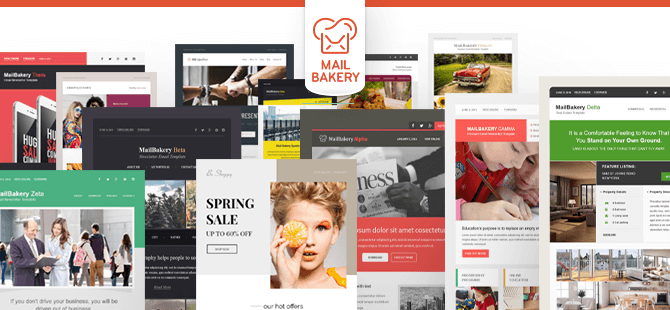 The success of your email marketing campaign all depends on the effectiveness of your CTAs. Next time you are designing your email campaign, browse our sample pages at MailBakery. With our unique emails and a compelling CTA, you are about to increase clicks!