How to take advantage of your first custom-baked email
Reading Time:
5
minutes
This article was last updated on November 11, 2021
We at Mail Bakery are confident that you will find our secret recipes to be the most delicious email you ever saw. We are SO sure that we're ready to put our money where our mouth is, and offer first-time customers a free email as a taste of what more is to come. The $294 (USD) savings to you is just like adding extra sprinkles to make it even more special.
It's like smelling fresh bread. You can almost taste it as the aroma takes over your very being. We bring that to your email, and you can't wait to try our secret ingredients in other parts of your media.
We bake for you a hand-coded and commented HTML email cupcake that is mobile responsive and taste-tested on 40+ different email clients to make sure that the flavor profile is perfect. We can integrate our little cupcake on your ESP (MailChimp, Campaign Monitor, etc.) and do it all in only two business days.
Our little bakery has served over 2,000 companies. Why not yours?
You provide us with some details
Your head is swimming with ideas for a customized email cupcake. You've got the perfect filling, the delicious cake flavor and topped with fluffy and flavorful icing. You know it will all go brilliantly together but haven't got a clue about baking. No need to worry. That's where Mail Bakery comes in.
You provide us with a few key ingredients (files), and we can get to baking for you:
Layered design file
You drew up your design on something, or at least you should. Perhaps you have something drawn on PSD, Figma, Zeplin, or something else. Send us what you have so we have an idea about what is on your mind and where your creativity leads.
Images for proofing
Send us any images you want us to add to your email template. For your protection, do make sure that they are either images you created in-house (or photographed) by your people, or that they are royalty-free and not copyrighted.
Instructions and preferences
Our coders work at all hours, and they aren't always during your office hours. For this reason, in the name of expediency, we ask for some detailed instructions that we can refer to as we work. These instructions are all detailed about how you want your email coded. If there are specific fonts, sizes, and colors you would like used to match your corporate branding, add them here in the instructions. We want our cupcakes to match everything you have on your marketing snack collection.
Included links
Many of our clients like their customized fillings too. We can embed certain links to designated places on your web page to show in every email. Your bakers simply need to know those special fillings and where you would like them placed.
We bake you complimentary email cupcakes
Once your email template cupcake cools, and we can add the finishing sprinkles we send you a box of goodies to go with your cupcake:
HTML file (the cupcake)
This file was hand-coded and commented on especially for you. This commenting will help you find yourself around in the content. Each section is labeled and spaced out for easier navigation.
Cupcake holder
We provide you with a folder with sliced project images and a sliced PSD if you request it.
Proof of success
To make sure your email cupcake is well-received, we send a test to more than forty different desktop and mobile email clients. We provide you with a link to the screenshots of each of those clients, so you know how your email template will be shown across the board.
When you find yourself hungry for more
Once you get Mail Bakery involved, you'll want all of your content to contain the same familiar vibe now that you see how beautifully your idea came to life. We will put a dedicated team together to start working on all projects coming from you.
Make it all match
We can alter your existing templates to match your new design or alter the code to optimize performance. Let us take a look, and we are going to fix it.
We design too
If you need new designs and coding from scratch, we can furnish all of that for you. We will handcraft two unique designs for you to choose from, or we can combine together your favorite concepts from both designs.
Custom landing pages
To continue the flawless design, we can also develop customized lead generation and click-through landing pages to match your other media. Our coding can even accommodate custom JavaScript and PHP.
Website development
Just getting started? Your bakers at Mail Bakery can help with your website development on a WordPress Development platform, complete with E-commerce integration, custom JavaScript and PHP. Just drop us a line and take us up on a free consultation.
If you have a website that needs a new recipe – we can make some tweaks or add extra sprinkles. We can also help with optimization, responsiveness, and all WordPress plugins. Just like our emails, we test our projects on real browsers to make sure our design displays and behaves flawlessly.
Guaranteed work
Starting a new relationship is scary sometimes, which is why we like to dazzle you first with our risk-free offer.  If ever you aren't sincerely delighted with what we bake for you in our bakery, just speak up, and we'll kindly refund your money or make it right. It is that simple (we are that confident)!
It all starts with a single taste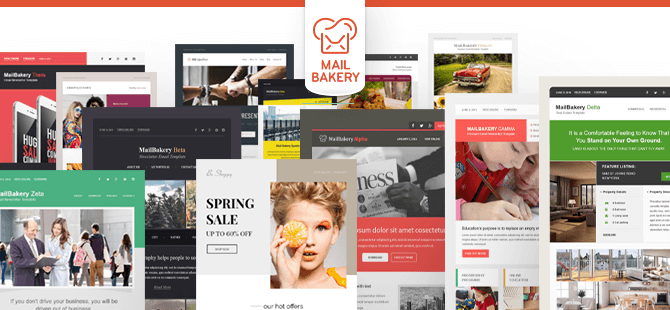 What have you got to lose? Just one single taste of the delicious delights our bakers whip up, and you'll be a customer for life and want one of every flavor. Let's not get ahead of ourselves, though. It would best if you started with your complimentary taste of our delicious email coding goods.