HTML Email Templates – Best Places to Find Them
Reading Time:
4
minutes
This article was last updated on November 1, 2021
The HTML Email Templates are essential for your email marketing. Once your client opens your email it is up to the quality of code (will the email render correctly), design (will the email look great) and copy (will the email sound right) to sell what you offer – products, services or influence. There are 4 main resources for HTML email templates and we discuss all four in this blog post.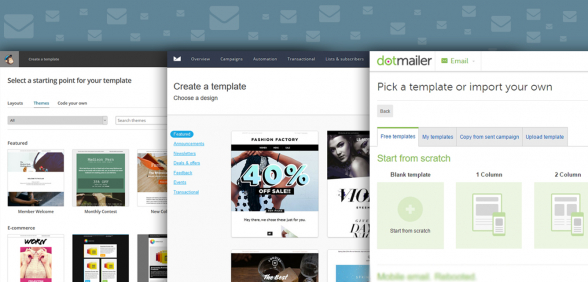 1. Email Software HTML Email Templates
When you set up your account with an email marketing platform like MailChimp or CampaignMonitor (or any other platform) you usually get access to a collection of pre-designed HTML email templates. They're included as part of your account and come free of charge. You may use them to conduct your email marketing, although they require a little effort from your end to work properly. You'll have to update the template with your brand colours, logo, product images and texts. The better email marketing platforms offer drag-and-drop tools to help you make these updates without touching the code.
Another option you usually have is to build the HTML email template with the platform's drag-and-drop tool from scratch. These tools provide some design and layout limitations, but they are an excellent option for people with a little creativity and no design or coding experience.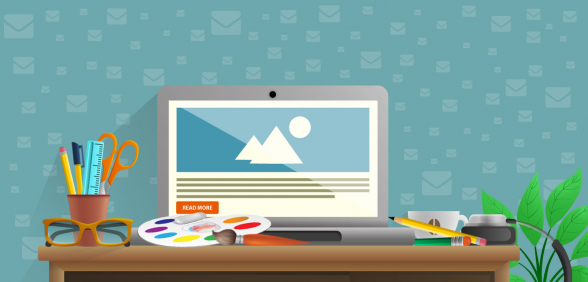 2. Custom HTML Email Templates
The custom coded HTML Email templates are a whole different ball game. This is the level of service where you'll find a taylor-made solution for your email marketing campaigns.
The email design is inspired from your own website and brand guides. It may feature styles from HTML email templates of your competitors or other email marketing campaigns you've came across and were impressed with.
To ensure the quality of the HTML email template the HTML code is being tested across all major email clients, usually over 45 email clients and devices. Every little tweak and adjustment is discussed with a dedicated project manager and you get exactly what you pay for.
The custom HTML Email Templates can be coded to work with your email marketing platform. The HTML email template coder will even upload the files in your account and set up the email campaign for you.
This is the most expensive way to get an HTML email template for your email marketing, but as with anything that is custom made it suits your brand identity and marketing goals in the best possible way.
3. Free HTML Email Templates
They say that there is no free lunch, but whoever said that did not mean HTML email templates 🙂 If you are really on a shoestring budget this might be your option of choice. There several places where you can get HTML email templates with a reasonable quality for free. However, any design or coding tweaks you'll have to do yourself. Here is our collection of 300+ Free Responsive HTML Email Templates.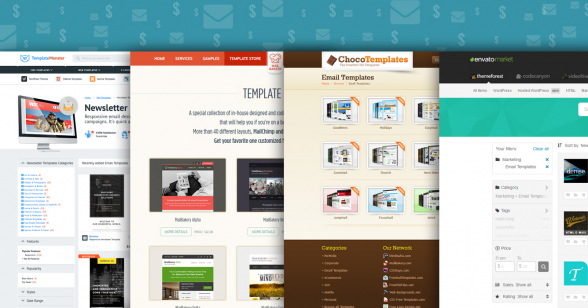 4. Buy Stock HTML Email Templates
If you need beautiful, functional HTML Email templates with around the clock support and MailChimp or CompaignMonitor compatibility there is not better place to get them from but from the MailBakery Template Store. All templates are designed and coded by the MailBakery's in-house team. Apart from the excellent design and impeccable coding, the main advantage of the MailBakery Template store is the customisation work you can purchase additionally. Further more all that custom work is performed by the same designers and HTML coders who created the template you purchased.
Another excellent option for purchasing HTML email templates is the template store of ChocoTemplates. All ChocoTemplates are also MailChimp and CampaignMonitor ready. Each template batch comes with 12 layouts, 10 color schemes and 48 layered PSD files. All in all 360 files. ChocoTemplates offer 11 mobile responsive HTML email templates at $22 each.
TemplateMonster is another place where you can get HTML email templates from. They have a very rich collection and you have the option to choose from a wide variety of templates. However, as their content comes from external contributors, it is hard to maintain the same level of quality across all offers. So, our advise is to check the profile of the template author and go with one who has a bigger contribution to TemplateMonster.
ThemeForest, also like TemplateMonster, has a very rich collection of HTML email templates, which also provided by third party contributors. The prices start at $6 a piece and at this price point it's always hard to talk about quality assurance. Again check the account of the contributor before you purchase your HTML email template.
Conclusion
As you can see there are several ways to get yourself an HTML email template. Depending on the size of your marketing campaign or the level of experience you have with email marketing you may choose between free, cheaper or custom HTML email templates. In email marketing there is a little something for everyone.
If you wish to give a go to our custom coding services checkout our HTML Email Templates From Scratch section. If you are in a hurry and can't wait for a custom design and coding check out the MailBakery Template Store.