Timing is everything: When to send your marketing emails
Reading Time:
4
minutes
This article was last updated on June 7, 2021
Back in the day, there were a lot fewer options for getting your advertisements in front of your target audience. Sure you could pay for a tv ad or radio spot but demographics for viewership weren't anywhere near as focused as they are today. Even worse, what if you had the perfect ad but your audience got up for a quick second while your ad was running? It would simply be a missed opportunity.
Marketers in today's world are fortunate in this regard because we can target very specific groups, at very exact times. While along the way, we can control messaging that's specific to each customer persona and we can target this persona so they're very likely to engage with our content. All this means that with today's marketing capabilities (specifically email capabilities) you have a really great chance to get ahead of your competitors.
The importance of your email campaign's timing
It's absolutely true that consumers are more likely to make purchases on certain days of the week, and during certain times of the day, and knowing when your specific audience is most engaging is critical for your success.
In 2019, Campaign Monitor put together a report that showed the best times to send email marketing campaigns. Here were their findings:
When is the best day to send email campaigns?
Research showed that most people open emails as part of their weekday routine and that general audiences were most likely to open and engage with emails that were sent between Monday and Wednesday, with Thursday and Friday being lagers, and the weekends not being as productive and the early workweek or workweek in general.
When can you get the highest email open rate?
More than half of all "opens" observed happen during the typical 9-5 workday. This means you should be sending emails throughout the working day, while avoiding evening, night, and early morning hours for the country and time zone you're targeting.
Email by the hour
Although open rates are higher during the day, there are certain times of the day that emails are opened more often. You should make note of the following:
9 am – 5 pm is when over half of all emails studied by Campaign Monitor were opened
Peak times are before and after lunch breaks
During lunch, email open rates dropped slightly
47 percent of any emails opened outside of the work hours were done so on mobile devices.
Mobile device and desktop email open rates
It should also be noted how your audience is reading your emails. Is your audience reading your email on a desktop or are they reading your email on a mobile device? It's important to determine how your audience will view your email so it is formatted correctly, and whenever able, have an email template built that is compatible with the as many browsers and device types as possible.
Our Key considerations
At MailBakery, we want your email campaigns to be successful and bring you leads. To help you focus on this goal we have listed below some key things to keep in mind as you formulate your campaigns.
Specific time of day: Are your email campaigns being sent when you'll see the highest open rate? What is the best time of day to send emails for your specific audience?
To fine-tune your send time, it is a good idea to conduct testing around your peak times of engagement to determine the precise time where you'll see the best results.
Brevity: If you are sending your emails early in the morning, it's important to consider what your audience is doing as they are reading, and their frame of mind at the time you send your campaign.
Example: are they opening your email as they are in line waiting on their coffee, or just as bad, still waiting for it to take effect? If so, you have about twenty seconds at most to get your point across in the main copy of your email, and also deliver your call-to-action statement before they're going to focus their attention on something else.
First words: The subject line and first few words of your email will determine if the user chooses to continue reading your email. Choose these words carefully.
Prioritize mobile: Mobile email open rates continue to grow. Every email that you send should be optimized for mobile devices. Before sending an email, test your email on your own mobile device. This will prevent one of your consumers from having a bad experience.
MailBakery: Helping you catch your audience's attention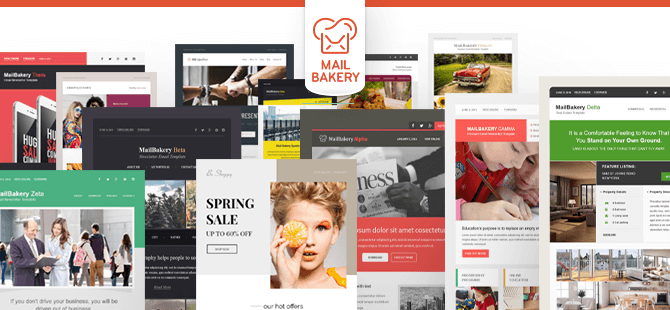 At MailBakery, we are here to help you catch your audience's attention by crafting unique email designs specific to your brand!
Ready to enhance the success of your email marketing campaigns? Get a quick quote for a custom email template that prioritizes your audience!