Try these email marketing hacks to improve your campaign's success
Reading Time:
5
minutes
This article was last updated on November 1, 2022
Email is a powerful marketing tool, and at the moment, email marketing still holds its position as the best marketing available in terms of ROI, returning $38 for every $1 you spend. But it gets better: email marketing also converts 40 times as many customers as social media.
So, choosing to make email marketing a part of your marketing strategy is the first step to success. That said, just because you send email doesn't mean you are receiving the full benefit of your marketing campaigns. Like anything else, there is always room for improvement.
With these few tips, you can improve the success of your campaigns by driving subscriber engagement, boosting click-through rates, and creating better content.
#1 Personalize your emails
According to Monetate, personalizing emails and web experiences results in a 20 percent increase in sales, on average. So if you are not personalizing your emails for each subscriber, you are missing out on sales.
Personalization also boosts customer retention. With personalization, you can build stronger relationships with customers, keeping them engaged and interested in your business, all by remaining relevant as you cater to their needs.
Here are a few ways to personalize your emails:
Send cart abandonment reminders with items relevant to each subscriber
Include personalized content that utilizes customer data you have gathered. Remember to include location-specific images or offers, and keep in mind that personalization should be personal. Your emails should read as if you are personally sending each subscriber a message.
Focus on creating catchy subject lines
Subject lines are sometimes the only part of an email subscribers read. It also determines whether or not your subscribers will open and read your email. So what exactly should your subject line include?
According to Experian, subject lines that include a first name have a 26% higher open rate. Subject lines could (and should) also include some personal data. By including personal data, you are showing your readers that this email is not just another mass email. Additionally, creating a subject line that catches the attention of your audience is important, but many marketers get carried away with subject lines and make them too long. Most people are opening emails on a mobile device, such as an iPhone, which means only 35-38 characters show to a user. If you keep your subject lines to 3-5 words, you can ensure the entire line is read by all of your users.
#2 Consider segmentation-triggered automation
Once you gather information about your customers, you will learn that several buyers have a few things in common. They might share similar behaviors, interests, and commonalities in their buyer's journey. You can use this information to your advantage by using behavioral segments to segment users based on how they have interacted with your website in the past.
The information you have collected, based on their behavior, can then be used to deliver automated emails that share your most relevant content for that time, such as on birthdays or post-purchase.
#3 Utilize user-generated content
User-generated content is any content that is created by consumers rather than a Brand. This includes social media posts created by customers, online reviews, etc.
This type of content has incredible potential for brands because it helps promote authenticity. Authenticity is then especially important in today's world as there is a lot of competition.
The reality is, your email subscribers receive tons of emails each day from brands. Brands are competing for sales through email, and promotional emails have to be strong to win your audience's attention.
Consumers want to read content that they can relate to which is why user-generated content has become so effective. Keep this in mind because your customers want to see social media posts of how other buyers have used your product or service and how it has helped them.
User-generated content can also strengthen the relationship between you and your subscribers by building trust. Consider how many people rely on online reviews. For instance, most people use online reviews to determine which restaurant to go to. According to research by Zizzi, millennial's would avoid going to a restaurant if they did not have an online presence.
The trick to receiving user-generated content with an email campaign is simple: ask your customers to submit content as part of a campaign! You might be surprised to learn that customers are happy to submit content, they just don't know how, or they might not know that the brand is interested in receiving content.
A great way to get started with user-generated content is by using a hashtag. In your emails, you can promote this hashtag by asking customers to post photos including this hashtag when they use your products.
#4 Promote social sharing
Email marketing and social media work hand-in-hand. Your emails can be a tool to promote your social media channels, and your social media channels can be a tool to grow your email list. You can do this by posting something to your followers to ask for new subscribers or run an ad with an email signup form.
There are a few ways to incorporate your social media and email marketing strategy to improve your overall campaign. In future emails, consider designing the email so that subscribers can share a section of the email on their social media channels. This way, you can organically grow your audience.
#5 Ask for referrals
If you are searching for a way to grow your email list, you might be surprised to know how easy it is. All you have to do is ask. Most subscribers don't think about sharing your emails with friends or family unless you ask them to.
Statistics also show that 84% of people find referrals from friends or family as the most trusted way to determine where to spend their money.
#6 MailBakery: Designing emails specific to your brand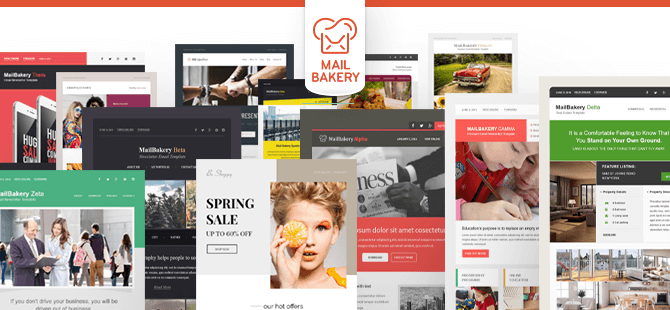 With these simple hacks you are bound to see a boost in your campaign's success! If you are looking for an original design that stands as a statement on its own and is perfectly in-sync with your specific branding, MailBakery is at your service. Have a design that you are ready to bring to life? Your first coding is free as a way that we can offer you a taste of our dazzling delights. What have you got to lose? Let's get baking!