2020 Email Marketing Strategies: What Changes?
Reading Time:
5
minutes
This article was last updated on June 7, 2021
Due to the COVID-19 pandemic, businesses have had to change their marketing strategy. 2020 Email marketing strategies that were created at the beginning of 2020 have been tossed in the trash or put on the back burner, and marketing professionals are back at the drawing board.
The chaos of the pandemic has slowed down, but things are not normal. Businesses are operating differently as they are limited in capacity from both a customer and an employee standpoint. Businesses are also coming up with all kinds of deals and specials as an incentive to regain business. What they should also be doing is retooling their 2020 Email marketing strategies.
Before diving into a new email marketing strategy, it is important to take a step back and look at how things are going with consumers today.
While businesses shut their doors and people remained at home in the last few months, email open rates have in fact increased by 21%. As states were on lockdown, customer engagement with emails skyrocketed.
Additionally, more people are shopping online now than ever before.
Hot Links In This Article:
So, what does all of this mean for email marketing? Here are some things to incorporate into your emails these next few months:
Segmentation
We have shared this tip quite a few times, but nearly a quarter of marketers still have not adapted email list segmentation. If you are in that quarter, let's quickly go over what segmentation is and why it's important (especially now.)
According to Campaign Monitor, segmentation is the division of email subscribers into smaller segments based on set criteria. Segmentation is what allows you to personalize your emails to deliver more relevant information to your audience based on their location, interests, shopping history, and more. Segmentation also allows you to create different emails that correlate with readers' interests rather than just creating one big email for all.
Since open rates are higher than usual, you must make sure your emails are relevant to the reader. If not, your click-through rates will suffer, and the email will ultimately end up in the trash. Segmentation will help your emails to remain relevant. That way, the reader is interested enough to click through the email.
Email Automation
Another hot topic we have mentioned quite a bit recently: email automation. Typically, email automation is used based on user activity or inactivity. For instance, if a customer leaves an item in their online shopping cart. They might also receive an automated email that reminds them they have an item in their shopping cart.
If you haven't used email automation before, now is the time to get started. Consumers are at home on their mobile devices, constantly checking their emails. Consumers are also easily distracted when it comes to browsing online. They might make it all the way to the checkout page where they can make a purchase when something comes up and they completely forget what they were doing and may never return to the checkout page.
Email automation will help you stay fresh in your customers' minds so that, when they need a product or service that you offer, your name is the first one they think of.
Allow Subscribers to Choose What They Receive
Wouldn't it be nice if all of your subscribers received all the information you wanted to share? In a perfect world, everyone would receive what we wanted them to. In reality, though, people only want to receive specific information. For instance, some people might want only to receive exclusive deals and promotions. Others might only want to receive a monthly email that has all of your information compiled into one email.
When subscribers sign up for your newsletter, give them the option of choosing what type of content they want to receive. This will help with segmentation, and let the customer know what kind of content they are receiving in your email. Making them more likely to engage.
Share Updates As Needed

At the beginning of the COVID-19 pandemic, brands sent their subscribers emails about the latest updates of their business and how they were handling their business moving forward.
Keeping your subscribers up to date is absolutely necessary during this time because people are still cautious when it comes to being around others. Some people are not worried about the virus, but for the most part, many people are only going to the businesses that are taking the proper precautions.
In the next few months, you must let your customers know the safety precautions you are taking to keep your staff and customers safe during these uncertain times.
You might also want to consider sharing deals and specials as an incentive to bring customers to your website. Sending emails to your subscribers is more important now than ever, so you are staying fresh in their minds, ahead of the competition.
Buyers Will Be Hesitant To Buy
You may notice that click-through rates and website traffic is higher than usual, but customers are not quite ready to make a purchase. We've seen this a lot lately. This probably has to do with the fact that the economy is so unstable, and people are hesitant to make unnecessary purchases.
Consider sending emails with a discount code to give customers a little push if they continue looking at the same item. Or, you may want to consider sending them an email a couple of weeks down the road letting them know their favorite products are still in stock. While you should respect the fact that customers might not be ready to buy. Don't be afraid to give them a little push every once in a while.
Touch Up Your Design With Mailbakery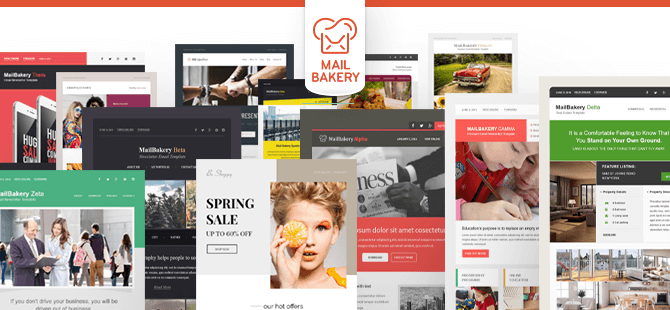 Email design has always been important. It is especially important now so that you can capture the attention of your audience. Retool your 2020 Email marketing strategies with a little help from MailBakery.
Check out our Samples page to browse some of our best email designs. MailBakery can design and code an email template from scratch that captures the attention of your readers and blends in with your brand.
Let's make the most of the remainder of the year and get your business back to running strong! Order now your email design!