What Is Email Automation and Why Does It Matter?
Reading Time:
5
minutes
This article was last updated on June 7, 2021
You have heard about email automation but never used it or didn't have the time to look at it? Today, we're going to explain to you what it is and where you can use it.
What Is Email Automation?
Have you ever shared your email with a brand and within seconds had a welcome email? If you have, you've received an automated email.
Mailchimp defines email automation as the use of predefined rules to trigger email messages based on specific actions customers take. Another example of email automation includes cart abandonment emails. For instance, if a customer leaves a website with an item in their shopping cart but never finished checking out.
Email automation allows you to complete those repetitive tasks you might not otherwise have time to complete and it gives you more time to focus on other areas that might need attention such as customer service.
Overall, it enables you to reach the right people at the right time, without taking the time to create and send an email every time.
1. Personalizes Customer's Experience
Your customers are receiving tons of emails each day, which is why it is so important to stand out from the crowd. One of the best ways to stand out is with personalized content. According to Statista, 90 percent of consumers find the content very appealing and 91 percent of consumers are more likely to give their business to those that share individualized recommendations and offers. Email automation allows you to personalize your emails in several ways. If you're using such automation to welcome a new subscriber, you can add questionnaires that will allow subscribers to select which information they would like to receive before signing up. This way, each email you sent to them is of interest to them.
2. Gives Customers What They Want
How many times have you received an email from a brand and had no interest in the emails, so you just tossed it right in the trash folder? Many brands are sending subscribers emails that the subscribers don't have interest in. One of the best ways to avoid your emails being sent to junk mail is by giving customers what they want.
As mentioned above, with email automation, subscribers can select the content that they want to receive. This is also a great way to learn more about your customers so that you can develop content that is relative to them. With automated emails, your customers have the ability to choose what emails they would like to receive, so they're never receiving emails they didn't sign up for.
3. Helps Your Marketing Team Out
Let's face it, your marketing team is busy. For your marketing team, it might seem like there are never enough hours in the day.
Well, with email automation, they catch a bit of a break. It can actually help boost employee productivity.
According to respondents from a 2017 survey, more than half of the respondents believe email automation could save at least 6 hours a week if the repetitive tasks of their job became automated. Can you think of better ways for your team to spend 6 hours a week?
Without email automation, it takes a long time to manually craft each email and then send it out. But with automated emails, your marketing team could have more time to focus on more important tasks such as building relationships with customers.
4. Improve Customer Retention Rate
It's a lot easier to sell to an existing customer than it is to sell to a new customer. That's why it is important that you continue to stay in touch with existing customers. With automated emails you stay in touch with all of your existing customers, without taking the time to reach out to each customer individually.
Your customers should never go too long without hearing from you and email automation is a way to ensure your messages are on track.
Welcome Emails
We've mentioned welcome emails already, but we're mentioning it one last time because welcome emails are a huge opportunity. The truth is, 74% of people expect to receive a welcome email once they sign up for emails.
Welcome emails also have the highest open rates. This is a huge opportunity to capture a lead. Many welcome emails offer some sort of discount code to their new subscribers so they can capitalize on the opportunity of this email. At the very least, your welcome emails should be directing customers to your website.
Cart Abandonment
It takes only the click of a button to add an item to a cart, but it takes more time to follow through with the process. Many times, people get distracted and never return to their cart. Some people never intend to return to their shopping cart, but a lot of times, customers really do forget. If you're not sending abandoned cart emails, you are also missing out on an opportunity to close a sale.
New Product or Specials
If you have a new product or a special deal going on, you'll want your customers to know about it. Unless the customer visits your site regularly, there's no way for them to know about your new products or specials unless you tell them about it. Email automation is a way to keep your customers in the loop.
Make The Most of Email Automation With MailBakery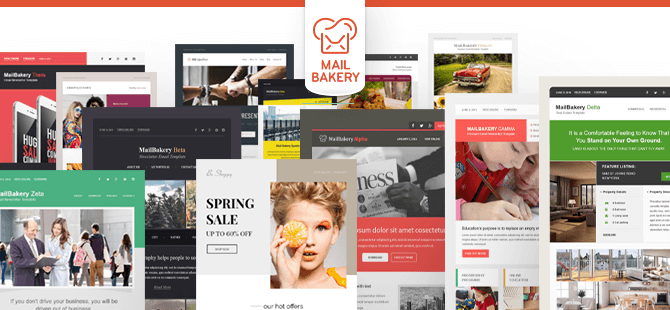 As you can see, email automation is an important part of your email marketing strategy. When you are sending automated emails, it's important to remember to have well-designed emails that will capture your readers' attention.
Are you ready to get started? Our team can design and code an email template from scratch or convert your PSD/Sketch* to HTML email.
You can check some of our work on our Samples page or even get your first email coding for free.
* We also accept other layered design formats such as Figma, Zeplin, AI, INDD and etc.