13 Awesome Black Friday Email Marketing Examples
Reading Time:
6
minutes
This article was last updated on June 7, 2021
The holiday shopping season is quickly approaching, and there's no better time to unleash your creativity! You're up against tons of competition during the Black Friday holiday season. Every brick and mortar, mom and pop, online shop, and eCommerce shop is vying for shopper attention and trying to show why you should consider them a holiday shopping resource over the others.
For marketing departments, this creates a challenge, as they need a way to stand out in subscriber inboxes — in a good way. And we can help! The perfect combination of design elements and clever wording can engage your readers and have them counting down for the chance to cash in on your deals.
Below, we've compiled a list of our favorite Black Friday/Cyber Monday marketing emails to get you in the holiday shopping spirit.
1. Eye Buy Direct
Clean and simple is the direction that affordable prescription glasses retailer Eye Buy Direct takes to inform its subscribers about their BOGO deal. This reminder borrows a wintery color pallet and adds a gif for tasteful animation similar to a sign. We recommend using gifs when necessary to express your brand's personality. Plus, people love seeing the creative ways companies incorporate them.
2. Machine Fitness
This men's athleisure brand takes Black Friday literally by completely blacking out their email campaign and highlighting the black variants of the clothes they sell. There are several successful touches to take note of in this design. The variation of blacks used paired with a soft white font ensure that the overall design isn't too harsh and can be viewed on any device. Using a strikethrough on the prices is a simple but impactful way to show shoppers how deep the discount is.

3. Bonobos
Gifs are always a win when they're used correctly. Here, Bonobos uses a gif to encourage its readers to unwrap savings — 'tis the season to get your fingers warmed up for unwrapping after all. The blank, white background creates anticipation for what's to come next, and the pop of frosted colors signals that we're well into the holiday season.
4. Fat Face
Since its creation, Black Friday has always been about shopping, deep discounts, and companies ending the quarter in the black. British lifestyle clothing retailer Fat Face decided to take a charity-focused approach. This different approach is reflected in their design, which is minimalistic and black and white but features design elements like a brushstroke font and designs to emphasize the details.
5. National Geographic
Many businesses offer deals during Black Friday. So much so that your readers have come to expect it and aren't intrigued by the sale anymore. A successful email marketing strategy would focus on what's on sale rather than the sale itself. National Geographic expertly executes this strategy in their extended Black Friday campaign by not just telling them what the deal is but showing them which items are part of the markdown and displaying what their new prices are.
6. Greats
FOMO (fear of missing out) is a heart-wrenching thing, especially during the holiday season, when there are countless deals and must-have items on sale. Brooklyn-born, responsibly sourced shoe brand Greats plays on this well, using a Black Friday status report to keep readers up to date on the inventory for their most popular shoes and reminding them that shipping is free. Language like "moving fast," "almost sold out," and "no time to play the fence" relay a sense of urgency and create the anxiety of missing out on grabbing a pair of sneakers your size.
7. RedBubble
Because many Black Friday emails are straightforward, humor is a surefire way to stand out and be memorable amongst the sea of competition. A great example of tasteful humor is RedBubble's marketing email, which centers on a family with one member enjoying the brighter colors of life. What makes this gothic design so successful is that the joke speaks for itself, which explains the lack of copy and the joke is related to the message.
8. Huckberry
Online shop and journal Huckberry breaks away from the standard, boring, Black Friday email by doing something fun like running a giveaway alongside a Black Friday sale. And we're fans. Marketing emails are often hype-heavy and product-focused, but Huckberry encourages its readers to slow down a little and enjoy the sights, as reinforced through its color pallet. This design also gives customers more incentive to shop with them, as shoppers earn their chance to win with each purchase. Another thing to keep in mind is that you shouldn't stray away from your brand standards for Black Friday. Huckberry is known for its interesting stories and longer email copy and does not wander from it in their special emails.
9. Casper
It's well-known in Black Friday tradition that you have to get up bright and early to catch the best deals. However, mattress company Casper invites you to do just the opposite, suggesting that subscribers "choose snooze" on Black Friday and having an (unpictured) subject line that reads "every Friday is Black Friday when your eyes are closed. Because you're napping." This cheeky attitude is surprising enough to make its readers consider staying in bed and purchasing one of their mattresses instead.
10. Uber
Holiday parties should always be a part of the Black Friday tradition, seeing as it takes place the day after Thanksgiving. Since popular ride app, Uber, doesn't have a product to discount for the holidays, they're instead offering a series of holiday tip emails. The emails invite you to bring the party to you by having a car pick up your guests and your dinner while you're putting on the finishing touches for the evening. These tips, paired with the colorful, festive, dancing decorations gif, are sure to get readers in the holiday spirit.
11. Peoples Jewelry
We admit it; we're all suckers for gaining early access. It makes us feel like we're part of an elite group or among the chosen few who have snagged the Golden Ticket. Peoples Jewelry creates this feeling by rewarding its subscribers by giving them early access to its Black Friday sale. Not only do you feel like you were special enough to receive the email, but you're also getting a leg up on your holiday shopping and get first pickings for the best gifts for all.
12. Forever 21
Black and glitter are two design elements calling cards for Black Friday and the holiday season. Forever 21 takes the traditional approach to email marketing with a simple design but excites using a small but impactful twist. The hint of animation in the form of a discount scratch off is a fun way to intrigue subscribers to try their luck. Who can resist the "reveal your offer now" call to action button? We know we can't!
13. Pretty Little Thing
Where most businesses opt for a darker marketing email pallet to represent Black Friday, clothier Pretty Little Thing went the opposite route, staying on-brand and using bright colors, disco-era fonts, and glitter to engage the reader. The playful design is also successful in incorporating a countdown clock to create urgency, having the sale front and center, and the promo code you need to cash in on the deals, but not in a way that clutters the overall design. FOMO is real, and companies know that customers hate missing out.
Related: 17 Black Friday Email Examples for Maximum Inspiration
MailBakery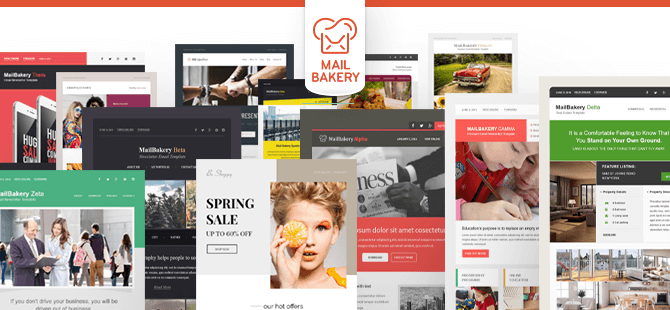 We hope our collection of deal buster Black Friday emails have got you interested in creating your own ideas for the retail shopping holiday. Black Friday is an excellent way to promote your business, express your creativity, and drive traffic to your website.
If you're interested in creating your own design, our team at MailBakery can dream up an HTML email template that's brand-specific and captivatingly impressive.
Contact us today, and let's bake something fresh!