15 Email Marketing Infographics Every Marketer Should Read
Reading Time:
6
minutes
This article was last updated on March 11, 2020
[
Update: July 2019
] Information is better off digested when presented visually. This is why many professionals use infographics to present statistics, tips, strategies, etc.
In 2019, design itself is as important as the content presented. The way you embellish your information plays a major role in the success of your infographic. By creating infographics with outstanding design in 2019, you can actually increase your CTR.
We've compiled a list of 15 email marketing infographics that will be of utmost value to every email marketer and business maintaining email marketing activity. Even if you are not into this type of marketing yet, you might change your mind after going through these awesome informative email marketing infographics. Let's start!
1. 50+ Email Marketing Stats to Guide Your 2019 Strategy
The team of Every Cloud shares some useful stats for email marketing in 2019 you need to know if you are planning email campaigns. The infographic covers insightful sections like:
How men and women use email

Email marketing performance

Email marketing automation

Click-through rate

Conversion rate

Email on mobile devices

The best times to send emails

Email subject lines
2. The Complete Email Marketing Guide for Beginners
A must-read infographic for everyone planning to do email marketing. This infographic by CampaignMonitor will give you great advice on how to boost your current and future email campaigns. In addition, it contains insightful facts such as how much video increases the CTR, how personalized subject lines affect the open rates, and more.

3. 10 Email Marketing Stats You Need to Know in 2019
Should you use email marketing in 2019? The short answer is yes and this infographic will give you a much more thorough and insightful look into what role email marketing plays in 2019 and why it is an essential tool in every marketer's arsenal. Pure statistics that will convince you that email marketing is worth the effort in 2019.
4. The State of Email Marketing in 2017
It's important for every marketer, or even business owner to be up-to-date with the latest trends in email marketing. This is what the following infographic by SmartInsights focuses on. Based on surveys, this email marketing infographics answers the following questions:
Why optimizing email marketing matters in 2017?
Why do marketers rate email marketing so highly?
What are the budget intentions in 2017?
Which email marketing techniques marketers use?
How do marketers measure success?
How do businesses manage their lists?
5. Solutions to the Top 10 Email Marketing Questions
Another must-read email marketing infographic. The guys from EmailUplers have formulated answers to the ten most common questions and issues marketers struggle with. Some of them are:
How to increase your email open rate?
How to make your emails look better?
What do wearables mean for email marketing? (Hmm, that's new!)
What to do with disengaged subscribers?
How to sell more with email marketing?
How to build trust with customers?
6. Tricks and Tips for Successful Email Marketing
We all love learning new things, especially when they come in easy to digest bite sizes and can be applied instantly in our lives or our work. This is what the fellas behind BluehostCouponCodes did. They came up with a collection of over 27 little tricks provenly tested and effective for your email marketing strategy.
7. How to Make Email Marketing Successful
Still not sure whether email marketing is essential for your business? This email marketing infographics has been created to throw light on the subject. It provides valuable tips, statistics and best practices for businesses' email marketing strategy.
8. Pushing the e-Envelope
Easy to read and very informative, this infographic starts with showing a few stats in favor of email marketing compared to other marketing channels. Then, the creators have pointed out 10 ways to improve your email marketing open rates. This is certainly one of the most important metrics for email marketing. After all, people cannot read your message if they don't open the email message first, right?
9. The 6 Steps to Effective Email Marketing
Even if you are an experienced email marketer, it is always a good idea to regularly check if your methods are still relevant. Or if you are missing something essential. The pals from Pardot have come up with an infographic focused on the 6 most important factors of email marketing. In addition, they have included valuable checklists and advice for every step.
10. How to Send Email Marketing Campaigns
This infographic includes 11 simple steps of how to conduct email marketing campaigns. In addition, every step is carefully explained. This way you can easily understand why it is important and also – what is expected from you to do. The instructions provided are easy to follow. They will help you a lot especially if you are new to email marketing.
11. 7 Myths of Email Marketing
An email marketing infographics by Alchemy Worx which debunks 7 myths. What these guys did was take 7 widely known statements for email marketing, did some research and proved these could be wrong. They also backed up the statements with data. So, if you decide to throw them a glance, it would definitely be worth it.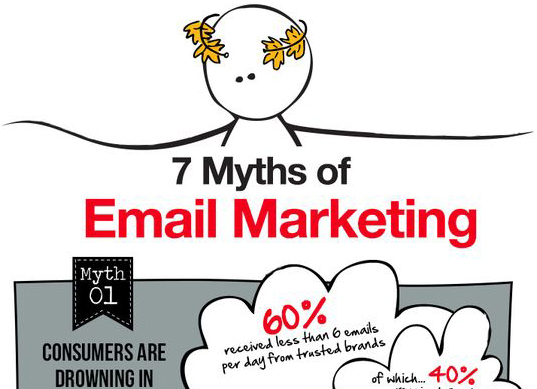 12. 5 Ways to Get Your Email Opened First
These days brands are harshly competing for the users attentions, who on the other hand are flooded with promotional emails. The following email marketing infographics provides valuable insights and tips on how to stand from the crowd and get your email opened first. Here are the 5 topics this infographic covers:
Subscribers are people, not wallets.
Why did your subscribers opt in?
Why people hate to be sold to but love to buy?
What in fact does your customer want?
Why should you stay in touch?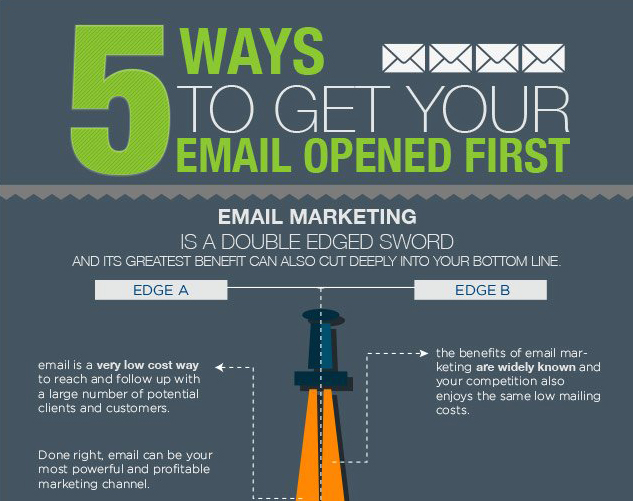 13. Crafting the Subject Line that Gets Your Email Read
Almost all email marketing infographics include tips and advice for the subject line. This is one of the most important elements of email marketing.  The following infographic includes more specific and practical advice on how to write your subject line. It also busts a few myths about the subject content. So, you should definitely check it out.
14. 19 Types of Email to Send Your Subscribers Without Being Annoying
There is a thin line between effectively engaging your subscribers and becoming annoying with your emails. In this infographic, Tami Brehse points out 19 types of email that is generally safe to send to your subscribers without being annoying. If you are planning to start practicing email marketing or looking for fresh ideas for subscribers' engagement, this infographic will give you great ideas.
15. The Best Days & Times to Send Marketing Emails to Maximise Open Rates
An infographic which throws light on when you should schedule your marketing emails for the best results. Turns out, the industry you are in plays a major role. In addition, this infographic will tell you what "clicks" with your email subscribers and who's opening and clicking your emails.
In conclusion,
People should never stop learning. These email marketing infographics will give you valuable insights and tips. For some, this might be a whole new world that they are about to explore. If this is your case, the visually presented content will certainly help you assimilate the information better.
Want to read more about How to Build Successful Email Marketing in 10 Steps?