9 best email marketing services you need to convert a B2B client
Reading Time:
5
minutes
This article was last updated on August 3, 2021
We decided to offer up this blog topic in two ways because there are certain variables with business to business (B2B) marketing that exist that use marketing in different ways.
Two kinds of email lists in play
One list serves as hoarding of contacts. The list may generate contacts from the use of pop-ups from your website visitors or special event and trade show sign-up sheets. Does any of this sound familiar? These people share a common interest and wish to follow your company after learning more about you. Bear in mind that they may not be anywhere ready for direct interaction, let alone conversion. You may take the compliment just the same that they have a wish to keep your company on their radar. Your marketing team keeps these contacts up-to-date on the latest news, promotions, and enlightening content. This practice is maintained to string along your contacts' interest until they are ready to act. If your company's cost of goods and services are expensive, don't expect conversions from this kind of email marketing. The journey is one of patience. Instead, the objective is to hold their interest enough to stay connected by making visits to your website for blogs and announcements on cue, thanks to email marketing. That way when they are ready for your product or service, they know exactly where to start.
The misconception is that the mass hoarded list is the end-all-be-all list of all email marketing. This assumption is mistaken because the next example is of greater importance.
The second list is made up of active contacts making their way through the funnel. These particular contacts, however, require targeted emails to their needs and business at a carefully timed frequency to guide them through the conversion funnel. Your sales team grooms this list through a Customer Relationship Management (CRM) program. In the CRM, sales professionals track their contacts and engagements with their prospects and customers through the point of conversion and beyond for retention.
Which tools to use?
If your contact lists are small, you may be successful for a while keeping up with all marketing efforts through one program. As your list grows, you find yourself delegating the mass-marketing to another marketing team while Sales focuses on those concentrated in the sales funnel through the CRM. When you reach this volume, different programs may serve those distinct purposes of your contact lists.
Mass email marketing
This list is to benefit your mass-marketing efforts for those collected contacts along your path.
This company is a favorite email service provider for businesses just getting their feet wet with email marketing. One exceptional quality that puts them above the rest is their fantastic customer support. You can get all the help you need from their live chat, emails, discussion forums, and a vast library of resources.
We rate this as an excellent bulk email service for absolute beginners. Their intuitive drag and drop platform makes it easy for the most novice user to jump in and start creating right away. Sendinblue also offers short message service (SMS) marketing as a separate offer. One unique quality with Sendinblue is that there are no subscriptions. Pricing is based on the number of emails sent with no contact volume limits.
We like Drip for its email marketing automation for E-commerce business. Not only can you customize messages based on website visitor behaviors (cart abandonment, clicks, returning visitors, etc.), but you can implement more integrations such as text, social, and more, customized to your workflow.
This brand is one of the more popular lead generation services because it's easy, and it's affordable. AWeber is also easily integrated with your WordPress website, opt-in builder, and landing page builder.
If you're starting with email marketing and your budget is tight, MailerLite allows you to build your list for free until you grow to 1000 subscribers.
While Mailchimp's claim to fame is mass emailing and flexible integration, not as many of its subscribers utilizing its other marketing tools on the platform. Some significant updates have arrived in May, so if you've not taken a peek recently, visit their site today.
CRM and Sales tools
Keep in mind that these tools also have email marketing functionality so that they may work splendidly for email campaigns. These tools and their built-in features are distinctively useful for Sales teams, however a bit overkill in features for a Marketing team that would find more value in the mass email marketing tools.
If you've heard of Infusionsoft (also built by Keap) think of Keap of a simpler version of that tool. This all-in-one tool for CRM, sales, and marketing automation enable you to organize your client information and syncs with Gmail and Outlook to manage it all in one place. In addition to great-looking emails, Keap also features templates for proposals, estimates, invoices, and payments, to name a few.
Just like the email marketing tools, AutoPilot is intuitive and easy to create with drag and drop platform for the email editor.
An added feature that your sales team will love is AutoPilot's collaborative tools that enable your team to work together. The annotate & collaborate feature allows your team to mark up a customer journey and engage the group for feedback. Work is easily shared so everyone remains informed with each campaign.
Talk about versatility! GetResponse is about as close as you can get to an all-in-one solution. Along with marketing and automation, add CRM, landing pages and a webinar solution to boot! If you weren't already impressed enough, the service is available in 20 different languages. There are over 500 built-in templates and direct integration with Shutterstock for creative options.
Adding your personal stamp – bake up something fresh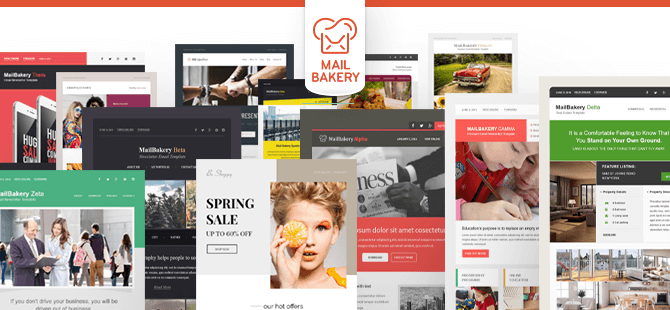 Each of these services includes a library of templates to choose from for your email creations, but your options don't have to stop there on these and many other platforms. If you seek an original look that stands as a statement on its own and is perfectly in-sync with your specific branding, that's where MailBakery is at your service. Have you got a design that you are ready to bring to life? Your first coding is free as a way that we can offer you a taste of our dazzling delights. What have you got to lose? Let's get baking!