Is Email Marketing for Ecommerce Businesses Only?
Reading Time:
5
minutes
If you thought email promotions were only right for online retail, think again! While email marketing for ecommerce makes up a huge slice of the digital marketing pie, the benefits of a good email campaign extend far beyond the realm of online retailers. Whether your business is brick-and-mortar, in the field of healthcare, or part of a service-based industry, you can get in on the action as well. Email marketing is a low-cost way to drive traffic to your website, form a lasting relationship with your customers, and increase your return on investment. In fact, the return on investment for email marketing can be up to 4400%, and in 2020, marketers saw an increase in email engagement of 78% in just 12 months.
It's never too late to expand your business, and email marketing can help companies grow in any industry. Still not convinced? Let's dig deeper and discover how every business can profit from the magic of email marketing.
Quick links:
Why Use Email Marketing Automation
A good business owner invests their time and money wisely into resources that will entice new customers and retain current customers. Email marketing accomplishes both of these goals with a relatively low initial investment cost. As of 2021, the global market for promotional emails was already valued at $7.5 billion. Now, it's projected to increase by $17.9 billion by 2027. Your business can be a part of this growth. By beginning a journey into email marketing, your business can expect to experience benefits including:
Targeted personal content. Email segmentation allows you to separate your customers into groups based on their demographics or previous purchases on your site. With this data, you can pique your customers' interests with personalized content and form a stronger relationship by delivering messages they value.
Establish your brand's image. The possibilities for email design are endless. Custom-made email templates that align with your aesthetic can establish your brand's image and convert subscribers into paying customers. If you're not a graphic design wiz, look into working with professionals who can create stunning email templates with no extra effort on your part.
Building credibility. Email marketing gives you the opportunity to earn your customers' trust. Using email marketing, you can open a direct line of communication to assist customers with their problems and receive valuable feedback.
Related: What Is Email Automation and Why Does It Matter?
Brick-and-Mortar Marketing with Email Marketing Automation
When people think of brick-and-mortar marketing, they often think of billboards, flyers, or handing out business cards. However, email marketing is a tool that all companies should leverage, brick-and-mortar businesses included. Email marketing ensures that customers don't forget about your business when they leave the store.
To start email marketing for your brick-and-mortar business, offer your customers incentives to join your email list. Once they subscribe, you only get one chance to send a welcome email, so make it count! Welcome emails generate 320% more revenue than any other form of a promotional email. Consider offering customers a discount on their next purchase to immediately solidify your relationship.
A welcome email is only the beginning of your customers' journey. Once you've gathered more data about your audience, you can begin to send promotional emails tailored to their interests, demographics, and previous purchases. Email marketing will also allow you to contact your customers about holiday events and anniversary sales, keeping you on their purchasing radar. For a tempting bit of goodwill, you can also offer birthday perks to keep your customers coming back.
With email automation, the possibilities for brick-and-mortar marketing are endless. If you're running a brick-and-mortar business, don't miss out on all that email marketing has to offer.
Healthcare Email Marketing
At a glance, email marketing may not seem relevant to people working in the healthcare industry. But it is essential for healthcare professionals to build trust with their clients, and email marketing provides a perfect opportunity. Still, most healthcare providers neglect the use of email marketing for gaining and maintaining clients. This is a big mistake, especially since healthcare email marketing shows some of the best metrics of any industry. Healthcare email open rates sit at an impressive 23.46%, plus boast an extremely high click-through rate of 3.62%.
To grow your email list as a healthcare provider, the first step is acquiring patient emails during their first visit. When patients fill out their paperwork, make a space for them to provide their preferred email address. You can also use your social media presence to grow your email list. Add a sign-up landing page to your Instagram, Facebook, Pinterest, and any other social media platforms that you use. Last but not least, make sure that you include opt-in forms on your website.
Once you've developed your list, you can use email marketing to provide patients with public health announcements, appointment reminders, and necessary information regarding follow-up care. For instance, if you are a surgeon, you can email your patients information about properly caring for themselves post-operation to ensure a safe and speedy recovery.
Email Marketing for Service-Based Businesses
Any business can reap the benefits of email marketing automation, including service-based businesses. Do you provide cleaning services, computer repairs, or marketing? Don't miss out on the action! Though if your business is part of a service-based industry, your email marketing may look slightly different from businesses in other sectors.
When it comes to email marketing automation, service-based businesses will benefit significantly from increased website traffic and the number of customers they retain. The first step in a successful email marketing campaign for service-based companies is establishing your goals. What do you wish to accomplish through the power of email marketing? Are you simply sending a welcome email or informing your customers about business developments? Clarify what results you would like to see from your email marketing campaign and plan to make it happen.
Although most service-based businesses offer promotions, you might not run sales as often as an e-commerce store would. One great tactic to pique your customers' interest is sending them regular newsletters. These updates can include information about upcoming events, changes to your services, and advice on topics related to the services you provide. Create engaging content to retain customers, establish your business as an authority in your industry, and drive traffic to your website.
MailBakery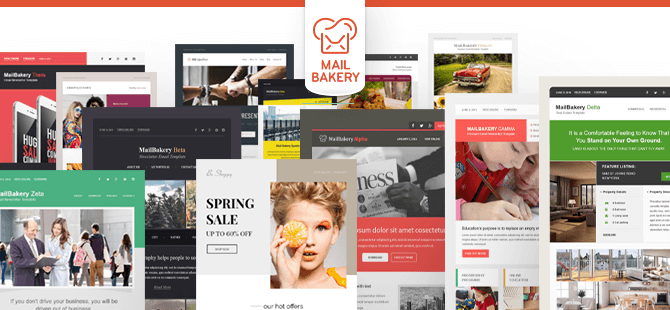 An email campaign is no one-trick pony — you can use email marketing for e-commerce and so much more. No matter what industry your business is part of, email marketing can positively impact your brand.
And building your email campaign doesn't have to be difficult. To easily create a polished and impressive email marketing campaign, simply enlist the help of MailBakery. Our expertise in creating gorgeous, brand-specific email templates is unparalleled.
Are you ready to create something incredible? If so, contact our team today, and let's get in the kitchen!