12 Oustanding Re-Engagement Email Examples That Bring Back Customers
Reading Time:
8
minutes
In this day and age, marketers are fighting an uphill battle to capture the attention of their audiences. With the amount of content being consumed on a daily basis exploding exponentially, it's no wonder that almost half of consumers make a conscious effort not to engage with email.
While it may not sound like a big deal initially, the more your followers stop engaging with your emails, the higher the risk of hurting your reputation as a sender.
And believe me, you don't want to face a hard bounce email problem. Then what do you do to counter a potential email campaign disaster?
A re-engagement email campaign, of course!
1. What is a Re-Engagement Email?
Re-engagement is a powerful tool that marketers can use to reactivate inactive subscribers. Email re-engagement campaigns can help a brand regain lost engagement from old customers, prompting them with a product offer or a call to action. These emails have proven successful in bringing back subscribers. 45% of customers read subsequent emails from a brand.
For years, taking as many emails as possible was considered a major success. Building a solid email list has been a top priority for the majority of companies. But two things happened along the way:
Many email readers were added to multiple lists, thus receiving tons of promotional emails.
The CAN-SPAM Act and especially GDPR have buried anyone's chances to collect an unlimited amount of emails, in order to protect customers' privacy.
On average, about 25% of your subscribers depreciate each year. One good way to re-engage email subscribers is to provide them a "hook" – be it a reminder of a good deal, or a "wake up" email. On top of it, you can optimize each re-engagement email to ask for data updates.
2. Re-Engagement Email Examples
Here, we review a few examples of re-engagement emails and show how they grab the attention of their recipients and promote a strong call to action.
Example 1: Virgin (Virgin Trains)
Subject line: All Seat Sales Cancelled Forever
Source: Pinterest
The dominant red color in the email serves its goal – to immediately capture the attention. We need to mention three important things that make this re-engage email strategy fantastic:
Color gamma of the buttons: Usually, white is considered "pure" while darker gray is associated with "not so good". Also, the Yes button has better contrast with the primary color.
No negative language. Apart from "No" and "Remove," every other word is positive.
Rule of thirds. The first part of the email contains the Yes/No dilemma, the second part shows the competitive advantages, and the third is social media presence.
Example 2: GoPro
Subject line: Still on board?
Source: Pinterest
The second re-engagement email is focused on the demands of active people. It is primarily concerned with those who can take advantage of rugged and waterproof cameras, such as those made by GoPro.
There are three key takes from that email:
The subject line contains a pun.
The colors of the Yes/No buttons match the brand colors.
The names of the Yes/No buttons match the target audience (active people).
Example 3: Carter's
Subject line: OPEN ME – don't miss out!
Source: Pinterest
In this email, Carter's has combined two persuasive elements to increase the clickthrough rate:
They have provided an additional financial incentive for customers to purchase goods (25% off for orders over 50 pounds).
Carter's made it possible for clients to buy both online and from the physical store, thus giving clients no option to refuse.
Example 4: Paul Mitchell
Subject line: We Hate Goodbyes
Source: Pinterest
Paul Mitchell's re-engagement email is the perfect example of a brand working hard to bring customers back into the fold. The original design, simplicity, and concept add a compelling message that will help this campaign succeed.
The sad face is made of brand products. Clients might recognize something they've bought in the past.
The same sad face subconsciously brings emotions (mainly sympathy), making readers less harsh in their decision-making process.
The re-engagement email avoids the "No" option, leaving the reader with the opportunity to either keep receiving emails or ignore them and move on.
Example 5: Urban Outfitters
Source: Pinterest
The most re-engaging emails are funny, timely, and relevant to their readers. This campaign is all of those things and more. The design is excellent, but it can't compare to the concept, which is impressive, to say the least.
The brand really values creativity and original concepts
"~BFF~" (or Best Friend Forever) is an acronym used by a younger audience and the purpose is to get closer to millennials who are most likely the majority of customers.
Example 6: Moe's Southwest Grill
Subject line: Just checking in…
Source: Impact Pulse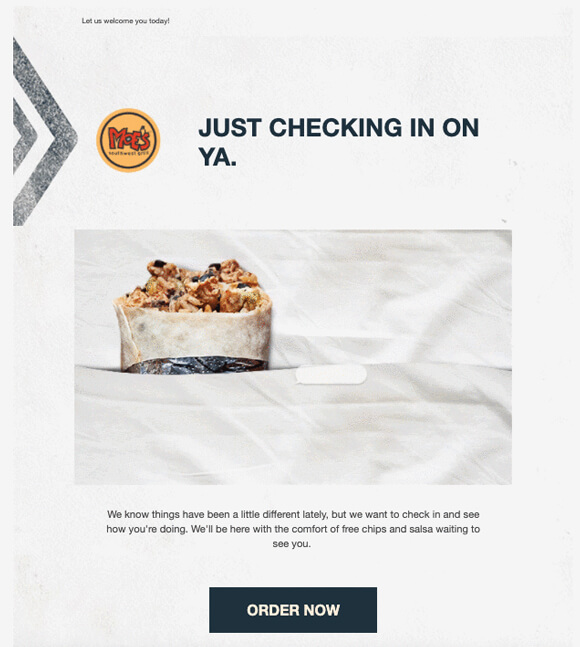 Moe's Southwest Grill positions itself as a casual and fun restaurant for an affordable price. This example from them is no different, as they tell you that they miss you and continue to invite you back with a friendly approach. Their re-engagement email shines at several things:
It uses GIFs.
The message "checking on ya" is a language your buddies would use, which closes the distance between brand and customer.
The CTA button "Order Now" is well-positioned, so it creates some kind of an urge to buy.
Example 7: Talking Shrimp
Subject line: Are we over…
Source: Laura Belgray
Unlike many other emails, this one doesn't contain images. It is like a regular email sent by a friend or an employer. We can outline a few things here:
The message is quite personal and friendly.
The text is funny.
A reference to the movie "Friends with benefits" appears here, with the added word "inbox." Quite original, eh?
Example 8: Dropbox
Subject line: 21 reasons to give Dropbox Paper another try
Instead of focusing on how to bring back customers, Dropbox decided to stress out the new features the client may have missed.
The re-engagement email shows many templates, and the CTA button asks readers indirectly to continue reading.
There is some company info on the top and an additional call to action button.
Example 9: LinkedIn
Subject line: Caleb, see what's new on LinkedIn
Source: Send Pulse
LinkedIn sends out re-engagement emails to users who haven't recently used the platform. The email copy is clear and concise but also personal and friendly. It's a super-simple email that lets the recipient know why they should continue using LinkedIn and where they can go to learn more.
The copy is friendly yet professional.
Design is modern but simplistic.
The email shows the standout features of the company with actions, i.e., "Find me a job."
Example 10: Grammarly
Source: Automizy
The last of our list is the well-known online editor Grammarly. They come up with original ideas:
"Wrinkle in Time" badge.
"GO" button. Probably the simplest message, yet – very efficient.
Example 11: Digital Trends
Subject line: 10% Off, Just Because We Miss You
Source: Pinterest
This email marketing campaign by Digital Trends used eye-catching visuals and a catchy subject line to bring back customers. This email has everything needed for success:
A sleek design that navigates toward the CTA button.
An email body contains many categories which may grab the attention of the customer.
A combination of discount and "Miss You" part, triggers emotions.
Example 12: Saturday.com
Subject line: Wait. Where'd you go?
Source: Pinterest
When an email publisher gets into the "Promotions" tab in Gmail, only a hail Mary move can keep them away from a massive loss of business. Saturday.com's marketing department was quick to identify that. Their email campaign is on point.
They are honest with the reader, speak no fluff, and are straight to the point.
The subject line is hard to skip and provokes the reader to open the email.
3. How to Create An Engagement Email?
Crafting an email that will effectively engage a lost customer is not an easy task. You need to tell the recipient why they should care about your company again. You want to make sure that you are working with what is most important to them. By making sure that you are talking about their goals, you are more likely to inspire them to take action.
3.1. Stick to the company values
While a re-engagement email should still keep your brand values, it should also be tailored to the individual. Your customers need to know why they should trust you again, and a brief explanation of why your product or service can help them will go a long way to making that happen. In five words, you can win or lose a customer forever, so make those words count!
3.2. Be original
Unique emails get more engagement. Steal a few tricks from email marketers and get creative. In general, get out of your comfort zone and do something that you would be proud to tell a friend about. An original email will get people's attention, while a professional rewrite may get lost in the stream of advertisements.
3.3. Design matters
The design of an email matters as much as the content. There are many factors to consider, from colors to the contrast between the background and the CTA button. The combination of these elements determines how a message is received by a reader. A visually pleasing email will always win over an unpleasant one.
3.4. Re-engagement email subject lines
If you want your customers to open your e-mail, then you need to pay close respect to your subject line. Your subject line is the first impression, and if it doesn't attract attention, even the best content will be ignored.
4. Types of Subject Lines
Depending on the goal, there are several types of subject lines for each re-engagement email, but the following are the most common when trying to generate clicks:
We Miss You Email
Good-Bye Email
Last Chance Email
Abandoned Shopping Cart Email
Latest Offers
It is crucial to divide customers before preparing the email campaigns, as it will be a reckless move to put clients with abandoned carts and inactive subscribers in the same category.
5. Conclusion
Re-engagement email campaigns are an innovative, data-driven email strategy that companies can use to win back unhappy customers. By applying several techniques, you can quickly identify that many of those users can actually be clients if you just show them that you're listening. They might have dropped out because the site was too slow or they were having trouble finding what they were searching for.
Mailbakery
A re-engagement email campaign needs to be tailored to your company's values. In addition to this, you need to understand your audience and the products or services you have to offer. Mailbakery has mastered the art of coding great designs which can be integrated within many platforms (Mailchimp, Campaign Monitor, among others), and can be the first step to success.
Continue reading: