Why Readers Unsubscribe (And How to Avoid It)
Reading Time:
6
minutes
As consumers, we receive a ton of emails a day. Approximately 121 emails come to our office accounts alone! And for many of us, it's junk mail. When we open our emails and get bombarded with advertisement after advertisement, we get overwhelmed. This results in us either deleting the email or searching for the unsubscribe button. As a business, the last thing we want is for readers to unsubscribe from our emails.
If a reader unsubscribes from our emails, it usually means we've done something wrong, either by sending them too many emails or not providing them with relevant content. Besides emailing every customer to find out precisely why they unsubscribed (they likely wouldn't respond anyway), it might feel a little hopeless when looking for a solution.
Thankfully many companies are in the same boat, looking for ways to reduce their unsubscribe rates. Keep reading to find out when readers unsubscribe and learn how to avoid it as much as possible in the future.
Quick links
Your Emails Are Too Frequent
How many times a day or a week do you send out an email to those on your list? If your unsubscribe rate is 1% or higher, a likely culprit can be that you're sending out too many emails. Unless you have something genuinely pressing or relevant to communicate with your subscribers, you should only send out emails when you have something of value to share. Many companies use once a week as a rule of thumb, but even daily emails are okay if you have relevant and engaging information to send your customers' way. Whatever frequency you choose, the key to success is to stay consistent with your schedule and change things if it isn't right. This builds trust and keeps people from unsubscribing because they know you won't let them down.
Your Emails Don't Have Value
There's a distinct difference between spam and quality content, and trust us, you want to fall into the second category. If your subscribers feel like you are flooding their inbox with junk, they will make a beeline for that unsubscribe button. Providing quality content goes hand in hand with how often you send out emails because it takes time to build up valuable content that's worthy of sharing.
If your readers don't feel like the content you send out adds any value to their lives, they won't want to keep reading. This will hurt you in the long run. The best way to boost your lackluster content is to figure out what kind of content your subscribers enjoy. You can start by sending out a survey to gain insight or looking at competitors in your field to see what type of content appeals to their target audience.
Create a Built-In Unsubscribe Survey
Most email marketing platforms, like MailerLite, for example, offer handy unsubscribe surveys that you can build into your email marketing campaigns for when users unsubscribe from your emails. The options are vague and don't give users a place for a personalized comment, but they still provide valuable insight, helping you narrow down the reason:
This email is spam
The emails are too frequent
I no longer want to receive these emails
These emails are inappropriate.
For example, suppose most of your unsubscribe surveys come back stating that your emails are spam. In that case, you aren't adding enough valuable content to your emails, and people may feel like you're harassing them with useless information. If your survey has the option for "other," be sure to enable it, as it gives readers the chance to provide feedback or pointers on their way out. Utilizing an unsubscribe survey can provide valuable data to apply to other readers and keep them from unsubscribing later.
Have a Personal Connection
The most successful marketing campaigns are such because they create a personal connection between the consumer and the product. As consumers, we typically align with a particular brand because we have built trust with the product, and we feel they share our values. Think about it, do you have a favorite bookstore or maybe a clothing brand that you always go back to? Why? Because brands build trust with clients and provide an exceptional experience, and they keep clients coming on back.
Email marketing is no different. You want to use the information you have to build a personal connection with each one of your subscribers. Not only does it keep you out of the unsubscribe pile, but without that relationship, you are just another email in a sea of email marketers trying to get new customers.
Have a Unique Voice
Let's say you sell shoes. Well, there are thousands of companies out there selling shoes. What makes you so unique? This is an important question you should ask yourself long before you build an email marketing campaign. A unique voice and vision are essential parts of trying to connect with customers and build trust. Having a unique voice will make them resonate with your brand and want to subscribe to your emails. It also makes them less likely to unsubscribe in the future.
Consider Double Opt-ins
What's a double opt-in? When a visitor to your site enters their email address, they will have to confirm the subscription via the welcome email they receive, or they won't get added to your email list. This may seem like a lot of work, especially since single opt-ins are easily accessible and will get you more immediate subscribers. However, people who are willing to go the extra mile to confirm their email subscriptions with a double opt-in are usually active subscribers that want to receive your emails. Companies like MailChimp have discovered that campaigns with double options have lower unsubscribe rates overall.
Use Normal Subject Lines
You might think that creating catchy clickbait is the way to go, but this isn't always the best option. Any subject line that ends up misleading your customers will eventually lead to dissatisfaction or an unsubscribe. This is an example of a shady marketing technique that many companies use in the hopes of getting their emails opened and spoiler alert: it only leads to short-lived success. When you incorporate an open and engaging subject line that matches your content, your subscribers will appreciate your honesty and look forward to reading your emails.
Related: Email marketing tips: Not all subject lines are created equal
MailBakery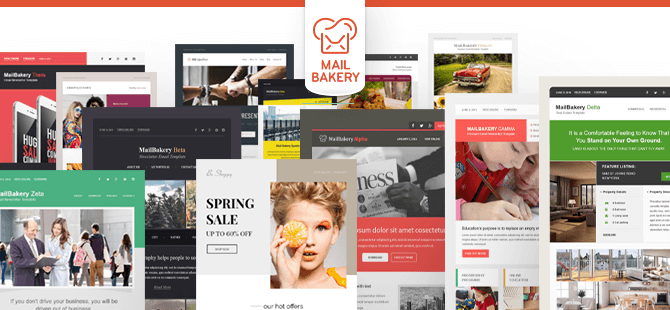 Building an email marketing campaign that keeps readers from hitting the unsubscribe button can be challenging and confusing for email marketers. We hope our simple reasons why readers may unsubscribe and how to prevent churn helps you gain valuable insight into how to revise your campaigns and build better ones.
If you have questions about how to design the perfect campaign or how to retain your subscribers, MailBakery can help. Together we can design and create the ideal campaign your company is looking for.
Are you interested in partnering to create something incredible? If so, contact our team today, and let's get in the kitchen!