How to Increase B2B Sales with Email Marketing
Reading Time:
5
minutes
This article was last updated on June 7, 2021
The B2B sales cycle is often longer than a B2C cycle, which means it sometimes requires more patience, skill, and strategy to increase B2B sales. One such method that has successfully increased leads and, ultimately, sales is email marketing.
It is praised as one of the most powerful and results-driven marketing channels that companies can use. Plus, when properly implemented, it has an ROI (return on investment) of 44 percent, meaning that for every $1 you spend, you can return up to $44. Below, we share a few tips on engaging your potential customers and increasing B2B sales with email marketing.
In this Article:
Use Surveys to Become an Expert
As much as we like to think that we're mind readers, who know what our customers want, the truth is, we're not. Fortunately, the most successful way to learn about your leads' wants and needs and increase B2B sales is simply by asking them with surveys.
Including a survey in your marketing emails can give you valuable insight into their preferences, needs, behaviors, and much more. The best part is that surveys aren't just limited to potential customers. You can use them to gain feedback from those who have previously purchased your product or used your services.
Grab Them with Subject Lines
The average professional receives 120 emails a day, which is pretty overwhelming if you think about it. And somewhere buried in the sea of chatter is your marketing email. You may wonder how to fish your emails out of the deep and snag the attention of your leads? The answer is subject lines. Forty-seven percent of email recipients choose whether to open an email based on the subject line alone, which means, if you want to increase B2B sales with email marketing, you'll have to get crafty with your subject lines.
Be sure to keep your subject lines short and to the point, using only 60 characters or less. Save the long-form for your content. If it applies, use time-sensitive language like "final hours" or "this week only" to create a sense of urgency and play on a customer's fear of missing out. Lastly, if it's on-brand, don't hesitate to use an emoji or numbers to make your subject line stand out from the crowd.
Pay Attention to Headers
Headers are easily the most important visual aspect of your email marketing campaign. If your email's subject line is the invite, then think of headers as the welcoming celebratory banner on display at a party. You have mere seconds to grab your reader's interest when they open your email, and a header is an excellent way to entice them into reading more of your content. You can also use them to inform your readers or convey an important message. The choice is up to you.
To best take advantage of header real estate when trying to increase B2B sales with email marketing, we recommend designing it with your subscriber in mind. For example, logo placement. It is crucial in your header's layout, so be sure to place it on the page's left-hand side. It should be visible so that your audience will recognize you upon clicking on the email. Little design elements play a significant part in creating an experience your leads will interact with and that results in conversion.
Related: 21 High-Performing B2B Email Marketing Examples to "Steal" Ideas From
Keep It Light
Just because you're trying to engage with other businesses doesn't mean you have to be formal with your email marketing campaigns. Keeping it professional is a common belief made amongst companies, and it's a big mistake. The fear is that their email will wind up in the CEO's mailbox and get discarded if it's not professional sounding enough, but that's not always the case.
Your email will often get received by someone else in the company, and if your email is too advanced for them it could likely get deleted. The best strategy for boosting your visibility and increasing B2B sales is to craft an email using knowledgeable, but not overly technical language. You will see your emails climbing the ladder to higher management in no time.
Create a Strong Lead Nurturing Process
Your email marketing campaigns may be attracting leads, but how do you get them to convert? After all, not every subscriber is ready to purchase your product or service when they submit their email address. Some need to be nurtured before they're prepared to leap and a surefire way to increase B2B sales is to have a strong lead nurturing process. Start by setting up a series of drip campaigns that correspond with the different stages in the buyer's journey: awareness, consideration, and decision. The content you feature in each buyer's stage should align as such:
Awareness stage: Make your potential customer aware of your brand. Here is also where you make them aware of their possible pain points. Keep your leads engaged with educational videos, and blogs.
Consideration stage: In this next stage, your leads have identified the problems they are facing, and now they want to know how to fix them. Inch them further down the buyer's funnel by offering playbooks, eBooks, white papers, case studies, etc.
Decision stage: Encourage your leads to buy your product or service by sending or offering free trials, product demos, or discount offers.
Show Leads Your Value
When your target audience is other businesses, you have to be more strategic in earning their business. Trying to sell them won't work because they are businesses, which means they are likely using some of the same strategies. Instead of trying to sell them, instead, opt for educating them on topics related to their pain points and company interests.
Show them your value. As touched on above, content is a powerful way to guide your lead through their journey; however, insightful blogs and infographics aren't the only ways to show your knowledge and value. Increase B2B sales with email marketing by sharing daily or weekly tips and showing them various ways your product or service can solve problems and increase efficiency. By providing them quality, relevant information regularly, you attract their attention and, over time, cement why they need you.
MailBakery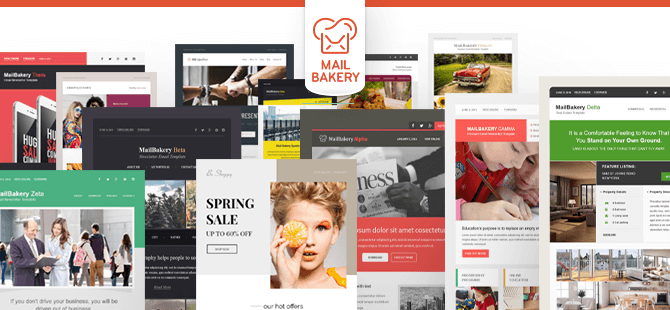 Email marketing is a powerful marketing tool that promotes offers, discounts, and above all, this powerful communication channel can increase B2B sales and convert them into long time customers. If you want to put your best foot forward, you need emails that are just as attention-grabbing as your content. That's where MailBakery comes in. Together, we can create stunning, brand-specific designs that can boost open, clickthrough, and conversion rates.
Are you interested in collaborating on something great? Contact our team today, and let's get in the kitchen.