How to Improve Your Email Marketing Campaigns
Reading Time:
6
minutes
This article was last updated on June 7, 2021
Many said email would be a short-lived communication outlet, but despite those words, email marketing is still one of the most effective ways to reach prospective and existing customers. It has a return on investment (ROI) of $44, meaning, for every $1 you invest in it; you have the potential to make up to $44 of it back. There are 270 billion emails sent a day, which is a lot of competition. And if your company hopes to convert the subscribers you receive into customers, you have to stand out.
We hear you saying that you have successful email marketing campaigns already in place, but just because you're earning new subscribers doesn't mean your marketing team's work is done. There are always improvements to be made, trends to try, and countless more people to reach! And our team at MailBakery has a few suggestions for improving your email marketing campaigns and boosting conversion rates.
Let's check it out!
Consider Using Text-Only Emails
It's a popular belief that images are the best way to entice readers. According to experts, that's not always the case. A way to improve your email marketing campaigns is to leave images out and opt for text-only emails. We know this sounds crazy, but the results will surprise you. There are some email clients, like Outlook, that automatically block images. You think that your readers can see the beautiful photos that you've carefully curated when in actuality, all they're able to see is a broken image icon. It ruins the reader's experience.
Leaving out a group of your readers can lead to unsubscribing from your emails, as they feel like they're unimportant. To combat this, try tactics like beefing up your email template designs to make up for the times you don't use images, or write short but descriptive paragraphs that feature links to your site. Doing this encourages readers to visit your site, enabling them to view your images and boosts your web traffic.
Take Advantage of Preview Text
When crafting your email marketing campaigns, keep in mind that most of your readers are reading your emails on their mobile devices. According to Litmus, mobile opens represent 56 percent of all email opens. And as they skim their email inboxes, readers use the preview text to determine whether or not they want to open your email and read more. Because your open rates rely so heavily on the strength of your preview text and subject lines, it's a necessity that you give them the same attention and creativity you would the body of your email.
Start by ensuring that all key information and CTAs are above the fold. It's a simple yet impactful way to improve your email marketing campaigns and overall engagement. Another tactic is to write engaging copy. A few of our favorite ways to do this are asking questions, using language that invites the reader to scroll down further for the valuable information or target a pain point that gets their attention. These are surefire ways to ensure they'll want to read more.
Related: [Litmus] The Ultimate Guide to Preview Text Support
Use Dynamic Content
Personalizing reader emails is a favorite tactic of marketing teams who are looking to increase reader engagement. We're all familiar with adding names to emails and segmentation. But a creative way to improve your email marketing campaigns is to use the data you collected through segmentation to customize content further to fit different customers. This is accomplished by using dynamic content blocks that change the content in each email section when opened.
Employing dynamic content can boost your copy's relevancy, which then drives clicks and, ultimately, sales without having to invest countless hours in creating several different emails. For example, say a reader shares their gender or interests (female and kayaking). You can use those details and feature design with a woman enjoying kayaking. This allows your reader to envision themselves further using your product or service.
Combine Email Marketing with Other Channels
Sure, email marketing is one of the most powerful marketing channels out there by itself. Still, we invite you to imagine its power when combined with other channels like content marketing or social media. It could mean a seamless brand experience for your readers! Take SEO, for example. You can have your email marketing campaign direct customers back to your website. By doing this, you boost your company's SEO.
You can add share buttons and CTAs to your emails and blogs, which allows them to be shared on social media. And if you gain a new follower on your business social media page, you can have targeted emails sent to followers further promoting your product or service. The sky's the limit in how you can improve your email marketing campaigns by collaborating with other channels.
Related: Email Marketing vs Social Media: Is There a Winner?
Ask for Feedback and Suggestions
Perhaps the simplest way to improve your email marketing campaigns is to ask your subscribers for their feedback and suggestions. Have them share what they like and what they don't like. What makes this strategy so successful is that you're not guessing or assuming what they want out of your designs and or content; you'll have a definite answer and can make their experience better in the future.
To get the best turn out, you can encourage your readers to give feedback by doing two things: being transparent in how you'll use the data to improve their overall experience and incentivizing your readers. By being transparent, you show your readers that you care about their opinion, which increases the likelihood that they will answer. Incentivizing your readers with a percentage off their next purchase also sparks engagement, but they may not answer truthfully in some cases.
Monitor Your Email's Performance
How can you improve your email marketing campaigns if you have no idea how they're performing? The answer is you can't! You must track your email campaign's performance because what works one month may not work the next, and you want to gain insight as to why. You can use email analytics to check things like open and click-through rates to let you know what's not working and inform you how to improve your content. They can show you why one campaign may be getting double the engagement over another. It's also helpful to do A/B testing on your designs before you send them out and after, as it allows you to take a deeper dive into your emails and discover what your readers truly want.
MailBakery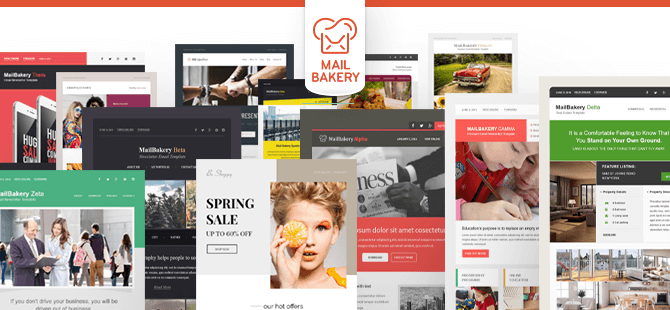 Even when you've created the perfect email marketing campaign, there's always room for improvement! There are countless tips and tricks to help you boost your email marketing game and boost traffic and conversion rates, and we hope the strategies we've shared can help. Another way our team at MailBakery can help improve your campaigns is with our services. We're excited to help you create stunning, brand-specific email templates that are sure to grab your subscriber's attention and increase overall engagement.
Are you interested in baking something fresh with us? Contact our team today, and let's get in the kitchen!