7 Email Marketing Best Practices in 2022
Reading Time:
5
minutes
This article was last updated on January 27, 2022
It's no doubt that email marketing has come a long way in the past 40 years. Email marketers today think nothing of sending thousands of emails at once. We have access to more marketing channels in modern times than were ever thought possible, but email marketing reigns supreme. It is ideal for building a bond with your subscribers to increase brand loyalty and drive sales. If you're not skilled in the art of designing email marketing templates, you can always enlist the help of professional email template designers who can create captivating, brand-specific email campaigns for the entirety of 2022. While you may have seen some of these email marketing practices before, you haven't seen them like this! As we step into the new year, employ these email marketing practices in 2022 for your best year to date.
Email Marketing Best Practices:
Use User-Generated Content
When people complete a purchase with your brand, they are instantly a part of the community that you have created. More than ever before, people want to feel connected to one another during online interactions. You can cultivate trust and strengthen the relationship with your subscribers with user-generated content.
Essentially, user-generated content is customer reviews or photos of customers using your products. These days, user-generated content is easy to get your hands on. The best course of action is to contact your customers via social media and ask if they're comfortable with you using their reviews or photographs. Since user-generated content is available at no additional cost, it's sure to increase your ROI.
Use Artificial Intelligence
Every year, more businesses discover how they can use artificial intelligence to improve business operations. The possibilities of AI are endless. Many brands use AI for tasks involving personalization or enhancing customer engagement. In the realm of email marketing, AI can leverage the data from your email marketing campaigns much more quickly than an employee is capable of doing. AI technology will use this data to predict your subscriber's behavior and increase your overall engagement. In addition, AI can rapidly synthesize data and help you discover specific elements of your email marketing campaign, like the best time to send your campaign for an increased open rate.
Incorporate Personalization
As people begin to experience a more personalized online atmosphere than ever before, email personalization has become a crucial tool to grow your brand. While email personalization was trending in years prior, it will continue to grow in 2022.
If you're questioning whether or not personalization is effective, studies have shown that personalized emails have six times higher transaction rates than traditional email. Furthermore, personalized subject lines are 26% more likely to be opened than those without one. Incorporate personalization into your email marketing strategy by using email segmentation, triggering emails based on customer behavior, or including your subscriber's name.
Be Inclusive
The protests that occurred in 2020 sparked massive change throughout the nation. As a result, more companies will focus on diversity, equity, and inclusion (DEI) in 2021. While the world around us transforms into a more inclusive environment, it is vital that your brand accurately assesses how DEI affects your email marketing campaigns. True DEI requires more than one or two statements about discrimination.
Focus on the way that you incorporate diversity within each one of your marketing campaigns. Include images of many different types of people. However, if your efforts seem forced or promote stereotypes, it's unlikely that the campaign will contribute to your brand's success. Brands that master DEI will benefit from increased customer loyalty and sales. Studies have shown that 60% of consumers are more loyal to brands that incorporate diversity and inclusion.
Improve Your Email Copy
Of course, an engaging copy has always been a critical element to the success of any email marketing campaign. In 2022, people will have access to more information than previous generations ever dreamed would be possible. For email marketers, this means that you will need to put extra effort into enticing your subscribers. From the moment that subscribers open your email, they should understand the purpose of your campaign with one glance. Ensure that you explain your brand's message and offer immediately. Close your email marketing campaign with a call to action that inspires your subscribers to provide your desired response.
Email Marketing Trends and Data Privacy
Given the increase in data breaches and discourse surrounding personal data and privacy, your subscribers know that signing up for your email list could compromise their personal data. Consider including details explaining how your security measures align with compliance standards to put their mind at ease. In addition, let your subscribers know if there will be any changes to your data privacy policy, and ask them if they would like to remain on your email list. Make sure that your subscribers always have the option to opt-out of your campaigns with an unsubscribe link.
Make Your Intentions Clear
Last year, consumers became more interested in understanding where their products are sourced from and how brands started. As shoppers are increasingly interested in supporting sustainable and socially responsible brands, take a chance to demonstrate these qualities in your email marketing campaign for 2022. Essentially, this means that you should not try to find shortcuts to growing your email list. If you're compromising someone's privacy to obtain their email address, it may irreparably damage your brand's reputation. These practices also increase the likelihood that your emails are tagged as spam. To avoid this, use double opt-in, and you will be able to build an email list full of engaged subscribers who are genuinely interested in your brand's content.
MailBakery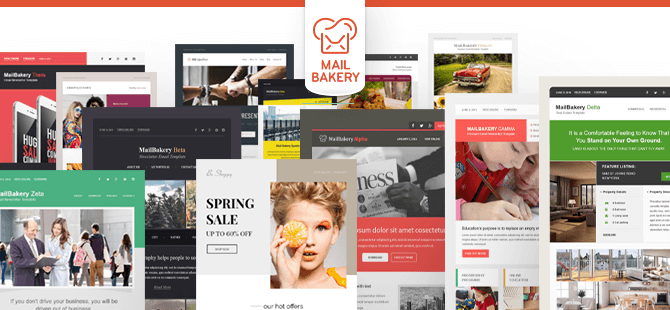 Start 2022 off strong with these email marketing practices. From there, all you'll need is an eye-catching email campaign, and you're ready to go! If you're prepared for your brand's best year yet, enlist the help of MailBakery for eye-catching email campaigns. We partner with your business to design and code jaw-dropping, brand-specific email templates that are sure to convert.
Want to create something great? Contact our team today, and let's work together to cook up the campaign of your dreams.