Custom MailChimp Templates: What They Are and How They Work
Reading Time:
4
minutes
This article was last updated on September 1, 2020
The Custom MailChimp Templates give you complete control over your email template designs. You don't have to push your brand identity to fit in a ready-made design, when you have the option of using custom email templates.
The custom coded MailChimp templates combined with the MailChimp's custom template editor are a powerful tool for email marketing. Below we are going to explain what custom MailChimp templates are, how they work and how to benefit the most from them.
What is a custom MailChimp template?
The custom MailChimp template is a custom designed and coded template that is not simply compatible with Mailchimp's email marketing platform. It can also be edited with the MailChimp custom template editor.
Having your emails compatible with the MailChimp custom template editor allows you to use a single master template to create many more new email templates from it. The master template itself features multiple sections. With the email sections designed to match your brand style you will be able to create various other emails for your future campaigns.
Why to go with a MailChimp custom email template?
MailChimp is one of the most popular email marketing platforms. It's easy to use and offers many useful tools with whose help you can prepare your campaigns and measure your results.
In addition, MailChimp is free for businesses with more modest email marketing needs. Accounts with email lists consisting up to 2,000 recipients are free of charge.
On top of that, the brand announced that their automation features are now accessible to non-paid users too.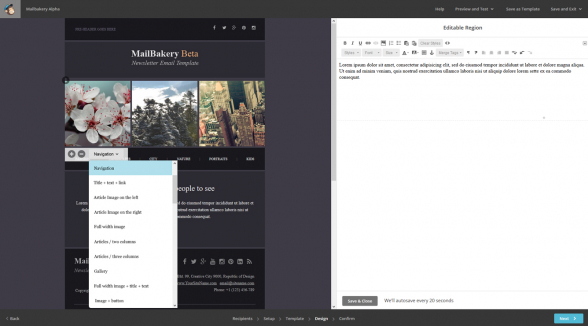 What is a custom email template editor?
Email template editors are usually drag-and-drop tools which allow you to make changes to your email templates.
Most email platforms allow you to make changes only to their own, predesigned templates. This is not very helpful if you have a custom email template coded for you.
Thankfully, MailChimp is one of the platforms that offer a drag-and-drop editor for custom email templates. Moreover, their custom template editor is one of the best editors we've come across. It allows you to add, remove, switch and duplicate layouts; update titles, paragraphs, images, links and buttons.
Virtually anything you need to build a brand new template from your master template is available in MailChimp.
Important!
1. Bear in mind that the custom email template editor is different from the MailChimp drag-and-drop email template builder. The builder can't be used for editing custom email templates. These tools have different layouts, designs and features.
2. The editor allows you to work only with the elements and layouts which already exist in your master template. You can't add new sections, buttons or other design elements that are not present in your master template design.
Read more on how the best custom email template editors work.
Are there any design limitations when creating custom MailChimp templates?
Not at all. The custom MailChimp templates look like any other email template design. Any email design can be coded into a custom MailChimp template. It's the code behind the design that makes the email template special and enhances its functionality.
Here are some examples of custom MailChimp templates we've coded for our clients.
The Playground
Gatehouse
AirPartners
National Personal Training Institute
How does coding custom MailChimp template work?
Coding a custom email template for MailChimp is a little different from coding a standard custom HTML email. MailChimp have their own tags that need to be added to the code, so the email template is editable by their custom template editor. Here is the MailChimp email template coding documentation. It's something you have to pass to your email coder to review and use when working on your custom MailChimp template.
How to import the custom template in MailChimp?
Importing your MailChimp template is pretty straight forward. There are three ways you can do this 1) Paste HTML code 2) Import HTML file 3) Import .zip file. For a detailed explanation on the process, check out How to import an email template into Mailchimp.
Conclusion
To sum up, the custom MailChimp templates are one of the best options for curating and presenting content for email marketing. They are custom, so they will fit your brand style perfectly. They are editable with MailChimp, so they can be updated and reused for your future campaigns.
If you are considering to get a custom MailChimp template yourself, why don't you check out what MailBakery can do for you at Custom MailChimp Templates.