How Does Email Marketing Help Grow Your Business?
Reading Time:
5
minutes
This article was last updated on June 7, 2021
Email is a powerful communication channel. It has incredible reach, and it's used by many. According to experts, more than 34 percent of people worldwide use email. That's around 2.5 billion people. We can use emails to send more than a hello or send the occasional chain letter (remember those?). When used for email marketing campaigns, they're a vibrant and powerful way to connect with people worldwide. They can also help your business grow, which is a dream for many. At first blush, it may not seem like email marketing has much use other than getting customers to buy things, but we promise, there's so much more. Let us show you!
Hot Links in this Article:
Create Revenue Options
Many recognize that email marketing's most commonly known benefit is that it boosts your revenue. Whenever you market to a customer or a subscriber, you're selling them on something, whether it's a product, a service, or your business as a resource. You can use your emails to do the same. In addition to sending emails about new content posted on your website, use it to promote new products or new features, sales, and any promotions your business offers. Email marketing can help your business grow through influence as well. With the help of crafty subject lines or call to action buttons (CTAs), you can entice your readers to click and read your emails, purchase products, and even navigate to your website.
Save Money, Time, and the Trees
Another one of the ways email marketing can help your business grow through saving money. By switching to digital for your marketing, you reduce the amount of paper used and wasted. You eliminate the need for printing, there's no need for envelopes, and you cut postage costs.
Some companies may continue to use a hybrid of digital and snail mail marketing. It depends on your marketing strategy. However, both strategies significantly reduce the waste produced when companies only opt for traditional marketing campaigns.  It's a two-fold way for your company to save money and apply it to other business areas, while preserving the environment.
A bonus to using digital marketing is the freedom of creativity and time saved. With digital marketing, you can create brand-specific, custom-designed templates for your email marketing campaigns. Approximately three seconds is all you have to grab a subscriber when they click on your email, so you have to work smarter, not harder. MailBakery can help you create the email template of your dreams while ensuring they're brand specific and attention-grabbing.
Plus, having a template in place can drastically reduce the turnaround time on the newsletter emails you send, reclaiming the hours your company spends each week on crafting designs from scratch.
Develop Your Brand's Identity
Email marketing is supremely helpful when you're trying to develop your brand's identity or if you're going through a bit of an identity crisis and need to revise. As you interact with your subscribers, you can learn about what interests your subscribers, who your target audience is, and why they look to your emails for content. Use A/B testing to test your brand's tone and voice, approach, and the quality of your content. After this, you can tweak your process, make sure your emails and content are perfect for your customers, and solidify your brand's identity.
Expand Your Network
The most significant way email marketing can help grow your business is by expanding your network. It may be nice to have local subscribers, but we always encourage you to think bigger! When subscribers sign up for your newsletters or fill out the contact us form, it captures their email address. This permits you to market to them.
When doing so, it's important to keep in mind that they signed up for the newsletter because they're interested in your business and trust that you'll send them content packed with great insight, best practices, and updates. Your job is to maintain that expectation. Frequently posting new and relevant content and sharing it with your subscribers also boosts your company's SEO (search engine optimization). As you post and use keywords that match what consumers often search, it can raise your presence on search engines like Google or Yahoo.
Lastly, another way to expand your network is by promoting your newsletter. And there's plenty of places to do so. The most successful methods include social media, your website, in conversations, in your products, and email signatures.
Stronger Customer Relationships
Building a strong relationship with your customers is one of the many ways a company finds success. It's crucial to build relationships that are based on trust and understanding. The best method for building these relationships is through marketing research segments. These segments are based on consumer behavior, psychographics, and various demographics, including age, interest, and geography. Tracking this data ensures that the content that you deliver to your customers meets and exceeds their needs and is always relevant and valuable. This attention to detail gains their trust and ultimately increases their brand loyalty.
Increase Credibility and Brand Recognition
One of the biggest challenges a business faces is building credibility, especially if you're a small business. Ever wonder why other companies get chosen over you? It boils down to marketing and familiarity. Building up your business' credibility takes time, and the best way to do so is to keep in contact with your subscribers. You must be consistent with your level of communication. Ask anyone; a pillar in any successful relationship is consistency. In marketing, it's no different. Provide your customers with quality marketing, which features content that's always relevant, on-topic, and full of value. And take the time to learn when is the best time to send emails and how often. The more they learn about your business and see its consistency, the more they'll grow to trust you.
MailBakery: Helping You Grow Your Business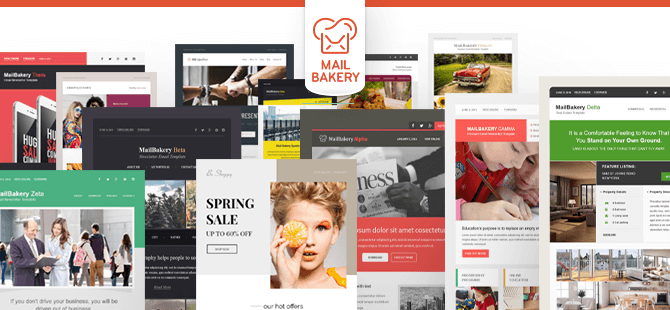 There are many ways that email marketing can help grow your business. An email marketing campaign can't be successful without a robust email template to capture your subscriber's attention. That's where MailBakery comes in. If you need help crafting stunning, brand-specific HTML email designs, we can give you a design that is sure to impress readers on any device.
To learn more about MailBakery and our services, contact our team, and let's bake something fresh!