12 Amazing Mother's Day Email Marketing Campaigns
Reading Time:
7
minutes
This article was last updated on May 3, 2022
Mother's Day is synonymous with giving back to the women of our lives, no matter if they're mothers, grandmothers, aunts, or mother figures. This holiday is also an excellent opportunity for marketers to grow their revenue by helping their customers find the perfect gift through recommendations, discounts, gift guides, vouchers, etc.
Keep in mind that unlike other gift-giving holidays, like Easter, Mother's Day falls on a different day — and month — depending on the country. To ensure that you appeal to your target audience, you may want to find out where your subscribers are and send your Mother's Day email marketing campaign accordingly. Here's a look at when some countries celebrate in 2021:
March 14: UK and Ireland
May 2: Hungary
May 8: South Korea
May 9: USA, Canada, Australia, India, China, South Africa, Brazil, Mexico, Italy, and Japan
May 30: France
August 15: Costa Rica
November 28: Russia
With that in mind, we offer a little inspiration to help your customers find the perfect way to show love to the special people in their life.
Moms can do it all. They are resourceful, quick-thinking, and always on the move. Apple parallels this widely known fact by highlighting all of the ways moms can use their products. In their image-heavy design filled with colorful whitespace, the king of marketing expertly helps shoppers match the product with the person by giving a rundown of the uses and benefits each provides.
We all know the power of recommendations and peer reviews. If you have an engaged social media following, you can leverage it in your marketing campaigns. We love how the home goods brand recommends its top products based on star ratings given by fellow shoppers. Using social proof not only offers consumers peace of mind that they're getting something quality, but it also contributes to building trust in a brand. It can also boost conversions.
An excellent way to demonstrate that your customer's experience is always at the forefront of your mind is to be sensitive about triggering issues. For many women or people who have lost their mothers, this time of year comes with emotional challenges.
Instead of carelessly sending out emails to those who might not want to receive them, Waitrose & Partners gives its subscribers the option to opt-out of their Mother's Day email marketing campaign. Not only will your subscribers appreciate your thoughtfulness, but you may earn their loyalty as well.
Another thing that's synonymous with Mother's Day is dining out. Although the holiday may have looked a little different last year, we all have high hopes that we can do something a little more in person this year. AllSet gives you the option to send your mom a few of her favorite things safely.
Another thing that makes this design successful, other than its skillful balance of color and imagery, is its tease at the top. By hinting at a reward at the end for reading the email, it increases the likelihood that readers will spend the time earning their discount.
A way you can appeal to your customers is to tug at their heartstrings. Evoking emotion is one of the easiest ways to reel in a reader. Content like, "she dressed you for years… return the favor" is a callback to all of the ways mothers — biological and chosen alike — take care of others.
Using thought-provoking emails is a surefire way to bring on nostalgia and prompt action. Kenneth Cole also includes the chance to win a prize for their mom, and who wouldn't jump at the opportunity to make her prouder than she already is?

Parents do a lot for us, and they rightfully deserve to be showered with tokens of affection. But how do you spoil someone worth endless trips to Italy when you only have the budget to buy them pizza? You offer a wide variety of gifts at various price points, just like brand John Lewis does. Its dreamy, holographic color scheme gets shoppers daydreaming about the perfect gift that awaits just beyond the CTA.
Humor is always an excellent way to engage your subscribers and stand out from the flood of emails filling up their inboxes. The key is to be humorous in a way that is in line with your branding. If your audience is older and appreciates your dry wit, using slang or being hip with your humor may fall flat.
New York-based company Jack Spade is a favorite example of a brand that understands its audience. Its witty and relatable copy is on-brand, and the use of different font sizes guides the reader's eyes down to the CTA. Plus, the email's header mimics what the customer will find on the website, creating brand familiarity. Brilliant!
If you ever struggle to create the perfect Mother's Day email marketing campaign, try to take a page from Museum Selection's book. You can never go wrong with a gift guide. What makes this simple yet elegant email so successful is its use of lighting on the featured items to create a sense of movement. It almost makes the email interactive! Bonus points for using a lush green theme, which suggests health, wealth, and luxury.
Did you know that you can use segmentation to make recommendations for Mother's Day gifts? Chocolatier Thorton's cleverly uses a customer's previous behaviors and purchases to make suggestions for the perfect gift for mom. Of course, even if the selection isn't the perfect one, this Mother's Day email marketing campaign can still give the shopper ideas. Pair this with their enticing display of markdowns, and you have several ingredients necessary for a recipe to success.
Not all moms want the same things. Some like dainty gifts, whereas other moms prefer concerts, sports, or a Broadway show. Mobile ticketing platform SeatGeek recognizes this and gears its Mother's Day email marketing campaign toward the bonds that come from shared experiences between family.
Although simple, the brand uses a gif of an SMS conversation to replace the email's copy. It engages customers to read further and consider their loved ones, and that's what makes it so powerful.
Incorporating color into your email campaigns is a great way to evoke emotion. You can find an excellent example of this in the simplicity of Anthropologie's Mother's Day email marketing campaign.
Here, the color red radiates warmth, love, and happiness — all things consumers typically associate with motherhood. This design also incorporates a blink-and-you'll-miss-it touch of personalization. Instead of a "shop now" button, the clothier invites you to use their personal shopper service and get in touch.
Creating urgency in your emails is a favorite way to inspire your readers to take action. There are countless ways to accomplish this, from adding a countdown to highlighting the special day to let you know the clock is ticking.
Williams Sonoma opts for a more subtle approach, using action words like "final hours" to make them eager to click the call-to-action button. Letting subscribers know they're on borrowed time is a popular way to create a fear of missing out, whether it's a sale, a sneak peek, or the chance to snag the best Mother's Day gift ever.
MailBakery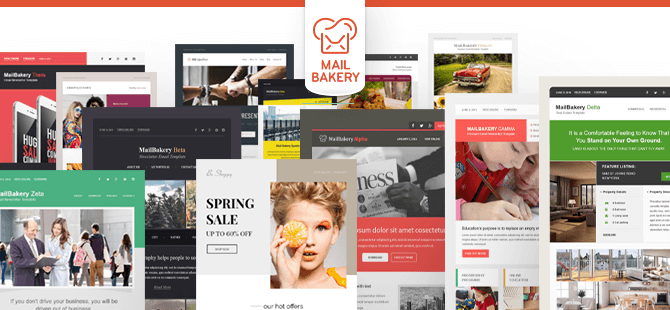 Designing the perfect Mother's Day email marketing campaign can be as challenging as finding the perfect gift. However, we hope that our roundup of amazing campaign examples have you inspired to create your own works of art. If you need someone to help bring your ideas to life, enlist the help of MailBakery. Together, we can design and create email templates that are stunning, brand-specific, and sure to convert.
Are you ready to work together and create something incredible? If so, contact our team today, and let's get in the kitchen!
Other holiday examples you can check out