14 Valentine's Day Email Marketing Campaign Examples
Reading Time:
7
minutes
This article was last updated on January 27, 2022
Every year, more than $20 billion is spent on Valentine's Day. Because of this, Valentine's Day, like many other holidays marks the perfect time for marketing teams to spread their wings and experiment with creative ways to get subscribers feeling a little more festive. In using a valentine's day email marketing campaign, you're sure to boost your readership and gain a few valentines of your own.
Since Valentine's Day is around the corner, we figured we'd showcase a few swoon-worthy and crafty Valentine's Day email marketing campaign examples that are sure to get your heart racing.
Hot links in this article:
Have a Captivating Subject Line
Before you start crafting your masterpiece, it's important that you first craft a captivating subject line. These 60 characters or less are as just as important as the contents of your email, as they determine whether a subscriber will click on your email to discover what's inside. Boost your open rates with subject lines like "Will You Be Our Valentine?" "Treat Yourself to 30% Off This Valentine's Day," "Valentine's Day Gifts for the One You Love," and more.
The idea is to create a subject line that makes you stand out in your subscriber's inbox. Don't hesitate to use emojis to catch your reader's eye, plus, they're fun, creative, and enable you to connect with your reader.
Related: Email marketing tips: Not all subject lines are created equal
1. Square
For many companies, straying away from their brand colors is a big no-no, however, we are fans of an occasional break for seasonal marketing. One such example is Square, which swapped out their traditional black, blue, and white pallet for ravishing red in the spirit of Valentine's Day. Paired with love-centric language, this holiday-inspired campaign is simple, but has us feeling the love.
2. Beats by Dre
Love is in the air, and a clever way to show it is by featuring heart imagery and dreamy fonts. If your company sells products that comes in V-Day colors (i.e., pink and red), be sure to take advantage and feature those in your Valentine's Day email marketing campaign, similar to how Beats by Dre put pink and red versions of their beats pill, beats pill XL, and power beats.
3. Game
Another side to this love-filled holiday is showing appreciation to those around you. Who says your Valentine's Day email marketing campaign can't double as a customer appreciation or thank you card? Here, UK-based company Game pens a touching 8-bit message to its player 2— the customer, and thanks them for the support.
4. Pulp & Press
When it comes to Valentine's Day, it's all about the gifts (even though others might disagree). Your subscribers can buy from anyone, but of course, it should be you. So, woo them into purchasing from you with the help of a sweet discount. A great example of this is Pulp & Press, who presents their discounts and free shipping like a gift, alongside its heart-shaped pressed juice blends, placing it front and center where readers can't miss.
5. Photobox
We've all been guilty of it, having well intentions to buy a gift ahead of time, but accidentally waiting until the last minute to buy a gift. A perfect email to send to your readers is one incorporating a countdown that lets them know just how long they have left to shop. Photobox has an excellent example of creating urgency with a touch of FOMO. Not only does this approach instill fear that they're missing out, but it also encourages them to waste not a minute longer by offering up to 50 percent off and free shipping. What a powerful way to get your point across.
6. American Eagle Outfitters
Let's face it, whether you've only just met your partner, or been with them for years, sometimes finding the perfect gift is difficult! One way you can earn business and respect from your customers is by creating a gift guide to ease their shopping woes and guarantee they get the perfect gift. American Eagle Outfitters lends a hand with their gift-giving timeline, which details the ideal gift for your partner depending on where you fall on the lover's timeline. Throw in some clever quips about love and you've got the perfect Valentine's Day email marketing campaign.
7. Moo
Gifs are an excellent way to grab your reader's attention and pique their interest enough to click the call to action and learn what your mysterious offering is all about. Reward your customers for their curiosity with a discount or free treat in observance of this sweet holiday. In this example, Moo's mysterious box is just too much to take, readers can't resist the "do it, do it, do it" call to action.
8. Lands' End
Although Valentine's Day is typically celebrated by those in relationships, there are some consumers who treat the loving holiday as a family holiday. It is important not to alienate this demographic of lovers. Clothier Lands' End showcases its inclusion by highlighting gifts that each member of the family will love, even going so far as to create hearts out of the various options.
9. Email Monks
You should never play games with someone's heart, but it's perfectly fine to add a little fun in your valentine's day email marketing campaign. Email Monks (now Email Uplers) invites its readers to "mend a broken heart" by playing a puzzle game where the subscriber repairs the pieces of a shattered heart to "fill it with love." This interactive design piques the reader, encourages them to engage with the email and reveal the hidden message.
10. Victoria's Secret
There is nothing worse than ordering a present early, thinking that it will arrive in time, only to get stood up. Your company can be the hero for your customers this Valentine's Day by making the promise to have their gift delivered in the nick of time and delivering on that promise. Victoria's Secret breaks down when your gift will be delivered based on which shipping option you choose. It's a brilliant way to help customers visualize what lies ahead so they can plan accordingly.
11. Benefit
Sometimes it's not all about what you say so much as how you say it. Cosmetics brand Benefit speaks the language of love in their Valentine's Day email marketing campaign that uses verbiage like "the perfect pair," "meet your match," and "power couple" displaying ways shoppers can make best-selling products their own.
12. Mouth
Not all of your readers are in loving relationships, and even if they are, they might not be as excited about the holiday as others, and that's ok! More than half of consumers are single. Don't leave out this customer demographic, instead, encourage them to celebrate their singleness by helping them take a bite out of love like Brooklyn-based artisanal food shop Mouth does.
14. Bose
Do you know long a person spends reading an email? 2 to 5 seconds before they decide if they want to read it further. And just like your valentine, you want your valentine's day email marketing campaign you want it to be easy on the eyes. Favorite stereo manufacturer Bose demonstrates how to design a layout that shows and tells the reader all they need to know. And despite there being no red, the romance is still there.
14. Modcloth
Many couples use Valentine's Day as a way to have a night on the town (or a night on the sofa), and what better way to set the mood for the evening ahead than with clothes. If clothing is your company's claim to fame, take a page from Modcloth's book and highlight a few of your top items and show shoppers how they can make items their own to create a showstopping outfit that will be the perfect accompaniment to a night they'll never forget.
MailBakery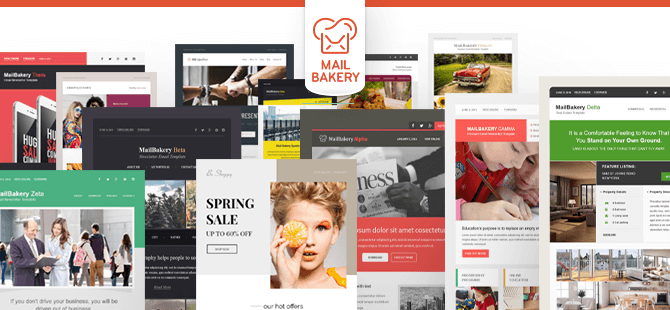 Creating the perfect Valentine's Day email marketing campaign can be as tough as it is to pick out the perfect gift to show your love. We hope that sharing our favorite campaigns inspires you to think out of the box with your next email marketing campaign. If you're unsure where to start, look no further than MailBakery.
Our team can assist by creating stunning, brand-specific email templates that will be love at first sight for you and your customers alike! Got a vision you want us to bring to life? We're happy to do it. If not, let's brainstorm together.
Are you interested in learning more? Contact our team today, and let's get cooking in the kitchen!
Checkout our previous article on Valentine's Day:
22 Charming Valentine's Day Email Templates