5 Fun and Creative Email Themes for Fall
Reading Time:
5
minutes
One second, it's summer, but before you know it, the leaves are turning burnt orange once more. The blistering heat begins to fade, and you can't leave the house without noticing the faint smell of pumpkin spice. Autumn has arrived! Of course, every marketer and business owner knows that this popular season is an excellent chance to form connections with new customers, boost sales, and increase brand awareness.
Don't make the mistake of waiting too long to ramp up your fall campaign. Anticipation strikes early, and it's always prudent to start your themed marketing efforts sooner rather than later. With school shopping segueing neatly into back-to-back holidays, your brand has plenty of opportunities to capitalize on this critical time of year. And this year, Q4 could be more successful than ever, as e-commerce sales have increased a jaw-dropping 39% in the first quarter of 2021 alone.
Ready to start campaigning? Here are several exceptional email designs to inspire you this autumn.
1. Banana Republic
Sometimes, less is more. The Banana Republic makes this very apparent with their elegant fall campaign.  Instead of using stereotypical imagery, they chose to hint at the changing seasons with text in a warm shade of yellow and earthy color palettes in the images.
Banana Republic's decision to keep things simplistic aligns with the classic, refined brand image they wish to cultivate, while the animation keeps the campaign fresh and engaging. If your brand has a sophisticated appearance — or if you need to put a sale campaign together at the last minute — consider applying these marketing principles to your own email marketing campaign this fall.
And when the holidays strike, it's easy for marketers to become overwhelmed creating multiple campaigns. Keep in mind that it's not always necessary for your campaign to be flashy. Inspired text placement, a pop of color, and a dash of animation can make a significant impact.
Related: 7 Brands Using GIF Emails to Spice Up Their Email Marketing (+20 Examples)
2. The Bouqs
Fall isn't just about pumpkin spice lattes. There's Halloween too! If your brand's audience seems like the type to enjoy the spooky season, why not make your campaign a little festive this year?
As far as Halloween emails are concerned, The Bouqs has got it covered. Their fall email campaign stands out by using dark, ghoulish imagery while maintaining a sense of playfulness. The puns within the copy align with their Halloween theme, while the names of their bouquets add the finishing touch to this stunning email campaign. Don't be afraid to introduce fall sales while incorporating elements of the holiday season for a fun, fresh finishing touch.
A successful brand will need more than a sprinkle of leaves and pumpkins in your designs to craft email marketing campaigns this autumn. Unless you own a pumpkin farm, stay away from cheesy, overdone imagery. Possibilities in the realm of graphic design and copywriting are endless, so don't be afraid to push the boundaries of your creativity. Just like any other season, creating an effective fall campaign requires calculated strategy and eye-catching designs. Be bold and make your campaign just as vibrant as nature itself this fall!
Related: 26 Frightfully Fun Halloween Email Examples: Inspiration for Halloween Email Campaigns
3. Starbucks
Some people hate saying goodbye to summer, so why not appeal to them in your email campaign, too? Sweater weather isn't for everyone. Brands that need to clear out their summer inventory for a new season could benefit significantly from informing their subscribers that there's still time to enjoy the sunshine!
A campaign of this nature would also be successful for the portion of your brand's customer base that lives in a warmer climate. Don't forget to implement segmentation and send your subscribers personalized content based on their location, interests, and shopping history. Segmented email marketing campaigns have a transactional rate six times higher than those that don't utilize personalization.
Related: Our Favorite Email Designs For Summer
4. Austin Eastciders
This genius campaign from Austin Eastciders evokes the feeling of fall in a fun and effortless way. You can easily imagine cracking open one of their cold ciders to watch a football game or unwind after raking leaves. Everything about the visuals included in Austin Eastcider's email marketing campaign is relatable to their target audience, while the color scheme is warm and inviting.
This brand was careful to top it all off by ensuring that the call to action wasn't too aggressive. Copy that is too demanding risks taking away from the laidback, cheerful vibe of their campaign. Take notes from Austin Eastciders' email campaign if your brand has a product that family or friends can enjoy together. A pleasant color scheme and friendly imagery might be the best way to appeal to your target audience this fall.
5. Nordstrom
With fall eventually comes Thanksgiving, and even customers who don't celebrate are excited to take advantage of a good sale on Turkey Day. Nordstrom's email campaign differs from the others on our list for several reasons. To begin with, they chose colors that are very different from what marketers typically associate with fall, but these aren't traditional winter colors either, giving their imagery a timeless vibe.
Their campaign also hints at yet another season change just around the corner, preparing consumers for their winter sale. Although there are no people or products in this campaign, the animation and vivid graphic design keep this email entertaining. Such a design is effective but can be challenging to put together. Brands interested in implementing a fall email marketing campaign similar to this should invest in a custom email template and leave the design process to the experts.
Sometimes, the best thing for marketers is to thank their customers instead of constantly pushing them to purchase products. Brands looking to take an unconventional approach a little later in the season would be wise to emulate this Nordstrom campaign and build goodwill with consumers.
MailBakery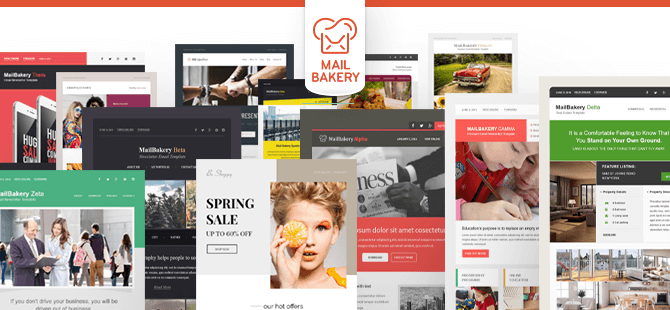 Creating your perfect email marketing campaign doesn't need to be complicated. A strategic and well-designed campaign can elevate your brand and increase revenue for the fall. To create the best email marketing campaign your brand has ever had, enlist the help of MailBakery. Our expertise in creating gorgeous, brand-specific email templates is unparalleled.
If your brand could use assistance creating an email marketing campaign for autumn, consider working with our team at MailBakery. Are you ready to create something incredible? If so, contact our team today, and let's get in the kitchen!