How to Deal with Common Email Marketing Mistakes
Reading Time:
6
minutes
This article was last updated on June 7, 2021
Creating email marketing campaigns can be an impactful way to reach potential and long-time customers, but one thing companies need to watch out for is email marketing mistakes. To err is to be human. We make mistakes. But with marketing emails, errors are experienced on a much grander scale, since there are typically hundreds, if not thousands who tap into your newsletters and updates.
Everything from spelling errors, broken links, and sending emails to the wrong customers can happen, but instead of panicking when things go awry, best practice is to have a plan. These situations will inevitably occur, and you need a strategy so that you can act swiftly, professionally, and favorably. Here are a few of the common email marketing mistakes we often see, and how to prepare for them.
Hot Links in this Article:
Not Welcoming Your Subscribers
When a new customer subscribes to your email list, sending out an email welcoming them to your community is a must. Waiting until your next email newsletter triggers to reach out is a big email marketing mistake and a wasted opportunity. Your customers go through a lot of steps when they opt-in to your email list — from researching your company and reading your content to clicking the call to action button and signing up. Naturally, they're interested in your company. Take advantage of this! Be sure to engage with your new subscribers as soon as they sign up, as welcome emails have the highest open rate of any email marketing category.
Broken and Incorrect Links
Broken or incorrect links are perhaps the most common email marketing mistakes businesses make. It may sound like a minor issue, but it can be costly if not caught and corrected in time. The best way to reduce your chances of something like this happening a second time is to send test emails to your team. It's also important to click on every link or button that shows up in your email to verify that the link works and will deliver them to the right destination.
Non-profit, faith-based company Our Daily Bread Ministries prematurely sent out an email with a call to action button featuring a broken link. The below example identified the issue and sent out an updated email acknowledging the broken link minutes later.
Website Technical Difficulties
If you've ever received an "oops" email from a business, chances are technical difficulty or human error on their site is the culprit for interrupting a customer's experience. Websites can go down for a host of reasons, including increased traffic, snags when updating the site, or errors on your web host's side; many reasons that are out of your control. As nerve-wracking as this is, though, don't panic.
When this happens, the best practice is to do what you can to get your site up and running as soon as possible. Be sure to keep your subscribers informed, and, once the problem is fixed, offer an incentive for their inconvenience.
Not Having a Clear Call to Action
Emails should always have a purpose, even if it's just to "check-in" in a customer. So, don't waste your reader's time sending without reason. Ask yourself, what is the outcome you're searching for. Our favorite way to give emails a purpose is to include a call to action button. This inspires your customers to take action, whether to buy, sign up, or learn more. The key is to find balance. A common email mistake is to have too many CTAs in an email (one after every paragraph is far too many).
Other email marketing mistakes include not using a CTA in your emails or featuring conflicting CTAs throughout your email. The perfect balance is to have one, maybe two, in your email, each aligning with the email's overall message. If you want them to register, add grabbing words about doing so. And if you want them to contribute, encourage them to do so with a properly placed action button.
An excellent example of directing your clients with CTAs is in RA Sushi's newsletter highlighting international beer day and select dishes that benefit a local charity. There's no confusion about what they're encouraging the reader to do.
Sending the Wrong Email by Accident
Sometimes when companies are rushing to make their deadlines, they make mistakes like sending out an unfinished email, or in the case of eCommerce businesses capitalizing on sporting events, sending out the wrong version of an email altogether.
Ensure you don't make this email marketing mistake by having a few people double, triple check the file and layout before you send the email out. And should you accidentally send out the wrong email, acknowledge your error. We're all human, despite our best efforts, it does happen.
An example of sending the wrong email by accident is seen here in a birthday email sent by Red Robin. The email was sent to countless subscribers up to 5 months before their actual birthday.
Going Overboard with Images
A picture is worth a thousand words, but too many images can leave your reader speechless. Think of images as adding a pinch of variety to your emails. When used correctly, photos and charts can increase engagement and conversion. And when used indiscriminately, your customers won't know where they need to focus their attention. They'll also feel like the text lost in a sea of photos isn't as important to read.
To avoid this email marketing mistake, try writing out your copy and breaking it up with images that help tell your company's story. Sometimes you'll find that images show better than tell, whereas with others, the images are a companion to the text, and only a few photos are needed.
Failing to Use Message Previews
The introduction of using message previews to pique a reader's interest may be a newer marketing strategy, but it's a powerful one. By using message previews and cleverly worded content, you can zero in on our FOMO (fear of missing out). However, many companies forget to use this prime piece of real estate when laying out their emails. Please don't neglect to use it as a means to introduce new ideas to customers or allow readers to see whether or not the rest of the email is worth reading.
Ignoring Mobile
A crucial email marketing mistake companies tend to make is overlooking the importance of mobile devices. It's said that 40 percent of mobile users check their email 4 or more times a day, which means that crafting your email marketing campaigns to accommodate mobile devices is a must. If your emails aren't optimized for the hundreds of different mobile devices currently in use around the world, it doesn't matter how impactful your wording is; optimization — or lack thereof — speaks louder than words. The best emails offer an excellent experience for both mobile and desktop users.
MailBakery: Keeping Your Email Marketing Mistakes in Check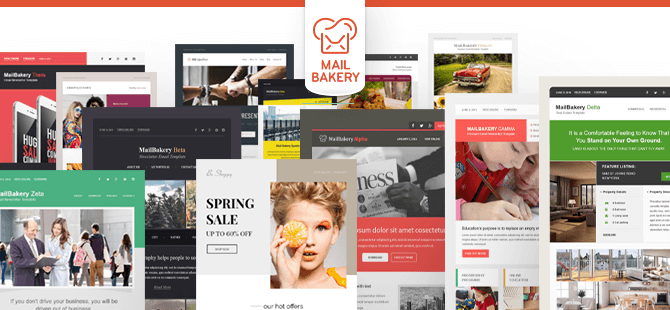 Email marketing blunders can be embarrassing, but we promise there's always a way to bounce back. As a preventative measure, MailBakery can help make sure your links work, your emails are optimized, and your new subscribers receive a warm welcome.
Browse our catalog of more than 100 HTML email templates for one that speaks to you, or if you've got an idea, we'd love to hear it. Our ultimate goal is to provide you fresh designs that are true to your branding and convert leads.
Contact us if you're ready to bake something up together!