7 Email Design Mistakes Your Readers Hate
Reading Time:
5
minutes
This article was last updated on June 7, 2021
Picture this: You are an email marketing manager and by the end of the day, you have to give a report to your boss on your latest email marketing campaign analytics. You notice that open rates are good, but engagement rates and click-through rates are low. You're probably wondering why your emails aren't performing as well as you anticipated. There are many reasons why your email might be performing poorly but there is one reason that stands out the most: your email design mistakes.
By 2021, it is expected that 320 billion daily emails will be sent. Today, on average, nearly 306 billion daily emails are sent. So, what does this have to do with your email marketing campaigns?
Since people are receiving tons of emails each day, it's more important now than ever to design emails that stand out from the competition. Poorly designed emails can be unattractive to your reader and cause them to exit out of the email without taking action or, even worse, opt-out of your emails. Wouldn't you hate to lose a subscriber just because of your bad email designs?
That's why we're here to share the most common email design mistakes your readers hate. Read on to learn about the mistakes you should avoid when it comes to email design.
Hot Links In This Article
1. Emails They Can't Open
It's official. We use our smartphones more than desktops to open emails. In fact, more than half of email users use mobile devices to open emails. Think about it, when waiting in line somewhere or during a moment of downtime, most people pick up their mobile device and browse through their email notifications.
If an email isn't optimized for a mobile device, your user can't read it. Believe it or not, there are several marketers out there who still do not optimize their emails for mobile. The email program you use should provide you with fully responsive email templates. If not, it's time to find a new email program! If you're not one hundred percent sure that your email works with mobile devices, send yourself a test email first to double-check.
2. Content That Is Difficult to Read
There are tons of creative font's to choose from, so it can be tempting to get creative and use multiple fun fonts. When it comes to email campaigns, the font should be unified. A simple font such as Verdana, Arial, Times, or Tahoma makes the text easy to read.
3. Inconsistent Messaging
An email campaign should be well thought out so that, when it is time to add the content to the email, it reads smoothly and makes sense. Each email should have its own purpose. With one clear purpose, you can create one call-to-action statement so that it is clear to your readers what you are asking them to do. If you have too much information in one email, it could be overwhelming and your readers might become disengaged.
4. The Color Is Too Busy
If you are treating your email design as if it was a coloring book, you're making a big mistake. It's tempting to want to add colors to your email but for your email to look organized and professional, you should stick to a maximum of 2 to3 colors. These colors should be easy on the eyes and give your email an appealing look. Typically, you should try to avoid colors such as neon yellow because it is difficult to read. Keep in mind that you will also want the colors to fit your brand image. For instance, if your brand generally uses black, white, and red, you will want to avoid pink, purple, or any other color that wouldn't fit in with your brand.
5. The Design Doesn't Match Your Brand
That brings us to the next mistake people make with email design: failing to keep email design within the brand's image. Keeping your brand consistency in email marketing is critical. If you are constantly changing the look, style, or voice of your emails, there is a chance you'll confuse customers and cause them to unsubscribe. There are elements that must remain the same in every email campaign. This includes the logo, color scheme, tone, and the location of your company's contact information. Adding some minor changes here and there won't make a big impact but any big changes could do more harm than good.
6. Burying CTAs
A key element in your email campaign's success is click-through rates, which are all dependent on your call-to-action (CTA) buttons. If your CTAs are difficult to find, more than likely, your click-through rates will suffer.
Your CTA needs to stand out in the email, rather than being buried in content. To make a CTA stand out, consider using contrasting colors to highlight the CTA button, and be sure the font is clear and easy to read.
7. Long Emails
Opening an email that has too much content can be overwhelming. If the email is all text with no imagery, it could be especially overwhelming. Keep the content of your email short and sweet so that it is straight to the point. If you want readers to read a lot of information, use a hyperlink in the email to direct them to your website where they can read more. When you bombard your readers with too much text, they might not even read the email. If you find that your email has too much text, break it up with a few images so that it is easy on the eyes.
MailBakery: Crafting The Perfect Email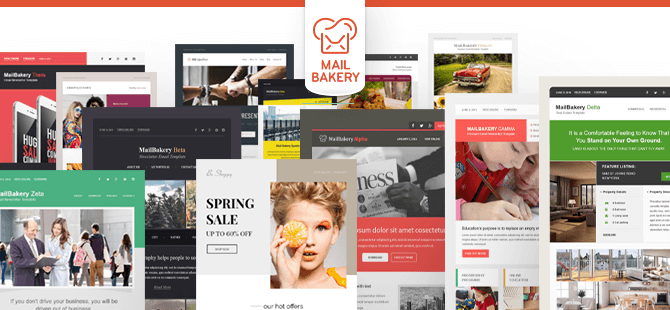 If your email isn't performing the way you'd like, consider these common design mistakes. A well-designed email should be organized, clear and concise, with minimum design elements, and prominent CTAs.
Could your email design use a makeover? MailBakery is here to help!  We can design and code an email template from scratch or just code your PSD/Sketch* to HTML email. You can also check our Samples page to review some of our previous work.
Ready to design the perfect email? Order yours now!
* We also accept other layered design formats such as Figma, Zeplin, AI, INDD and etc.
Related Articles