10 Ways To Avoid Falling Into The Spam Box
Reading Time:
5
minutes
This article was last updated on August 3, 2021
When email marketing is an integral part of your marketing strategy, emails getting to the inbox instead of the spam box is the difference between a sale and wasted resources. Internet Service Providers (ISPs), at the response of the public outcry, are waging a brutal battle against spammers. Sometimes even the best intentions turn us into villains in the email world because of some of the simplest of details.
To help you avoid email Purgatory – we have some tips to help keep you in the good graces of the ISPs:
1. Only email by request
Repeat after me: "I will never, ever, purchase an email list…EVER." We recognize the temptation of a small investment for a massive list of potential customers, but there are so many ticking time bombs in those lists that its never worth your online reputation with the ISPs. At best – your email may go directly to a junk folder. The worst-case scenario is that your email gets you branded as a spammer. Many are dead emails, and some are actual spam traps that put you on the naughty list by the spam police. These traps trigger an action that informs mailbox providers that you break the rules by sending unsolicited emails.
It's an excellent practice to collect email addresses for your mailing list but do so upfront and legitimately. A pop-up on your website is an acceptable way to build your email list. The critical detail is that whenever you ask for an email address, be clear of your intentions with that information.
Another tip when people sign up for your email list is to set up your system to send a confirmation. This gives the recipient a chance to unsubscribe right away and decrease the chances of your email getting into spam folders.
2. Get a reliable Email Service Provider (ESP)
ESPs are evaluated and graded based on the practices of their clients reflecting the reputation of their Internet Protocol (IP) addresses and domains. In turn, the ESP monitors the activity of their clients and ban spammers, thus maintaining the reputation of their other clients.
Customers of reputable ESPs are more likely to get their emails to the target inboxes. Those working with low reputation ESP's may find themselves blocked by Gmail, Hotmail, and Yahoo! Mail.
3. Avoid trigger words in your subject line
Email filters seek out and destroy emails with "spammy" subject words and phrases. HubSpot lists the top words and phrases to avoid in your emails:
As seen on
Cash bonus
Earn $
Extra income
Clearance
Buy direct
Additional income
Potential earnings
Be your own boss
Online biz opportunity
Fast cash
Sign up free today
Increase sales
Call now
Save up to
Free consultation
Web traffic
Once in a lifetime
Why pay more?
What are you waiting for?
No strings attached
Serious cash
Other "spammy" single words that might trigger a spam filter: order, purchase, buy, bonus, free, prize, etc.
4. Don't send too many emails
Multiple emails a day is a very spam-like behavior. Some may even define daily as being too much. Consistency is key to a reputable emailer. Limit your marketing emails to once or twice a week on the same days as a best practice.
5. Constantly groom your contact list
Keep your contact list up to date by way of accuracy and activity. First of all, keep your contact list tidy by removing any bounced email addresses promptly to avoid repeating (and more charges).
Validate emails as they are received. Email validation verifies if an email is deliverable and valid. A couple of free tools worth mentioning that validate email addresses are ValidateEmailAddress and  EmailValidator . Look around, however. These aren't the only ones out there.
Pay attention to reporting. If a recipient is repeatedly ignoring your emails and not bothering to open them, resist the urge to hold onto that valid email and remove them from the list. Decide if that cutoff will be three emails, or 5 or 10. Develop a schedule to keep your contact list tidy.
6. Make your content relevant and targeted
If your contact list has clearly different interests that your business serves, try segmenting your contacts, so your emails speak directly to their interests. Imagine sending gardening emails to recipients that are most interested in NASCAR racing. I know it's an extreme contrast, but you get the idea! Tailoring emails to these segmented recipients significantly increases the chances of them opening the email and reading the content. Some common examples of useful segmentation might be active customers, sales funnel, geographical area, business type, or common interests.
Always send emails that add value to the lives of your recipients. Don't send an email just because it's "email day." If you have nothing to say – don't. Having nothing to say also tells you that you need to update or beef up your marketing strategy.
7. Be yourself with sender information
The last impression you want to make with your email marketing is to be mistaken for someone else. Misleading header information, including the sender information, reply, or routing information can land you in the spam folder. The CAN-SPAM Act has strict guidelines on authenticity with your email practices. Personalize your email addresses when sending it to make it look like a human sent it and not a robot…because you ARE human!
8. Keep in touch
Keep a steady consistency in your email frequency. Going weeks or months between emails may cause your recipients to forget who you are and that they signed up for your emails in the first place. If they think your email is spam and give negative feedback, this could affect your email reputation.
9. Make a whitelist request
When someone signs up to receive your emails, send a follow-up email requesting that they add your email address to their contacts list. This method guarantees that you won't wind up in their spam folder.
10. Get bonafide
Third-party companies like ReturnPath assess your practices and verify you as a certified sender (not a spammer) with a Sender Score Certified status. This certification admits your emails to the inboxes of the major ISPs.
MailBakery – baking your emails with sugar and spice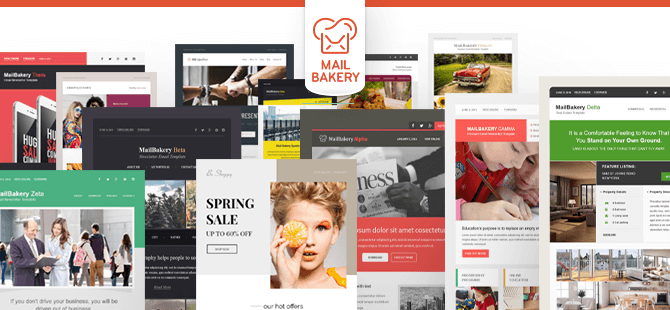 MailBakery codes your email templates and skins to create a customized professional image of you to your customers. Our code integrates beautifully with most Email Service Providers. Pick a masterpiece from our Template store or have a piece custom-designed for your brand, we guarantee you will love it! Let us know what you are thinking and get a quick quote today.