5 Email Marketing Trend Predictions for 2021
Reading Time:
5
minutes
This article was last updated on June 7, 2021
Email marketing is a lead gathering tool that shows no signs of going anywhere anytime soon. In fact, a report from Statista shares that in 2019, the total number of business and consumer emails received was 293.6 billion, and that number is expected to reach 347.3 billion by the end of 2022. With the sheer volume of emails your subscribers are receiving, it's essential to make sure that your emails stand out from the rest. What's the best way to accomplish that? It's through quality email designs, engaging content, and of course, incorporating email marketing trends.
In 2020, the top email marketing trends were dark mode, seamless designs, and slicker email experiences. This came from marketers relying on automated emails to generate more revenue from welcome emails and cart abandonment emails. With 2021 right around the corner, we thought we'd share our predictions for email marketing trends that are sure to pop up in your inbox throughout the year.
In this article:
Interactive Emails
This super engaging trend carries over from 2020 but adds new flair. For 2021, we predict the rise of accelerated mobile pages, or AMP, to make emails more interactive. According to Google, this technology allows you to do more things from directly within an email. This includes things like scheduling an appointment, filling out a survey, or playing a game. Another possibility we're excited about is the ability to shop within an email. With AMP, your customers can scroll through a product carousel instead of clicking on individual links to complete their purchase. Allowing the entire experience to take place within the email opens the door for countless possibilities across various industries.
The introduction of AMP also changes the role of the call to action button. Instead of only being used for shopping or signing up for notifications, they can be used for situations like requesting out of stock products, requesting products not found in the carousel, or clicking a CTA to trigger a chatbot for some human interaction.
Bright and Bold Colors
Where 2020 was all about the pastels and muted tones, we predict 2021 to be on track for a more vibrant approach to incorporating color into email designs. Colors can influence up to 90 percent of an initial impression and influence 85 percent of shoppers' purchase decisions. So, marketers would be wise to play into this. Through color theory, you can create emails that can influence your reader's mood about your emails and purchasing your products. For example, red can convey love and passion, whereas yellow is associated with happiness, and green signifies new beginnings, money, and wealth. Whenever you sit down to design a new email marketing campaign, we highly recommend using color theory to influence its results.
Artificial Intelligence
In 2021, AI continues to be a mainstay in the marketing industry, as it allows companies to automate almost every aspect of their sales process. Chatbots also became a necessity earlier in 2020 thanks to the pandemic. Sales teams needed new ways to engage with leads, and chatbots provided an option. Instead of calling leads or having someone waiting around to answer questions, chatbots can handle the FAQs instead. While they're chatting with the bot, it can collect various information from your leads and their online activity.
This info can translate into content for your email newsletters or optimize your website for your target audience. It's also an excellent way to qualify your leads, learn more about their needs, learn about what people are looking for when they come to your site, and provide answers to those who are still in the research stage of their journey.
Automation
Another email marketing trend that carries over from 2020 is the use of automation for various marketing activities. Although it's a practiced strategy for many companies, we predict that even more businesses will hop on the automation train. With the current state of the world, many companies are sending more emails — 27 percent more, according to HubSpot — than they were pre-COVID.
Automation not only allows you to delegate the tedious work of having to manually follow up with your customers and keep tabs on where they are in the buyer journey, but it also helps ensure that your customer has a better overall experience. And its benefits extend further still. It's also an effective way to improve lead management, gather more leads, and nurture them with a quality experience that will boost brand loyalty and convert them into lifelong customers.
Mobile Search
We love our mobile devices. For many people, they replace the need for a laptop. And our dependence on them shows. Since 2017, mobile devices have been responsible for more than half of all web traffic. To take advantage of this knowledge, we predict that many businesses will start to invest further in mobile optimization — if they haven't already.
Even Google is trying to urge companies to beef up their mobile optimization. In recognition of our mobile-heavy searches, the online juggernaut switched to mobile-first indexing in 2019. Making your website mobile-friendly increases your chances of ranking higher on search engine result pages (SERPs). Here are a few ways to get the ball rolling on making your site mobile friendly:
Boost your page loading speed.
Use standard fonts and larger fonts that are no bigger than 14px.
Limit your pop-up ads and ensure that customers can click out of them.
Test your website on multiple devices.
MailBakery: Helping You Stay Up to Date with Email Marketing Trends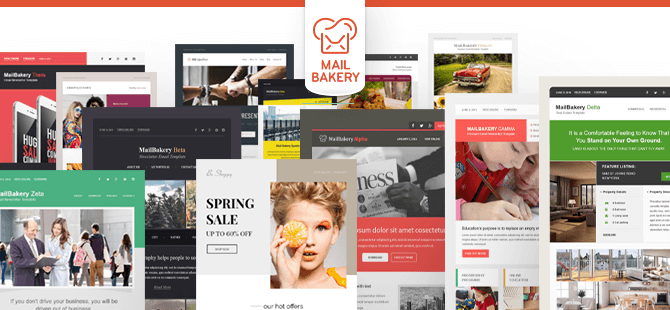 Staying on top of email marketing can make all the difference between a discarded email and a new customer. With our list of predictions for 2021, you can get a head start applying these engagement-boosting email marketing trends to your own campaigns. Our team at MailBakery can help you create stunning, interactive, and brand-specific email templates that are sure to increase your clickthrough rate.
Are you interested in creating something fresh and delicious with us? Contact us, and let's get baking!