5 Reasons Your Email Campaigns Aren't Converting and How To Correct It
Reading Time:
5
minutes
This article was last updated on June 7, 2021
Have you noticed a decline in your email open rates? Are fewer customers clicking through your emails? Have you seen a drop in sales? If you notice any of these, it's easy to get discouraged. You may be wondering what you are doing wrong or if email marketing is still worthwhile in the first place.
First things, first, you are not alone. Several businesses that have an email marketing plan in place experience similar challenges. This uncertainty doesn't mean that email marketing isn't effective for you. Instead, it actually means you are experiencing growing pains! Your emails have been successful in the past and it's time for you to take your emails to the next step!
Email remains the number one activity on the internet because 94% of internet users are getting on the web just because of email. Additionally, marketers continue to expect to see a return on investment of $39.40 on each email.
With that said, email marketing is more useful than ever, and it will continue to be the top way of how brands communicate and build relationships with consumers. So, if your email marketing campaigns aren't going how you expected them to, we have five reasons as to why your email campaigns are not converting and ways you can tweak your emails to make all the difference.
Subject Lines
If you follow our blogs, you have probably caught on to how important subject lines are, because we mention them all the time! Your subject line determines whether your audience opens the email or sends it straight to the trash can.
If you have noticed that your open rates have declined, it's time to find a solution. If you are unconvinced that your subject line has anything to do with the decline in open rates, try doing an A/B test. Send an email with one subject line to half of your audience and send another subject line to the other half. If the open rate is dramatically different, you will have your answer!
If your email platform supports A/B testing functionality, set your A/B test to test both against the first half, then the remaining half of your recipients get the winning email. That means 75% of your audience will receive the best subject line.
How to Correct It: Subject lines should be short (under 50 characters), so it does not get cut off. This rule is most critical with mobile users, which is close to half of your readers. For mobile in mind, your subject line should then be under 35 characters to ensure the majority of cell users can view the entire subject.
Subject lines should also be catchy and offer value to your audience. What is it about your subject line that is going to make people open your email? Discount code or the latest sales? New products? Create a subject line that makes them want to open your email.
Weak Call-to-Action
Each email you send should have a purpose. If you can't think of the purpose, there is no reason to send an email. When writing your call-to-action, consider what you want the reader to do. Do you want them to view your latest sale items? Look at your new product releases? Follow you on social media?
How to Correct It: Your call to action statements should be short and concise. Take this example by BCBG Generation, for instance. A beautiful invitation design prompts readers to shop the sale. The call-to-action statement is the main purpose of the email and it's a statement that makes it clear as to what you are asking readers to do. Before sending out an email, read the email yourself as if you were receiving the email from someone else? Is the call to action clear and easy to find?
You're not mobile-friendly
Did you know that 55% of email users are reading their emails on a mobile device such as an iPhone or tablet? You must send emails that are optimized for mobile devices. Otherwise, there is a good chance your audience won't even read your email, simply because they can't view it properly!
How to Correct It: Before sending out email campaigns, be sure to send yourself an email to ensure that you can open it on a mobile device. To make it more mobile-friendly, you may need to write shorter emails for small screens, create larger CTA's and use more graphics strategically. If you're looking for an excellent mobile-friendly template, reach out to our team at MailBakery to find the perfect fit!
Your content and campaigns are not focused
Email marketing is extremely effective if you follow a strategy. Defining an approach will enable you to create a targeted campaign. A strategy requires you to research your audience to get a thorough understanding of their persona. For instance, what are they looking for? What is their budget? How will your product help them? How internet savvy are they? Buy understanding their persona, you can create content that connects with your audience. That connection is what drives your contacts right to your Call to Action (CTA) statements.
How to Correct it: Stick to a strategy, and before sending out emails, review the email so that you ensure the content is relative to their persona.
Your Emails Are Too Generic
The downside to email marketing is how popular it has become. Every business has caught on to the effectiveness of email marketing, so it's up to you to stand out from the crowd. A big reason why your emails might not be as successful as they once were is because to your audience, they seem like every other email.
How to Correct it: Getting your email to stand out dramatically depends on the design of your email. Most people can come up with the content that goes into the email but creating a design that demands attention is the tricky part. Let MailBakery help you with that compelling design! Check out our sample page where you can browse 353 email samples.
MailBakery: Helping You Convert in 2020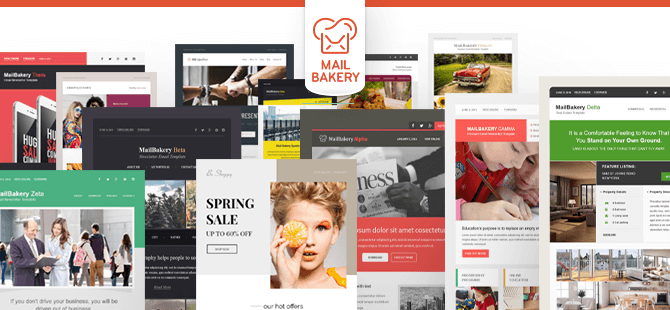 We expect email marketing to grow even more in 2020. If your emails aren't giving you the results that you are expecting, it's time to evaluate your campaign efforts and consider these five reasons and how to correct it. At MailBakery, we enjoy crafting email templates that will stand out to your audience so that you can convert more sales.
Ready to get started? Check out our services and order now!