Best Ways to Show Your Email Subscribers Appreciation
Reading Time:
5
minutes
This article was last updated on February 10, 2023
Every brand wants to grow its email subscriber list and customer base. They spend countless hours and resources trying to attract new subscribers when investing in current ones can be just as fruitful. How do you do this, you ask? By gaining customer loyalty. One of the top ways to earn your customers' loyalty and retain their business is to show your email subscribers appreciation.
Like in all relationships, people like to feel appreciated and valued. A subscriber is no different. They don't have to purchase your products, sign up for your email newsletters, or follow and engage with you on social media, but they do. And you should reward them for choosing your brand above others. After all, your customers might not know you value them if you don't tell them.
Showing your appreciation goes a long way, too. SmallBizGenius reports that 65 percent of a company's business comes from existing customers, not new ones. With that being said, it's time to show your email subscribers appreciation, and below, we share six ideas for success.
Hotlinks in this blog:
Ask for Their Feedback
An easy but impactful way to show your email subscribers appreciation is to ask for their feedback. Whenever we build a strong rapport with someone, we tend to value their opinion more. Take advantage of the relationship you've fostered with your readers by sending them a simple survey inviting them to share their likes, dislikes, and desires for your company. There is even the possibility to incentivize their engagement with your survey.
Not only does asking for a feedback show your appreciation, but it also can give great insight into what your readers need and desire. Your company can then apply those findings to marketing strategies or tweak existing ones and appeal to more of your ideal audience.
Send Them Thank You Emails
Yes, you're already sending them marketing emails, but what better way to reach your subscribers than through an avenue they frequently engage with? Show your email subscribers appreciation by taking the time to say thank you. It is a simple and powerful gesture. Don't be afraid to showcase a bit of your personality and make yourself stand out with your emails. These emails aren't your run-of-the-mill marketing emails; these are special and should be treated as such!
You can do fun things like embedding a video thanking them personally for their loyalty and business. You can even use a marketing automation system to personalize promotional call-to-actions so that when they land on your website, it feels like they have their own private site.
And if you need help crafting your thank you emails, our team at MailBakery is happy to help! We design, code, and create stunning, brand-specific email templates that are sure to get your message across. Contact us anytime to learn more about our services.
Create a Customer Loyalty Program
Perhaps the most well-known method of showing your email subscribers appreciation is to create a customer loyalty program. The best part is how you structure it is entirely up to you! For example, you can offer loyalty points for every dollar a customer spends that works toward a gift card or other reward.
Your program can also send existing readers complimentary samples every month. The key is to know what appeals to your readers and what will encourage loyalty and engagement. You can even take it a step further and run personalized promotions based on certain milestones or their favorite products to show that you know who they are.
Give Them Sneak Peeks
Everyone enjoys the moments where they get the first dibs on a new product, service, or design. It makes them feel elite, but it also lets them know you value their opinion. You can use this feeling to show your email subscribers appreciation. Give them the honor of being a beta-tester and exploring your next big release.
Because they are dedicated users and buyers of your product, they can offer invaluable feedback. This feedback includes changes you can make to design, functionality, usability, etc. It is an incredible incentive for their loyalty to your brand.
Reward Your Readers
We all enjoy positive reinforcement. It's something we first experience as children and have loved ever since. You can replicate that feeling by rewarding your readers with a customer appreciation-themed promotion. A site-wide percentage off promotion can go a long way if you leverage it correctly. Get creative and make your promotion exclusive for those who have been subscribed for a certain amount of time.
Brands like MasterCard reward their customers with tickets to events and gift cards just for using their credit cards. You can do something similar that aligns with your brand and budget!
You can also limit it to those subscribed to your email marketing newsletters. By exclusively rewarding your customers, you create FOMO or fear of missing out. Those who haven't yet signed up will flock to your landing page to sign up, so they don't miss out next time. This grows your email list and eventually your customer base.
Send a Handwritten Note
In the throes of the digital age, it is uncommon to find handwritten notes, which is why it might be a smart move to send them to subscribers. Not every company can do this, especially not those with email lists a thousand subscribers long. However, those with smaller email lists can benefit from sending out a handwritten note.
You don't have to be a poet laureate to pen something meaningful, and you don't have to have the best penmanship, either. Each of these things lends itself to an authentic and heartfelt way to show your email subscribers appreciation. A great time to add this personal touch is throughout the customer journey, when a subscriber makes their first purchase or for milestones like birthdays and customer anniversaries.
MailBakery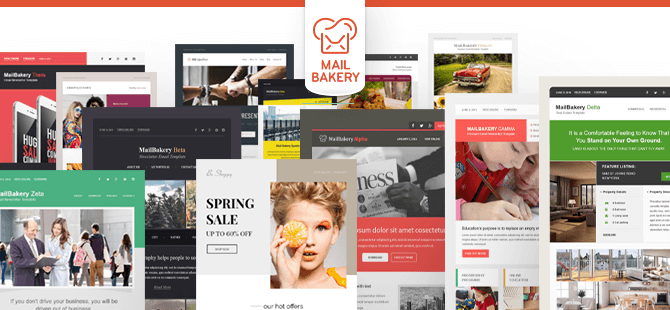 Showing your email subscribers appreciation can go a long way in customer retention and your business' overall growth. Although our list of ways to show appreciation is just the tip of the iceberg, we hope it inspires you to look at your readers differently.
At MailBakery, we specialize in designing, coding, and creating email templates that are stunning, brand-specific, and sure to entice leads and existing customers alike. If you need help crafting your next great email, look no further than our team of experts.
Are you interested in partnering to create something incredible? If so, contact our team today, and let's get in the kitchen!