Winning Email Marketing Combination – Personalization & Triggered Campaigns
Reading Time:
3
minutes
With the increasing amount of emails we get everyday and dwindling open rates, many email marketers complain that email marketing is loosing its strength and that its best days are over.
However, if you look into email marketing performance statistics they'll show you just the opposite. Email is still on top of the digital marketing food chain, attracting $38 for every $1 invested and offering a 3,800% ROI. The moral of the story: email marketing delivers more than ever, it's the way we use it that prevent us from achieving its full potential.
If we keep disregarding where in the sales funnel our subscribers are and keep sending the same email content to our whole database, we can't expect that our email marketing results will improve.
Imagine that you haven't interacted online with your favourite sportswear brand for half an year, would be interested in the emails they send to someone who just bought their first pair of sneakers? Probably not. Now, instead of pumping your subscribers' inboxes with one-size-fits-all emails, let's focus our attention on what modern email marketing can truly achieve and turn you into a real email marketing rock star!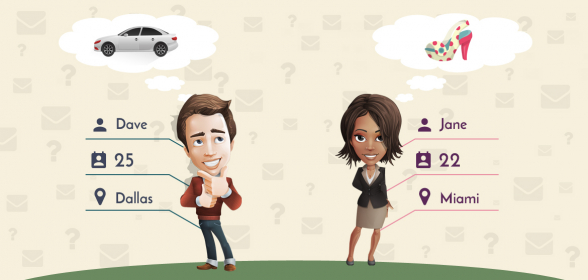 What is Real Personalization?
Customizing your emails based on recipient's name, location, age and gender is the necessary first step towards email personalization, however, there is more to it. While mobile responsive design and the proper segmentation of your email lists are very important for the success of your email campaigns, your email subscribers receive so much emails that using only these tools is often not enough for the success of your email campaigns.
To stay really competitive, we recommend that you monitor closely your clients' behaviour when they interact with your website. Your task, as an email marketer, is to continue the browsing experience of your clients in your email campaigns.
The people browsing your website have different goals and they behave differently. You have to use analytics tools to observe their behaviour and to keep an eye on which pages they browse, what products they convert best for or which pages they abandon and leave full shopping carts behind. Having such data to work with, you'll be able to send personalised messages that truly correspond to the wants and needs of your clients.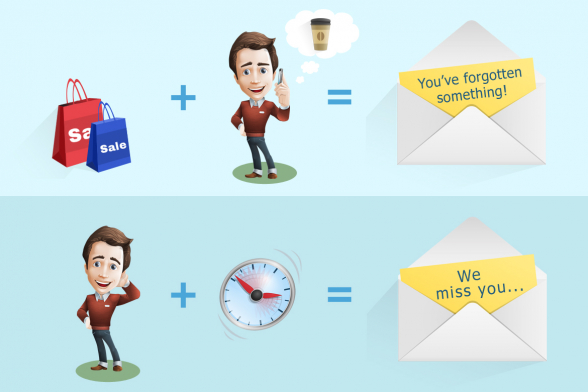 Model Your Emails to User Behaviour
Imagine again your favourite sportswear brand and think about the emails they could send to someone who almost completed a purchase for a pair of hot sneakers, versus someone who was simply browsing boardshorts. The user who was about to purchase the sneakers might be interested in a discount offer that will give him that final push to complete the transaction, while the one browsing boardshorts might be interested to see your updated summer collection, when available. These are just two simple examples of how an online retailer could taylor-made his emails based on client behaviour and have them loaded as automated, triggered emails.
The example could be extended to email marketing campaigns that are not directly sales oriented, but offer news and blog articles on topics your clients are interested in. For those browsing running gear a sportswear brand could offer articles on historic records achieved by athletes sponsored by the brand. For others, interested in mountain sports and hiking, links to articles on nature conservation and wildlife protection might be a better choice. Or for those who haven't been active for a while an email with the latest developments in your company and your most innovative products might be a good way to remind them for your brand and re-ignite their interest.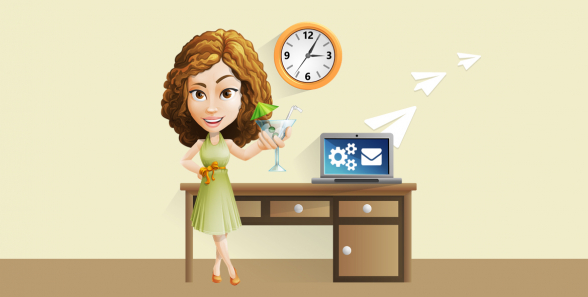 Leverage the Power of Triggered Sends
The sportswear brand examples should pose no limit on the range of industries triggered emails could be used in. They work in any industry. Kissmetrics and Forrester Research both quote statistics in favour of triggered emails – 152% higher open rate and 4 times higher revenue versus standard email campaigns. However, the most astonishing statistic is that triggered emails account for 2.6% of the total emails sent, but generate 20% of the email marketing revenue.
These numbers clearly show that there is a lot of untapped potential in the combination of email personalization + triggered campaigns. The more data you collect for your clients, the more on point email campaigns you will be able to send out and the better results your email marketing is going to achieve. This is the only way to put an end of the fear that email marketing underdelivers and reach the full potential of the highest yielding digital marketing tool available.