20 WordPress Email Marketing Plugins for A Successful Newsletter in 2021
Reading Time:
13
minutes
This article was last updated on April 20, 2022
WordPress Email Marketing is a powerful option that businesses use to connect with customers and leads. However, the email marketing industry is crowded, and finding the right software for your business can be confusing. Many companies launch platforms, but few produce quality products.
Email marketing has become one of the most effective ways to engage customers. By providing useful information, exclusive offers, or even asking your customers to take surveys or give feedback, you can build a reliable reputation with your subscribers. In order to achieve it, you simply have to find a WordPress mailing list plugin. It can help you increase the numbers on your email list and encourage interaction. Email marketing can be difficult to master, whether you're just starting out or have been doing it for a while.
So, how do we find the right WordPress plugins and tools for email marketing management?
By doing extensive research!
1. How to Find The Best WordPress Email Marketing Plugin?
Selecting the right WordPress email marketing software for your business is an important undertaking. While there is no one-size-fits-all solution, you should carefully consider what you wish to accomplish and how much money you are willing to spend to get there.
Do you want to send newsletters only to your customers or create automated email broadcasts that include user-generated content? How often will you use the software? What kind of user interface do you need? These are questions you should be able to answer beforehand.
Let's see some of the deciding factors in finding the right tool for your email marketing campaign.
1.1 Easy to use
The WordPress email plugin should be easy to use. It should interact optimally with other plugins and WordPress itself, and it should be responsive. If a visitor cannot figure out how to use the plugin, he is likely to leave and go elsewhere, turning what could have been a long-lasting subscription into a lost opportunity.
1.2 Reporting
Of course, you can't make decisions and take action without having data. Data allows you to make the best possible decisions and take the most effective measures. High-quality reports and analytic tools will significantly help you grow your email list and avoid getting into the spam list.
1.3 Customization
While customization is important, having a WordPress email plugin is key because it allows you to target visitors with retargeting ads, pop-up forms, and other vital triggers. This way, your clients will know about the great deals you're offering on your products.
2. The 12 Best Performing WordPress Email Plugins
Before we discuss the topic, you should know that both free and paid email marketing platforms are available. Paid ones are more comprehensive but can cost a lot upfront for small businesses. Standard features among free platforms are limited functionality and the need to upgrade for premium features.
We will not pay much attention to the free features. Instead, we will point out the WordPress email subscription plugins that businesses should pay for.
Reviews: 4.4 stars from 7,222 reviews on G2
HubSpot offers a complete marketing solution for small businesses and entrepreneurs alike. HubSpot serves as a one-stop-shop that serves as an analytics hub, sales and marketing platform, and even a customer support system. It has potent email marketing tools in its kit.
Pros:
Drag and drop email editor makes it look like a game, even for amateurs
Hubspot has multiple integrations with other platforms and offers many features under the same hood.
Plenty of templates you can choose from
Cons:
Hubspot doesn't want you to use their email plugin only. Their goal is to utilize all of their tools, not one or two.
Lack of A/B testing in Lower Packages. You should pay $800 to unlock this feature.
Terrible contracts – no early cancellations, no refund policy. Even if you signed on a monthly basis, you will pay every penny.
Prices:
Free version available
Starter plan – starting from $50/month
Marketing Hub Pro – $800/month
Enterprise solution – $3200/month
Best for: Mid-market agencies and enterprises could fully utilize the platform's potential.
Reviews: 4.6 stars from 1,352 reviews on G2
Sendinblue is a comprehensive platform that lives up to its name. With advanced email automation, segmentation, personalization, and landing pages and forms that are geared towards increasing conversions, this platform is great at what it does.
Pros:
Extreme value for money (up to 100,000 emails for $99)
Amazing email automation and A/B testing functionality
Easy to set up
Cons:
Limited ability to integrate with other platforms
Too many complaints about the customer service department
Occasional crashes and delays
Prices:
Free version available
Lite plan – starting from $25/month
Premium plan – $65/month
Best for: Startups and businesses on a budget.

Reviews: 4.3 stars from 11,455 reviews on G2
MailChimp's straightforward email newsletter management is a breeze for marketers of all sorts. It offers marketing analytics and tracking to keep data organized, and a user-friendly interface, making it a great choice for small business owners and marketers of all levels. And the logo with that monkey is just brilliant!
Pros:
The free version is actually useful for many businesses
You can use a pay-as-you-go method and still receive a decent value for money
Everyone is able to craft a template within minutes
Cons:
Lack of advanced segmentation and automation tools
Although it is reliable, it misses the X-Factor
Prices:
Free version available
Essentials plan – $9.99/month
Standard plan – $14.99/month
Premium plan – $299/month
Best for: Practically everyone but mainly small businesses.
Reviews: 4.2 stars from 24 reviews on G2
MailPoet has earned its place in the market as a go-to WordPress plugin that provides professional-grade communication to extend the ecosystem of your site. With fast and customizable templates, MailPoet restyles your e-mails and connects your users to the top communication platforms to serve them better.
Pros:
It was planned to compete in the WordPress plugin market, thus it's more optimized
MailPoet is easy to master
The plugin represents WordPress email marketing at its finest. No need to ever leave the WP dashboard
Cons:
A/B Testing is not present even in the paid plans
Lack of advanced reporting tools
Prices:
Premium plan is free for the first 1,000 subscribers
Scaling pricing model (from €15 to €350)
Best for: MailPoet cannot scale well but it's good for email marketing rookies.
Reviews: 4.0 stars from 4,753 reviews on G2
Constant Contact has been in the email marketing game since 1995. For over two decades, it has remained firmly lodged in the market as one of the most used email services in the world. While achieving that position, it has also rolled out a variety of other platforms designed to assist customers in growing their businesses and boosting their sales.
Pros:
Deliverability rates are insane
Elegant design
Plenty of third-party integrations and niche features like digital sales
Cons:
Advanced automations cannot be found
Very steep prices and low value for money
No free version
Prices:
Starting plan Email – $20/month
Email Plus – $45/month
Best for: Companies aiming for higher deliverability rates
Reviews: 4.6 stars from 366 reviews on G2
MailerLite is an email marketing platform for bloggers, freelancers, and small businesses. Free accounts can be created to send automated mailers in bulk, up to 1000 subscribers. These accounts don't include advanced features or analytics but are perfect for starting out or running in-house campaigns. MailerLite is much like Mailchimp when it comes to price flexibility.
Pros:
Best-in-class deliverability rate
3 email editors – rich editors for basic text, HTML editor, and a drag and drop
Rich in segmentation options. Grouping is easy and intuitive
Great customer personalization
Cons:
Limited amount of templates available on the platform
No phone support
Not suitable for enterprises that need many automations
Prices:
Free version available for <1000 subscribers
0-1000 (over 12,000 emails) – $10/month
Between 5,001-10,000 subscribers -$50/month
The maximum supported subscribers without a personal quote are 600,000 (price is $1915/month),
Best for: Small companies

Reviews: 4.2 stars from 574 reviews on G2
AWeber prides itself on staying on top of the email marketing field. It is one of the oldest players in the business, having been around for more than 20 years. One of its biggest claims is that it invented the autoresponder, which makes sense considering how many features they have in their marketing automation platform.
Pros:
Software that has matured over the years
Many integration options available
Advanced Tracking tools
Cons:
Low deliverability results over time
Unreasonably high prices
The company markets its historical achievements while it can't really be proud of the present time – even the UX is not on par with many cheaper options from the list
Prices:
Free version available <500 subscribers
>500 subscribers – $19.99/month
>501-2500 subscribers – $29.99/month
Over 10,000 subs – $149.99/month
Best for: Corporate solutions
Reviews: 4.6 stars from 8,557 reviews on G2
ActiveCampaign is a customer experience automation platform that helps over 130,000 businesses in 170 countries manage their email campaigns. While it offers several features and integrations, its support staff are top-notch. Several tools have ActiveCampaign listed among their best e-mail marketing products, so let's dig deeper to see how it stacks up.
Pros:
Consistently overperforming deliverability rates
Free account migration for clients coming from other platforms
Easy but extremely powerful automation tools
Cons:
No free plan available
You can get lost in all the features the company offers
Because of the latter, the learning curve might be steep
Prices:
Starting from $15/month for <500 subscribers
Professional is the Most Popular option – $159/month for <2500 subs, prices scale
Enterprise is $279 under <2500 subs, prices scale
Best for: A good overall option for all types of businesses
Reviews: 4.3 stars from 807 reviews on G2
Zoho seems like they have a solution for any business, and that's what their actual goal is. Zoho Campaigns helps small businesses to create, execute, and follow up on email marketing campaigns. It's a powerful plugin allowing users to design, send, manage, automate, and track the success of their email marketing campaigns. It's an easy-to-use tool that gives businesses the freedom to create personalized emails that are sent at the right time.
Pros:
High-quality reports
Can easily be integrated with Zoho CRM
Email campaign tools are easy to use
Cons:
The initial set-up process is slow
Email templates are not in the same league as the competition
Many complaints that the emails go to spam (low deliverability rate)
Prices:
Free version available
Email-based plan – starting from €4/month
Subscriber-based plan – starting from €6/month
Pay by email credits plan – starting from €7/month
Best for: Free version for up to 2,000 subs and 12,000 emails and businesses who use other Zoho tools
Reviews: 4.2 stars from 720 reviews on G2
GetResponse stands out from the crowd. Offering a reliable email marketing tool and powerful automation options, the Polish-based platform is aimed at small and medium-sized companies. Consistent enhancements are an essential part behind the service provider's market success – like SMS marketing, A/B testing, email chat.
Pros:
Robust integrations with Google and Social Media Ads channels
Next-level automation and email grouping features
Ecommerce-friendly, as it allows sales funnel and landing page creation.
Cons:
Deliverability rates are low
No free version available
Customer Support issues
Prices:
Free version available
Starter – starting from $15/month (list size 1000 subscribers)
Plus plan – starting from $49/month (list size 1000 subscribers)
Professional plan – starting from $99/month (list size 1000 subscribers)
Best for: Small and medium businesses
Reviews: 4.1 stars from 634 reviews on G2
Campaign Monitor is a marketing platform for email marketing, enabling marketers to send beautiful newsletters with personalized content. The service can be used to create targeted newsletters that connect with subscribers, resulting in higher engagement rates and conversions. With attractive templates, segmentation capabilities, and an intuitive dashboard, users can quickly create eye-catching newsletters that engage their audience.
Pros:
High deliverability rates
Good-looking and responsive email templates
Automation and analytics are on par with the best industry standards
Cons:
Poor image library
A free version is pretty much useless
Contact importing is hard
Prices:
Free version available for up to 5 subscribers
Basic – starting from $9/month
Unlimited – starting from $29/month
Premier – starting from $149/month
Best for: Businesses of any size.
Reviews: 4.4 stars from 118 reviews on G2
The ConvertKit e-mail marketing app is a powerful, easy-to-use tool for sending personalised drip campaigns to your subscribers. With a wide range of automation tools for marketers, bloggers, and creators, the app lets you send targeted content based on a subscriber's interaction with your site or social media channels. The app also comes with built-in landing pages and an easy-to-read analytics interface.
Pros:
High deliverability rates
Always up-to-date features
Ease of use
Cons:
A/B testing is limited
There is a shortage of template customization
Software is not that easy to learn
Prices:
Free version available for up to 1,000 subscribers
Creator – starting from $29/month
Creator Pro – starting from $59/month
Best for: Creators.
Most of the platforms above are well-known. However, there are eight email other marketing tools that we found interesting and actually quite decent in terms of value for money.
Tidio is a well-priced email marketing platform that helps business owners to build a target audience and connect with them. It includes email address validation, up to 40,000 emails monthly, unlimited contacts, great segmentation, nice templates, and many useful features. And you get all that for €25/month.
Like its name, Email Subscribers & Newsletters is a simple tool for email marketing. But don't let the simplicity of the product fool you. It offers a lot to companies that wish to reach out to their customers in multiple ways. These include tracking & analysis, automation, lots of integrations, unlimited contacts, autoresponder sequences, abandoned cart recovery, and scheduled sending. And you get all that for $129/year (or $10.75/month)
Sumo List builder is part of the Sumo suite of business solutions. Sumo offers many features and integrations. It allows you to send up to 50,000 emails per month for $49 a month (or $39 if paid annually). The company also offers unlimited subscribers and A/B testing. Its design templates are professional, and its customer service is excellent. We recommend you check it.
The Newsletter plugin is a robust email marketing plugin for WordPress that can help your brand connect with customers and build a solid list. It includes reports, automation, powerful tracking, and visual composer to create sleek template layouts. The annual plan is $69 /VAT excluded/ which is ridiculously low for such a potent plugin!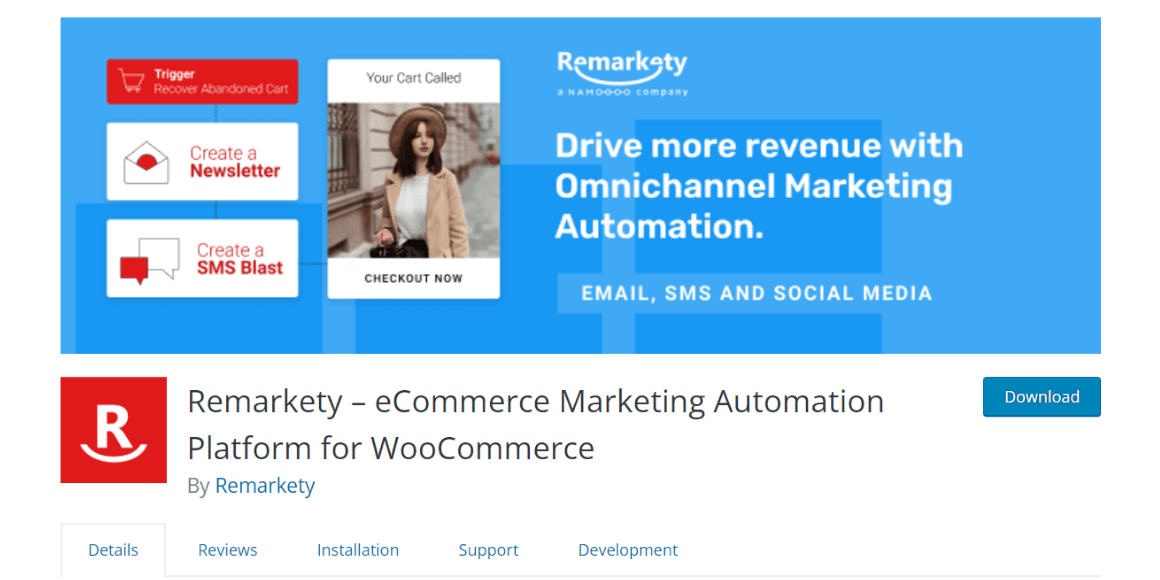 With its ability to segment customers by email and shopping behavior, Remarkety is one of the most efficient and easy-to-use platforms for eCommerce email marketing automation. The platform is built with eCommerce sellers in mind, as it uses predictive algorithms to tailor messages to shoppers based on their previous purchases and online activity. The basic plan offers many great things, like A/B testing, Performance reports, Social Media integrations for just $25/month. However, custom branding, email template designs and transactional emails are excluded and you will quickly have to splash $100/month
Omnisend is a marketing automation suite of tools that helps you deliver personalized messages to your leads. It sends personalized emails, texts, pop-ups, and Facebook and Google Ads for each lead, making it a truly omnichannel marketing automation solution. As it name indicates, Omnisend's main purpose is omnichannel e-commerce sales.
Moosend is a very potent marketing automation solution for your business, helping you to effortlessly manage your email campaigns, mailing lists, and newsletters. You get an intelligent email automation, personalization tags, landing pages, subscription forms, and high-quality reports. All of these are available at your fingertips with Moosend's powerful campaign editor. If you are small business, you won't pay anything until you reach 1,000 subs, and then you'll only pay $10 up until the 2000th.
"THE Email Marketing Solution" is a bold claim but we have to say – it really shines in some departments, like deliverability rate. Although the tool cannot compare with the rivals in terms of customizations, it gives you all the necessary tools. The prices start at $30 for the Essential plan and you do get some cool features like A/B testing, Click-rate optimizations, Bounce management, Advanced reports, and others.
4. Our Verdict
There is no denying that email marketing apps have gained popularity among many online retailers. However, this does not mean that it is easy to determine which platform will work for your particular business. While there are a significant number of these apps on the market, we should still provide our opinion as industry experts. We owe it to you.
4.1 Best performer for small and mid-sized businesses
Sendinblue is our favorite here. They have gained a solid reputation over the years for delivering an extreme value for money.
4.2 Best enterprise solution
Here, it was a close battle between Zoho and HubSpot. However, we'd give a slight edge to HubSpot, despite the higher price tag.
4.3 Best overall performer
We've reviewed many email marketing tools, but none can compare to Mailchimp. Their flexibility in terms of the frequency of communication is unparalleled, their free plan isn't bad at all, and they have an easy-to-use interface. This makes it easy for anyone to get started with email marketing.
5. Conclusion
In 2021, you'll have no choice but to have a WordPress email marketing plugin. While the initial investment might seem steep, it's definitely worth it. In their early days, many companies were wary of WordPress plugins because they were difficult to set up and expensive. But as time went on and the platform grew in popularity, everything became much easier – nowadays, you can easily find a plugin that suits your business and budget.
Mailbakery
A good email marketing strategy requires a lot of time and dedication, but companies can save a lot of money by outsourcing the process to a trusted partner. Mailbakery works with clients around the world to design newsletters that will grab their readers' attention from the very first line. Our experts have mastered code and they create custom-made designs that are easy to read and incredibly functional. If you need some good piece of advice, why don't you reach out?
Continue reading: