3 Halloween Email Subject Lines That Convince Customers to Trick-or-Treat Themselves
Reading Time:
6
minutes
Spooky season is in full swing! People from all walks of life are decorating their haunted houses, deciding which costumes to wear, and buying sweets in bulk. But for marketers and business owners, there's more to Halloween than dressing up as your favorite movie character and stuffing your face with candy. Halloween provides a prime opportunity to connect with subscribers on your email list and increase your sales. With Halloween sales increasing each year, the total revenue generated is poised to reach $10 billion in the United States. In translation, the average American spends about $82 on Halloween, and your brand can also get in on the action.
Regardless of the holiday, any profitable email marketing campaign begins with the subject line. After all, it's the first thing your subscribers will see. However, creating an effective subject line is more difficult than you might initially think.
Are you ready to entice your subscribers with subject lines so good it's scary? Here are some easy and actionable ways to boost your open rate by creating subject lines that pop.
Best Practices for Your Halloween Email Subject Lines
The first step to creating a spooktacular email campaign is the perfect subject line. Think the subject line of an email campaign is insignificant? You may change your mind when you realize that one-third of your email list will either open or ignore your email campaign based on the subject line alone.
So, how can you make sure they choose open over ignore? By incorporating characteristics of an excellent subject line.
Be brief. Subject lines should grab the recipient's attention immediately in just a few words. Subject lines with 50 characters or less have open rates 12% higher than those of subject lines that are longer.
Inspire interest. A compelling subject line is unique and stands out amongst the hundreds of emails crowding your subscribers' inboxes. Get creative and stay away from cliche phrases for a higher open rate.
Offer value. Show your subscribers the benefits of remaining on your email list by offering them a treat this Halloween! Your subject line should give your subscribers a sneak peek into everything your brand has to offer. Drop hints about a special discount, seasonal product, or perhaps a holiday sale.
Build trust. Your word is everything, so make sure that the content of your email campaign delivers what was promised in the subject line. Trustworthiness is a crucial element in building a brand that has longevity.
3 Engaging Halloween Subject Lines
The most straightforward way to kick off the spooky season is with a Halloween-themed email campaign. Don't be afraid to experiment with lively copywriting and a bold Halloween color scheme. Need some help creating a fang-tastic email campaign? Consider enlisting the help of a professional email marketing design service to produce your best Halloween campaign to date.
1. Playful Subject Lines
A fun, creative subject line can help your brand keep subscribers engaged, and Halloween is the perfect holiday to be imaginative with your subject lines. On Halloween, clever wordplay is fair game, so don't be afraid to have fun with your subject line. Thinking outside the box is sure to spark your subscribers' interest and help your brand stand out from the hundreds of other marketing emails competing for their attention.
"Do you dare enter the boo-tique?"
This well-crafted email campaign from Modcloth is a prime example of an effective Halloween email marketing campaign. The subject line reels subscribers in, and the email headline compliments it perfectly. The copy — "Is there a cute outfit in your future?" — is cute, playful, and in perfect alignment with the Halloween theme.
2. Subject Lines with an Offer
Do you want to make your subscribers feel special this Halloween? Show your appreciation for them by offering a special treat. Everyone loves receiving free items, and your subscribers are no different. Consider offering discounts, promotional samples, or even an ebook to increase your open rate. Hot tip: subject lines with the word "free" are 10% more likely to be opened than those without. Give a little back to your customers, and your brand will reap the rewards.
"Win this Halloween. Reveal your mystery offer!"
Even if your brand doesn't seem Halloween friendly, there's always a way to incorporate the Halloween theme. Prep Sportswear masterfully executed their Halloween campaign by starting with a mysterious subject line that left their subscribers overcome with anticipation. Add eye-catching animation to your email marketing campaign and your subscribers won't be able to look away! Prep Sportswear's decision to add a link that says "Reveal Deal" plays on customers' love of a mystery in a technique designed to skyrocket their click-through rate and drive sales.
3. Subject Lines That Create a Sense of Urgency
To lure in your subscribers, let them know that the deal you're offering is only available today. The truth is, humans can't stand to miss out on an event or sale. 56% of people experience "FOMO," which means "fear of missing out." Capitalize on this natural human emotion, and create a sense of urgency with your subject lines this Halloween.
The easiest way to create urgency? By simply adding a time limit to your messaging. Consider using a subject line like, "25% off until the clock strikes midnight" to entice your subscribers. Email subject lines that inspire your subscribers to take action immediately have a 22% higher open rate than those that don't.
"No trick, just a treat: Save 15% until Halloween!"
Check out this Halloween email campaign from AT-A-GLANCE. It has all the elements of a well-crafted Halloween email campaign. The subject line is a clever play on the Halloween theme, while also creating a sense of urgency. The use of works like "hurry" enhances the feeling that they need to act immediately. They then supported their subject line with quirky copy and finished off strong with a call to action that informs subscribers that their offer is available for a limited time only.
MailBakery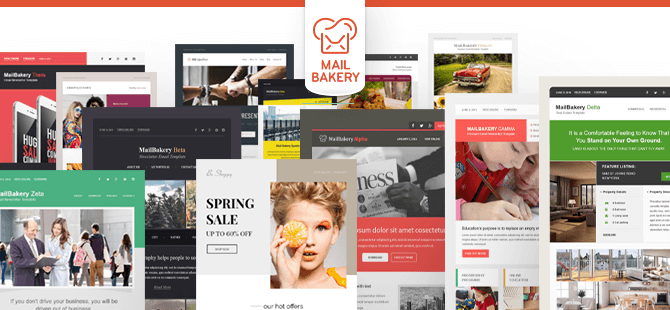 In order for your email marketing campaign to deliver results, begin with a subject line that your subscribers can't resist! Then, to easily BOOst your sales this Halloween, enlist the help of MailBakery. We create eye-catching, brand-specific email templates that are sure to convert. If your brand could use assistance creating an email marketing campaign for Halloween, our team at MailBakery can deliver.
Are you ready to create something incredible? Contact our team today, and let's get in the kitchen!