Things Email Marketers Should Do as Businesses Reopen
Reading Time:
5
minutes
An end to the global pandemic seems to be on the horizon, giving many companies hope that they can slowly reopen their businesses to greet customers. For business owners, the idea of reopening their doors is both exciting and nerve-wracking. It is also an excellent opportunity to revisit and revise your marketing strategy, namely your email marketing strategy. There are many things email marketers should do as businesses reopen to ensure that customers are reengaged, confident, and safe.
Below, we offer a few tips to make reopening your business the best it can be.
Hotlinks in this article:
Rebuild Your Customer's Trust
Some of your customers will be nervous about setting foot in your business again after more than a year away. Your job is to reassure them and show them that you have their concerns in mind. This is a great opportunity to use email marketing. You can reintroduce yourself to your customers to reconnect. This is the perfect time to be transparent so you can rebuild their trust in you and your brand.
As you craft your email marketing campaigns, don't hesitate to spell out all changes customers can expect when they come back to your store. The changes you highlight can include new store hours, practices and safety protocols, and the addition of contactless payment and curbside pickup.
Apple's reopening email is an excellent example of rebuilding customer trust by setting expectations and mapping out changes. The tech juggernaut breaks down how the in-store experience will be different but still one-of-a-kind. Plus it highlights new services and free reopening swag.
Warm Up Your IP Address
If you dialed back your email marketing campaigns or halted them altogether at some point in the past year, you'll need to ease back into it instead of going in full bore. Easing in gently warms your IP address to ensure that your emails have no problem delivering to the intended audience. Your IP address is tied to your internet reputation, or trustworthiness, and when you reduce your sending frequency, it significantly impacts deliverability.
The best way to warm up your IP address and boost your reputation is to start by sending out emails in small batches. Then, gradually increase your email sending volume. This avoids sudden spikes that can trigger ISP alarms and increase the likelihood of your emails landing in spam folders or worse, blocked.
Get Personal
The need for personalization has grown significantly throughout the pandemic. People aren't just looking for a connection with their neighbors; they're looking for a relationship with brands, too. By now, you know that conversions don't come from sending generic emails; they come from sending personalized ones. A way you can personalize your emails is by relating to your customers.
Let them know that you're all in this together. You can accomplish this by acknowledging a few possible struggles, incorporating emotional imagery, and using genuine and heartfelt language. Through this strategy, marketers can reach different demographics within their current audience and showcase their personalities. It also humanizes your brand and sets you apart from the hundreds of other marketing emails filling their inbox.
Check Your Email List
We know you're eager to tell your customers that you're back in business. However, before you hit send on that welcome back email, we highly recommend you scrub your email list. Many things have changed within the last year of the pandemic, one of which is email addresses. People have lost jobs, gotten new ones, switched domain names, etc., meaning your current email list is likely outdated.
Sending emails to abandoned addresses can result in high bounce rates which hurts your deliverability. Not to mention, many email services will punish your account if you continue to send to inaccurate addresses. Be sure to do list maintenance and remove any undeliverable or problematic emails from your database before you fire up your best campaigns. If your domain allows you to track delivery statuses, you can comb through your list and tidy it up. And if you want to be positive that your list is full of engaged subscribers, send out an email asking readers to confirm their subscription.
Have a Strong Subject Line
Subject lines are like windows to the soul. If your reader doesn't feel intrigued or invited, they hit delete instead of open. As your business starts the process of reopening, we invite you to use your subject lines and the preview section to announce your endeavor and get readers excited.
When designing emails, you'll want to be mindful of how you phrase your subject lines and the email content within. To ensure success, always lead with positivity, be straightforward, and offer valuable information. Sure, you want people to open and read your emails, but you also want to leave readers with a good feeling afterward so that they look forward to your next email.
To achieve this, you can take a page out of Five Below's email marketing book. The discount retailer gets its customers ready to shop with a subject line that reads "YES! We're back open & safe to shop!" and a pre-header that says, "Let's kickstart fun again! Tap to watch our latest tv spot to learn more!"
MailBakery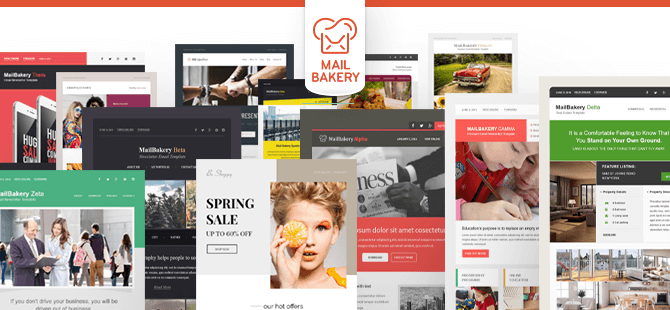 Reopening your business after more than a year of uncertainty is equal parts exhilarating and daunting. There is indescribable pressure to do things right and get your business back where it was pre-pandemic as quickly as possible. Using our tips on what email marketers should do as businesses reopen, we are confident that you will be able to find new ways to engage customers and grow your business.
If you need help crafting emails, let MailBakery be of assistance. We design and code email templates that are stunning, brand-specific, and sure to engage and convert. Got a design in mind? Let's collaborate and bring it to life!
If you are interested in partnering to create something extraordinary, contact us today, and let's get in the kitchen.