What is an Email Template?
Reading Time:
5
minutes
This article was last updated on June 7, 2021
After four decades, email marketing is still the most popular marketing channel. The primary reason for its popularity, in addition to its one-on-one communication structure, is its ability to build meaningful relationships with customers. Want to know one of the ingredients to a successful email campaign? A visually appealing email template design.
Whether you are brand new to the marketing industry or a seasoned veteran, you may need to brush up on what an email template is and its uses. And that's what the team at MailBakery is here for! This blog will break down what an email template is and the many benefits that come from implementing one into your marketing strategy.
Let's get baking.
In This Article:
What is an Email Template?
At its core, an email template is a pre-formatted hypertext markup language (HTML) email made up of reusable code modules. However, to a business, it is so much more. An email template enables your company to customize the formatting and text of the email marketing campaigns sent out to customers. With a few clicks, you can quickly and easily write compelling campaigns by swapping out pictures, text, fonts, and other elements.
Email templates can be used to promote a new product, send a survey, or make a special brand announcement; the list of ways you can reach your subscribers are seemingly endless! These templates often come in two formats, text-only or HTML and text. The latter is usually the format of choice for most companies, as it allows the subscriber's email client to decide which version is displayed.
Now that you have a little background on this incredibly beneficial marketing tool, let's break down a few benefits of implementing an email template into your email marketing strategy.
Related: HTML Email Templates – Best Places to Find Them
Benefits of Using an Email Template
1. Saves Time and Effort
With an email template, the days of having to painstakingly recreate every email marketing campaign from scratch are no more. You can easily upload your pictures, change the text, and add relevant content for your readers at a moment's notice. This saves your marketers countless hours of crafting campaigns for each stage of the customer journey and every special occasion.
Plus, you can repurpose the time and money you'd spend on other projects like creating more compelling content. Best of all, there is no need to rearrange the layout or map out what goes where. All you need to do is decide which design elements best showcase the message you're trying to sell.
2. Consistency from Email to Email
To err is to be human, and often when marketing teams create a new email marketing campaign, they handle lots of code. And if you had to rewrite code from scratch every time you wanted to create an email campaign, there is a good chance that variations and errors will pop up in your code.
This can lead to broken emails and, worse, bad experiences for your readers that can damage your brand's reputation. Yet, when you implement email templates, you can escape the unforgiving email landscape and produce quality emails again and again.
3. Always Optimized for Mobile and Desktop
The marketing industry always stresses the importance of optimizing your emails for desktop, but most importantly, mobile. According to Campaign Monitor, more than 53 percent of emails today are opened on a mobile device. A benefit of using an email template is that you never have to worry about whether your emails are correctly formatted.
The best custom-made email templates can be optimized for any desktop, mobile, or email client. At MailBakery, we test every email template we design and code on 40 different email clients and devices to ensure that your brand's message comes through perfectly.
4. Brand Recognition Starts Here
One of the calling cards of a successful business is the recognizability of its branding. You can make a lasting impression on your subscribers by incorporating your branding into your email templates. By weaving your company's branding into your emails — your colors, your logo, and your design aesthetic — you create a positive, consistent brand experience. Not only will your subscribers view your emails as more professional, but they will want to interact with your emails again and again.
5. Delivers a Personalized Experience Every Time
The one-size-fits-all approach no longer fazes the average customer. You have to personalize your strategy if you want to engage your subscribers. In fact, 94 percent of businesses say that personalization is key to their success. It may not seem like reusable email templates can provide a personalized experience for your subscribers but hear us out.
Marketers can personalize emails by adding details like the reader's name to the subject line or greeting. Creating templates for workflows that trigger based on actions is another way to ensure that your readers get the relevant content they need.
MailBakery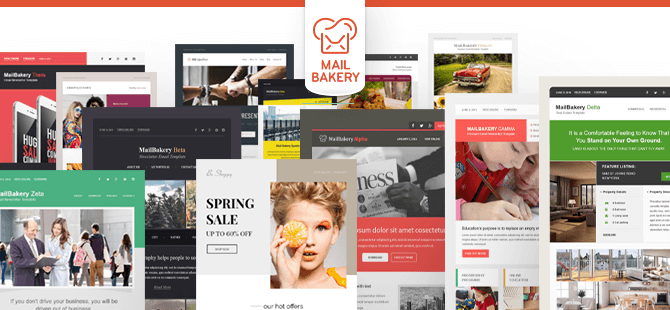 When it comes to email marketing, sometimes you have to revisit the fundamentals to grow your clientele and, ultimately, your business. With custom-made email templates in your arsenal, you can engage potential and existing customers with personalized content, save your team time and money, and create brand awareness. If you want to leverage the power of a custom HTML email template, then look no further than MailBakery.
We design and code email templates for marketing campaigns. Working together, we can bring your visions to life and create stunning, brand-specific email templates that are sure to captivate and convert.
Ready to get started? Contact our team and let's get in the kitchen!