5 Email Design Tips To Get Ahead of Your Competition
Reading Time:
5
minutes
Marketing is a continually evolving part of every business. Email marketing, in particular, is a part of your marketing strategy that changes quickly, and if you're not up to date on the latest trends, you fall behind your competitors. With some email design tips, you could get ahead of your competition.
Hot Links In This Article:
This year seems to be the year for change. As people stay home and away from their usual office space, they are spending more time on their computers, mobile devices, and tablets and constantly checking their emails. This means that you have a great opportunity to capture your audience's attention and connect with your reader.
We will admit, the competition is tough right now for business owners. With the recent pandemic, it is nearly impossible to connect with customers face-to-face, and people are turning to email marketing to communicate with customers.
With that being said, now is the time to focus on your email marketing strategy and give your audience what they want. Here are 5 email design tips you could use to get ahead of the competition:
1. Allow Customers to Create Content
Not sure what to include in your email newsletters? Leave it to your customers! User-generated content is one of the best ways to generate content for email newsletters. User-generated content is content that is shared by your consumers, customers, or clients. This includes any videos, comments, and reviews on social media or videos.
If you are looking to spruce up the design of your email, user-generated content might be the perfect touch. Here are the many ways businesses can benefit from user-generated content:
Gives brands insight to better understand their target audience
Establishes trust
Enhances engagement
Gives your customers an opportunity to voice their opinions and be heard
Allows you to reach a broader audience
Creates unique content
Enhances search engine rankings
Check out this example by LIKEtoKNOW.it below. The email features several influencers and demonstrates how each individual styled their look. The email links each product so that the reader can shop the look. This is an easy way to create content your subscribers will love!
2. Keep It Minimal
Email design is important because it enhances the reader's experience. With a simple, yet effective email design, your reader gets the point of your email and there is no question about where you want them to click or what you want them to do. Keeping your email design simple depends on a few things:
Color Scheme: Colors might seem like just a small design touch, but color schemes set the tone for the entire email. An email with several different colors can seem busy and overwhelming. Consider sticking to basic colors and choosing one or two bold colors to grab the attention of your readers.
Take a look at this sample we created at MailBakery. The color scheme is simple, yet appealing and organized.
Headings and Font Size
Headings and font size might also seem like a small detail, but it's a small detail that goes a long way. When you use headings, you draw the reader to a new, important piece of information and it properly splits up different content.
Visual Hierarchy
Visual Hierarchy is also important to tell a story and lead your audience to a call to action. When designing your email, include the most important information first and the minor details towards the end of the email.
3. Include Clear, Large CTAs
The example below is one of our favorite examples of what a call-to-action statement should look like. It is appealing, to the point, the perfect size and color and there is only one! When there are several call-to-action buttons, the reader is unsure of what it is that you want them to do the most. When there are only one or two, the decision-making process is clear, and they are more likely to click on that one call-to-action button.
4. Paint A Picture
Email newsletters can be challenging to design because they include several pieces of different content. In a perfect world, we would just send one email with one main piece of content; but who wants to read those emails?
This is where we go back to our point of hierarchy. When you use text hierarchy, you can keep the copy organized and visually demonstrate important points. Utilize different headings and plan out how you are going to write the content in your email. Once you have all of your content in place, you can add visuals such as icons or images to create an email that flows effortlessly.
5. Don't Fear White Space
As the email design experts, we're here to tell you color is important but so is white space. A common mistake people make when designing emails is assuming they have to fill up all of the blank space to make it visually appealing. When you do this, the email becomes crowded and typically it includes content that takes away from the purpose of the email.
White space is actually a good thing to have because it breaks up the content in your email so that it is easy for your readers to understand. White space can also help your email to feel more spacious and make your main points pop.
MailBakery: Putting These Email Design Tips In Action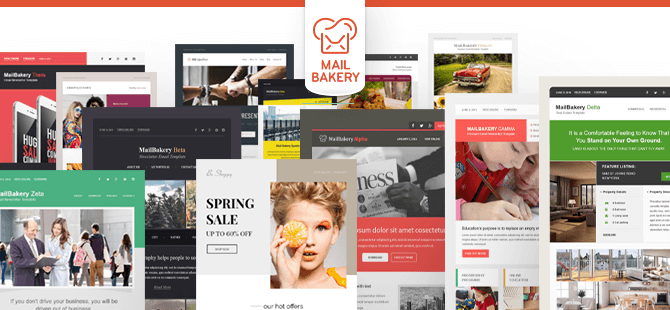 Do you want your emails to stand out from the competition? Consider these 5 email design tips and capture the attention of your readers.
When it comes to creating emails, your email design is one of the most important elements. It might seem overwhelming, but that's why MailBakery is here to help.
Don't let the small details of your emails overwhelm you, MailBakery can design and code an email template from scratch that captures the attention of your readers and blends in with your brand.
You can check out our Samples page for our previous work.
Contact our team to learn how we can help you achieve the perfect email design.
Ready to get started? Order now your email design!