6 Irresistible Black Friday Emails for Your Campaign
Reading Time:
6
minutes
Everyone knows that after Thanksgiving comes the favorite day of bargain shoppers across the nation: Black Friday. Many customers are stocking up on presents for the holiday season or treating themselves to a purchase that they've had their eye on all year long. Online shopping has increased dramatically in the past year, and there are plenty of email marketing tactics that you can use to take advantage of the spike in consumer spending this Black Friday.
Not a design or computer whiz? No problem. You can always work with a team of professionals who specialize in creating gorgeous, brand-specific email campaigns so that you can focus on attending to your customers.
Animation, special deals, and gifts are some of the best incentives to offer your subscribers this year. As you're planning your Black Friday email campaign, draw inspiration from the examples below and experience your brand's best sale to date!
1. Use Animation to Build Anticipation
When in doubt, add animation to your email marketing campaign to engage your subscribers! A touch of animation can really up the ante and create visually enticing Black Friday emails. In addition, a fun animated campaign can make your subscribers excited to see all that you have to offer. In the realm of email marketing, it's easy to fall into the trap of constant self-promotion using aggressive sales tactics. Instead, why not lighten the mood and build anticipation this Black Friday?
Carhartt manages to increase their subscribers' anticipation with this genius Black Friday email. When subscribers open this email, the first thing that they see is black blinds. In a split second, the blinds retract to reveal more information about their Black Friday sale. This sleek campaign combines clever animation with a simple color palette to build buzz. Could your brand do the same?
2. Create a Gift Guide
Prime your subscribers for the holiday season with a compelling gift guide! Gift guides are a great way to drive sales through Black Friday emails, plus they have 48% higher transaction rates than standard promotional messages.
To further increase the effectiveness of your gift guide, leverage the power of segmentation. Segmentation involves separating your email list into different groups based on relevant criteria, then sending each group a personalized email campaign tailored to their demographic. Typically, businesses segment their campaigns based on age, location, previous purchases, or interests.
For your Black Friday email gift guide, separate your products or services into categories targeting consumers by gender, price point, or specific interests. For example, this gift guide from Trouva features gift options based on sustainability by offering "Gifts with a Conscience." Their decision to provide sustainable alternatives appealed to customers with a preference for eco-friendly commerce — a savvy decision, since such sales have increased 650% in just a year. You, too, can get creative with your gift guide and draw inspiration from Trouva's niche Black Friday email campaign.
3. Offer Mystery Savings
Entice your subscribers with mystery savings this Black Friday! Offering a mystery promotion is a great way to increase your click-through rate and drive sales from Black Friday emails. For instance, you could send an email that provides subscribers a certain percentage off when they click the call to action. Once the subscriber clicks your campaign, the link will direct them to a landing page that offers a portion off of their order. Or, if your website lacks these capabilities, provide a call to action that directs subscribers to your store where they can select mystery savings at the point of sale.
In the bold Black Friday email below, 22 Days Nutrition expertly draws subscribers in with a compelling subject line that reads, "What will your mystery offer be?" Once subscribers open the email, they're encouraged to visit the website to see their savings. Follow in the footsteps of 22 Days Nutrition with a bold, colorful Black Friday email campaign.
4. Offer a Gift to Your Most Loyal Customers
Of course, you should offer all of your subscribers special deals for Black Friday, but consider throwing in an extra special treat for your most loyal customers. To do this, check out your contact list and segment your most engaged subscribers. Then, create a campaign to offer them something extra in reward for the repeat business they've provided you.
When it comes to rewards to offer, the possibilities are endless. Depending on what suits your business, you could offer a free item, an extra percentage off of their order, or exclusive products that are only available to your most loyal VIPs. Sephora chose to reward repeat customers with a gift using this simple, engaging Black Friday email campaign:
5. Send Your Campaign on the Right Day
As you can imagine, Black Friday is a highly competitive day for online retailers. Although you may have loyal customers, you can guarantee that many other e-commerce stores are also vying for their attention. Rather than waiting to send your Black Friday emails on the day, consider a whole series of emails leading up to Black Friday. This will put you in customers' minds and prime your sale for success.
Eve Sleep's bedding store uses a series of Black Friday emails in its campaign, not only to raise anticipation of the big day but also to begin its sale early. As in-store shopping decreases and more people shop online for the holidays, it can sometimes make more sense to start your Black Friday campaign a little early. When providing early sale access or tempting sneak peeks, you can take a nod from Eve Sleep and create a sense of urgency by using time-limited offers.
6. Get Creative
Not a traditional online retailer? Just because your brand isn't an e-commerce store doesn't mean that you have to miss out on a Black Friday email campaign! There are plenty of fun, exciting ways to provide your subscribers with something special this year, whether it's extra reward points, a gift, or a percentage off of their next service. Think outside the box and consider unconventional ways that your brand can participate in the Black Friday email madness.
In 2020, American consumers spent a total of $188.2 billion over Black Friday, so there's certainly enough opportunity to go around for every brand. Take Dunkin Donuts for example. Although you don't typically associate Black Friday shopping with donuts, that didn't stop Dunkin Donuts from releasing this bright, engaging campaign. Not only is the animation that they included eye-catching, but it also demonstrates the variety that they have to offer their subscribers. Dunkin' Donuts also threw in a special offer of triple reward points for Black Friday and Cyber Monday.
MailBakery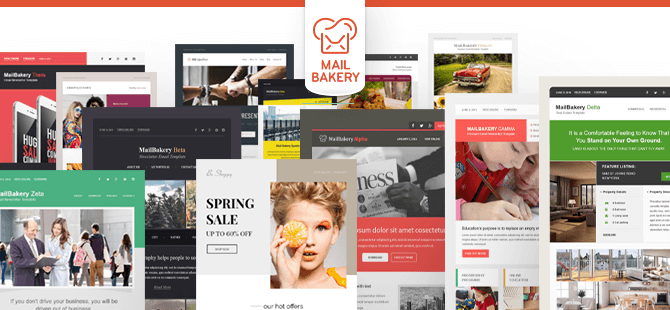 Start off the holiday season on a high point with a spectacular Black Friday email campaign! If you're in need of an email campaign that will knock your subscriber's socks off, MailBakery can help. Our expertise in creating gorgeous, brand-specific email templates is unparalleled. Work with our designers to craft Black Friday emails that will grab attention, engage subscribers, and drive conversions through Cyber Monday and beyond.
Are you ready to create something incredible? Contact our team today, and let's get in the kitchen!