4 Things You Didn't Know Email Marketing Automation Could Do for You
Reading Time:
5
minutes
While there are many different elements of a successful email campaign, email marketing automation is arguably one of the most important pieces of the puzzle. Leveraging the power of email automation allows you to deepen your customer relationships and drive sales while helping your brand stay relevant. But what is email marketing automation, and how does it accomplish all these feats?
What Is Email Marketing Automation?
If you're new to email marketing automation, you might be wondering what all the fuss is about. Put simply, email automation is a way to easily and automatically send emails to your subscribers at a specific time or after they take a particular action. These messages are controlled through special automation software, enabling you to harness the power of email automation for many different marketing purposes. You can create email campaigns to gain new subscribers, announce seasonal sales, or send birthday wishes. And if you're not well-versed in email campaign creation, you can always call on the help of professionals to create beautiful, brand-specific email templates for you.
The great thing about email automation is that it helps you build a relationship with your subscribers, despite minimal effort on your part. With a few easy presets, you can delight customers with relevant content at just the right moment, no hassle required. This automation leaves you and your team with more time to focus on developing new products or services and improving your other business processes.
In the past, only large corporations had the resources and know-how to use email marketing automation. Nowadays, even small and medium-sized businesses can get in on the action. However, automation does more than just send emails. Here are four fundamental ways that email marketing automation can help scale your business.
Automation leaves you and your team with more time to focus on developing new products or services and improving your other business processes.
Related: What Is Email Automation and Why Does It Matter?
1. Use Automated Emails to Generate New Leads
If you're not using email marketing automation to grow your customer base, now is the time to start. Once a potential customer opts into your email list, the possibilities are endless. Consider offering an incentive for them to join your mailing list, such as a percentage off their first order or a free ebook. Research has shown that 92% of the people who visit your website for the first time won't make a purchase. However, you can reel in potential customers and keep them interested by getting them to subscribe to your email list.
From there, you can send an automated welcome email to your new subscribers, perhaps offering an exclusive incentive that inspires them to convert. Though simple, this tactic is extremely effective. And it's easy to set up! First, make sure you've created a place on your website where people can enter their email, so you're capturing site visitors to your subscriber list. Then, it only takes a couple of minutes to create a welcome email for your automation software to send to each new subscriber. Once that's up and running, email marketing automation takes care of the rest.
2. Nurture Existing Leads
As you grow your email list, it's essential to do everything possible to keep subscribers interested in your brand. To maintain success, you'll need a loyal customer base. Remember, it costs more to gain a new customer than to work with those you already have. The relationship with your subscribers begins from the moment they get their first welcome email, but you shouldn't stop there. Email marketing automation makes it easy to gather data about customer behavior and interests, and you can use this data to create content that appeals to each customer in a personalized way.
Automated lead nurturing is the best way to ensure that your subscribers receive messages that spark their interests and arrive at the right point in their busy schedule. Although many brands prefer to focus on gaining subscribers, the truth is that companies that use advanced lead nurturing techniques generate 50% more sales leads than those that don't.
3. Reduce Cart Abandonment with Email Marketing Automation
On average, a whopping 79.17% of online shopping carts are abandoned, meaning that potential customers didn't complete the checkout process. However, using the power of email marketing automation, you can easily increase the number of subscribers that complete their purchase. Automation software can track your customers' interactions with your website, recording everything from which products they browse, what items they add to their shopping cart, and each purchase they complete.
Once it becomes clear that someone has abandoned their shopping cart, email automation swoops in to save the day. All you'll need to do is set up a clever abandoned cart email campaign to remind subscribers what they're missing out on. From there, your software can automatically send your message to any customers who qualify.
A single abandoned cart email boosts your conversion rate by 10%. After three abandoned cart emails, your conversion rate skyrockets to 69%. And all this without clicking a button! Email marketing automation simplifies the entire process of sending these email campaigns, so no customer gets left behind.
4. Maintain Engagement with Segmentation
If you assume that your brand can grow to its fullest potential by sending the same mass email campaign to everyone on your list, think again. Generic messaging aimed at a broad audience tends to annoy and alienate customers, relegating your emails to the trash folder.
Personalized emails, on the other hand, have a six times higher transaction rate than generic emails. So to get the best results possible, you'll need to segment your email list. Email segmentation just means separating your subscribers into different groups based on your chosen criteria. Depending on the nature of your business, this could include their geographic location, interests, or website activity such as shopping cart abandonment.
Email marketing automation makes the process of email segmentation easy as pie. Advanced email automation software can automatically divide your email list based on the information you think is most relevant and allow you to send highly personalized emails that resonate with each audience. In this way, segmentation and automation work together to increase your conversion rate and maintain a good relationship with your subscribers.
MailBakery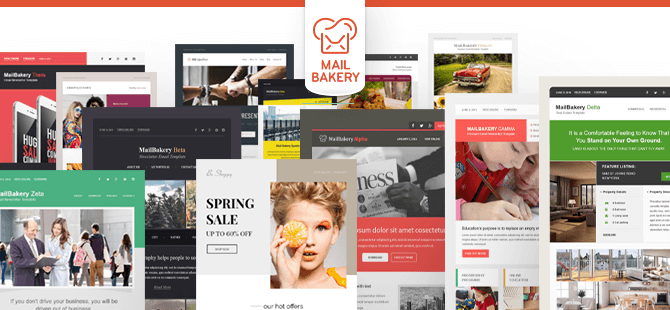 Email marketing automation is the secret weapon you didn't know you needed. It simplifies relationship management with your subscribers while increasing your return on investment from email marketing.
But what's email automation without an eye-catching email campaign? If you need stunning email templates to seal the deal, MailBakery provides all the help you need to get started. We partner with your business to design and code jaw-dropping, brand-specific email templates that are sure to convert.
Want to create something great? Contact our team today, and let's work together to cook up the campaign of your dreams.